Here's Your Horoscope For Today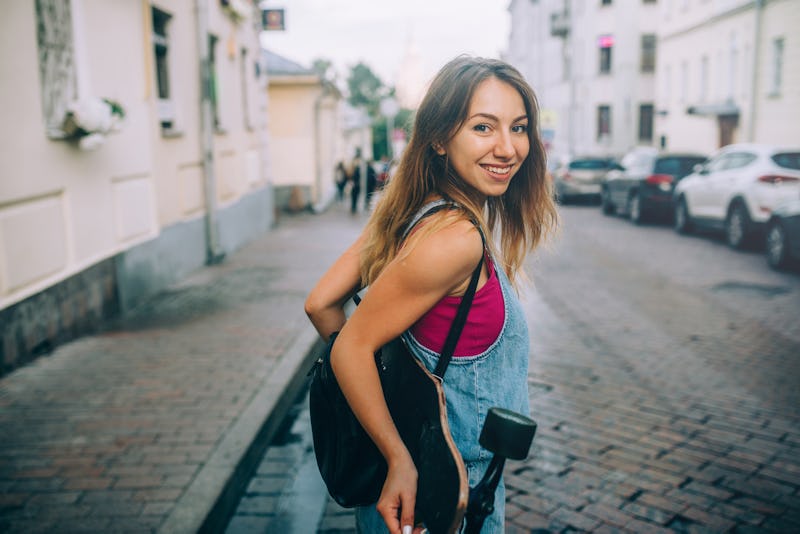 Kirill/Fotolia
We're constantly fascinated by what our zodiac sign says about our lives, whether it's which signs are most compatible or how each sign handles conflict in relationships. That's why Bustle has enlisted Mecca Woods, a New York City-based astrologer of MyLifeCreated.com, to tell us all about how astrology is affecting our lives each day. Today's topic: your daily horoscope for May 17, 2018.
The Moon finishes its transit through chatty and curious Gemini today, teaming up with Venus in Gemini by the mid-afternoon. With the Moon and Venus together, we should find ourselves in the mood to connect, chat, and flirt with others. Financial matters may also go well at this time. By the evening, the Moon enters cuddly and cozy Cancer, putting us in the mood to curl up on the couch or spend time with loved ones. Having a good meal might not hurt either. Just after the Moon enters Cancer, it teams up with Uranus in Taurus, which could have us hankering for something new. In this case, it may be a new approach around how we handle our resources. New ideas developed around this time may bring in some extra cash.
Read below to see what the stars mean for your sign today, and check out your May 2018 monthly horoscope.
Aries (March 21 - April 19)
It's all about your conversations and connections today as you have the kind of gift of gab that can open doors and create opportunities. If you've been thinking about blogging, podcasting, or writing. Today is also a good day for getting something out or making your debut. Use your voice.
Taurus (April 20 - May 20)
You might be able to manifest a financial opportunity today, which could be a good thing if you're looking for a new gig. You might also be in the mood to splurge on yourself too and you've got the cosmic green light. Meanwhile, if you get hit with a stroke of inspiration, pay close attention.
Gemini (May 21 - June 20)
You're on everybody's "must have" list today which means that there's very little that you can't get. In fact, you might even find folks throwing goodies your way today. Though don't rely solely on others to treat you special today. Make sure you treat yourself well too. Do your own thing.
Cancer (June 21 - July 22)
It's time to turn down, Cancer. At least for the first half of the day. If it takes you a while to get going, don't force it. You could use some extra rest and quiet time. Later in the day, you should be feeling more refreshed and ready to tackle your hopes and aspirations head on. Believe in yourself.
Leo (July 23 - Aug. 22)
You get by with help from your friends today, as they're company and shared laughter could be just the thing you need to boost your spirits. Networking is also favored too. Reach out to someone you'd like to work with or someone that can help you get your foot through the door.
Virgo (Aug. 23 - Sept. 22)
You could make some significant strides in your career today. Folks are watching the hard work that you're putting in and you're making a great impression. Capitalize on the buzz you're generating by taking a shot at something you want, like a promotion. You might like the results.
Libra (Sept. 23 - Oct. 22)
You're in the mood for an escape today. You might find yourself booking your next trip out of town or blowing off work in favor of a day trip. A workshop where you can study or learn something new may be right up your alley too. Either way, look to activities that bring you adventure.
Scorpio (Oct. 23 - Nov. 21)
You've got your mind on your finances today and there's a chance that you could get some good news regarding a debt, loan, or a lump sum of money owed to you. In terms of matters of the heart, you could end up attracting someone that gives you a run for your money (in a good way). Enjoy!
Sagittarius (Nov. 22 - Dec. 21)
Partnership is the theme of the day, as you could find yourself working side by side with someone that fuels and inspires you. If you're looking to establish a business relationship, today is a good day for opening up talks or negotiating terms or a contract. In love, you could meet someone new.
Capricorn (Dec. 22 - Jan. 19)
It's all about work and self-care today. Not only will you find yourself will lots to do but you'll more than like be happy doing it, especially if it's in service to others in some way. Take care that you also get the physical nourishment you need so your body can keep up. Love is also sweet.
Aquarius (Jan. 20 - Feb. 18)
Love and romance are a bright spot today as both single and attached Aquarians are in position to get lucky. An after work or evening event could bring fun as well as a romantic moment. Meanwhile, in terms of your creative skills, it's time to buckle down and put them to work.
Pisces (Feb. 19 - March 20)
Home is where your heart is for the good chunk of the day, which means that working from home or spending time with family could be what you desire. You might even consider redecorating or sprucing up your living space, which can be good for boosting your mood. Later, go have fun.