Here's Your Daily Horoscope For May 25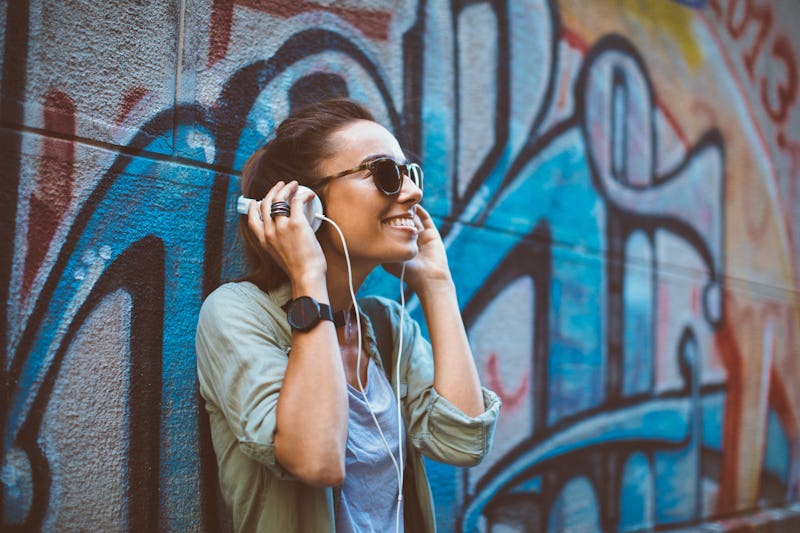 djile/Fotolia
We're constantly fascinated by what our zodiac sign says about our lives, whether it's which signs are most compatible or how each sign handles conflict in relationships. That's why Bustle has enlisted Mecca Woods, a New York City-based astrologer of MyLifeCreated.com, to tell us all about how astrology is affecting our lives each day. Today's topic: your daily horoscope for May 25, 2017.
The highlight of the day is the New Moon in Gemini, which happens later this afternoon. Though the Moon shifting into Gemini early this morning will get us in the mood for the gifts this New Moon is bringing, including new info, people, and perspectives. Before we get to the New Moon, there's a square off between Venus in feisty Aries and power-hungry Pluto in Capricorn, that we may need to watch our for as this combination could bring up power and control issues around love and money. In other words: don't force it if it's not meant to be. We should look to invest our energy and resources in work and relationships that will offer us a return on our investment.
" If we've been feeling stuck or stagnant somewhere in our lives, the fresh air of the Gemini Moon can help to whisk us up out of a rut."
That's why the Gemini New Moon which arrives a short while later will assist us in shifting our perspective; helping us to find new solutions to old problems while exploring a myriad of options. If we've been feeling stuck or stagnant somewhere in our lives, the fresh air of the Gemini Moon can help to whisk us up out of a rut. Use this New Moon to engage curiosity, communication, change.
Read below to see what today's stars mean for your sign.
And remember to tune into Bustle's weekly horoscopes video live on Facebook every other Monday at 5 p.m. EST for a rundown of your weekly horoscope.
Aries (March 21 - April 19)
You could be feeling some push-pull today between what you want (fun!) and what someone else (like an overbearing boss or parent) wants you to do. If you're feeling stuck, it could be that you need to look for better ways to invite fun, new experiences into your daily life without shirking your obligations.
Taurus (April 20 - May 20)
It's important that you don't get too sucked up in the hype today, as something (or someone) you've been idealizing may not be able to live up to the hype. Though before you get stuck thinking that this is a one-shot-deal, remember the Golden Rule: there's plenty more where that came from.
Gemini (May 21 - June 20)
You like to keep things light and carefree but even you can get bogged down with heavy feelings. While the spotlight is on you and your needs, consider today to be an emotional rebirth of sorts. While you can't change what happened in the past, you can shape your present and your future.
Cancer (June 21 - July 22)
A business or professional relationship could be on the rocks today as it may feel like someone you work closely with or work for may not have your best interest at heart. Though success is something you're focused on, know that you're not wrong if you're ready to quit. Your mental health is important.
Leo (July 23 - Aug. 22)
You may feel like the wind has been sucked out of your sails today thanks to a overbearing job, schedule, or a challenging health issue. Instead of giving up, understand this feeling could be the push you need to put in the footwork to turn things around. Your network of people can help you uncover options.
Virgo (Aug. 23 - Sept. 22)
You may be struggling with some heavy feelings today around debt or your ability to sustain yourself on your creative talent. Though when it comes to your finances, things are looking up. Look to today as your shot to turn over a new leaf when it comes to your career. Success is closer than you think.
Libra (Sept. 23 - Oct. 22)
A home related issue or a relationship to someone close to you could be a source of strain today. Though before you allow the situation to get you down, it could be that you need a change of environment, pace, or perspective with helping you get past this challenge. Don't allow yourself to sit and stew.
Scorpio (Oct. 23 - Nov. 21)
You may be feeling a bit put out when it comes to the job today, as you may be feeling like you're talents aren't being appreciated like they should be or someone is stealing your shine. Take it easy, Scorpio because things probably look worse than they really are. Don't let insecurity get the best of you.
Sagittarius (Nov. 22 - Dec. 21)
You may be feeling disillusioned with a love match today as what you want and what you're getting may not be matching up. Ultimately, while you want fun, passion, and romance you'll need to make sure that this person can meet your deeper needs. Today offers a fresh start when it comes to relationships.
Capricorn (Dec. 22 - Jan. 19)
There may not be as much happiness in your home or within your relationship to a family member as much as you would like which could have you feeling like you may never get what you deeply want. While obsessing over this may seem OK, therapy, self-care, or stress management could be better options.
Aquarius (Jan. 20 - Feb. 18)
You may want to be optimistic and upbeat about today but a nagging fear keeps getting in the way. While you shouldn't pretend like what's bothering you isn't, it may be worth noting that what you feel is your spirit trying to break through. Be true to you and your passions. Don't hold yourself back.
Pisces (Feb. 19 - March 20)
You may be feeling like you're not as far as you should be when it comes to the plans you've made or like you can't keep up with those around you that are seemingly more successful than you. One thing to keep in mind is that only you have the power to tell you what you're worth. Find your center.