Here's Your Horoscope For Today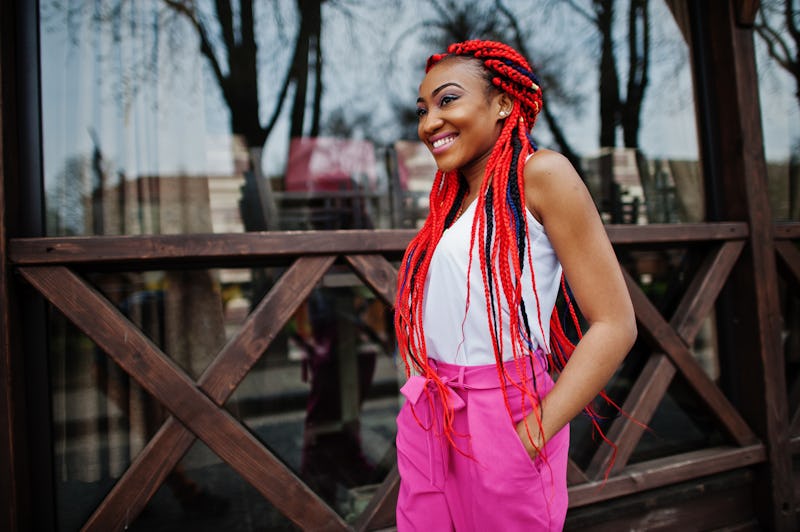 AS Photo Project/Fotolia
We're constantly fascinated by what our zodiac sign says about our lives, whether it's which signs are most compatible or how each sign handles conflict in relationships. That's why Bustle has enlisted Mecca Woods, a New York City-based astrologer of MyLifeCreated.com, to tell us all about how astrology is affecting our lives each day. Today's topic: your daily horoscope for May 31, 2018.
The Moon shifts into responsible Capricorn early this morning, putting us in the mood to work hard and tackle whatever challenges come our way today. The day kicks off with a meeting between the Capricorn Moon and unconventional Uranus in Taurus, which can help us to think outside of box when it comes to problem solving. While Capricorn and Taurus both favor tradition, this Moon-Uranus combination can show us where we may need to start anew in order to get the job done.
By late this evening, the Capricorn Moon syncs up with no-nonsense Saturn in Capricorn, which pushes us to throw our productivity into high gear. At the same time, this Moon-Saturn combination could also dampen the mood and have us feeling down, especially if we don't see ourselves as the perfect picture of success. This is why it will be helpful for us to focus on the things we can actually change or improve rather than being hypercritical of ourselves or others.
Read below to see what the stars mean for your sign today.
Aries (March 21 - April 19)
You might be feeling some extra pressure today, as it's all business and no play. Though you succeed the most when you put in the extra effort today and focus on the tasks and the goals in front of you. Don't worry, your hard work isn't going unnoticed. You just might get some deserved recognition.
Taurus (April 20 - May 20)
You're used to following the rules, but today you might be pushed to question whether or not you're following them blindly. Is it time for you to challenge the status quo? Are there outdated beliefs you need to toss to the curb? Be practical, yes. But you don't need to be like everyone else.
Gemini (May 21 - June 20)
Finances and intimacy are the focus today. In matters of the heart you may be feeling unlovable but it's time to start telling yourself a new story in love. The love that you want exists, but you just need to believe that you deserve it. In money matters, things aren't as scarce as they seem.
Cancer (June 21 - July 22)
Someone may come calling on your help and support today. If you're able to provide the support, by all means do so, but be wary of the person that always needs you to come to their rescue. It's time to keep this person at an arm's length. Meanwhile, if you need help don't be shy in asking for it.
Leo (July 23 - Aug. 22)
It's all about your work life today. If you've been looking for a new job, you may be able to manifest one with a little effort. If you plan on staying where you are, today could push you to get more organized with how you manage your schedule. No need to operate in crisis-mode any longer.
Virgo (Aug. 23 - Sept. 22)
If it's been a while since you've had some fun, today reminds you to make some time for it. Pencil it into your schedule. Yes, you have a lot on your plate but you risk losing your creative spark if you don't allow yourself enough play time. On a different note, don't be afraid to stand out today.
Libra (Sept. 23 - Oct. 22)
You might be thinking about your financial security today. If you don't have an emergency fund set up, you might want to consider some small sacrifices you can make to put some cash aside. While it might not be something you can do overnight, it's the "bit by bit" that counts.
Scorpio (Oct. 23 - Nov. 21)
When it comes to furthering your professional life or an idea that you have on the table, it might be worth partnering up with someone that can help you get things off the ground while teaching you something new. Also, a conversation may highlight how you let negative self-talk get in your way.
Sagittarius (Nov. 22 - Dec. 21)
It's time to break old financial habits and find a new way to manage your money. Maybe it means sitting down with an expert that can help you come up with realistic ways to improve your financial security. On another note, is it time to leave a dead-end job? Looks the the answer is yes.
Capricorn (Dec. 22 - Jan. 19)
You might be feeling a bit sensitive about your self-image today but can you allow yourself to perform an act of radical self-love? Maybe this means wearing something you've been afraid to wear or saying more kind and loving things to yourself. Instead of shrinking yourself, stand up and shine.
Aquarius (Jan. 20 - Feb. 18)
You might be feeling a bit anxious or out of sorts today, but that's usually a clue that you need to take a time out and chill. Even if you have to work today, try to carve out some quiet time for yourself. But don't sit and let your thoughts run a muck. Start challenging those scary thoughts.
Pisces (Feb. 19 - March 20)
You get by with help from friends today, so reach out to them if you need support. At the same time, your friend's list needs a little shaking up. Maybe it's time to drop a fair weather friend or invite better people into your life. On another note, giving back to people in need is needed.