Here's Your Horoscope For Today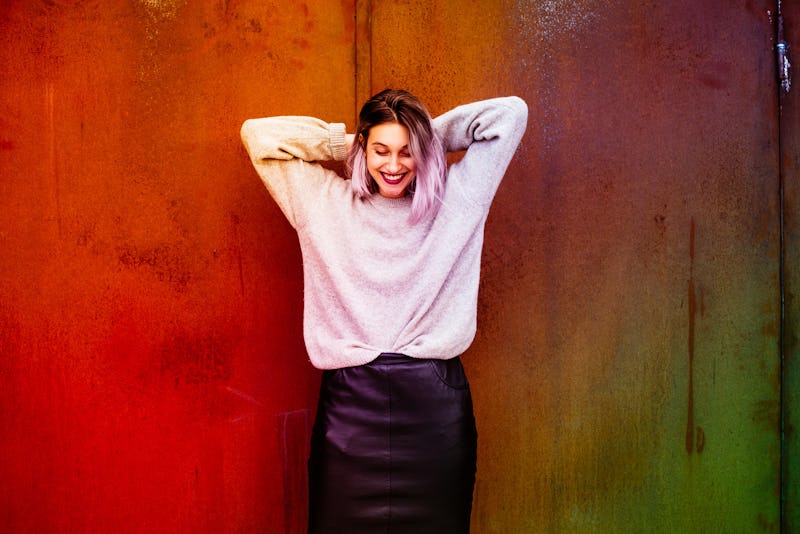 Eugenio Marongiu/Fotolia
We're constantly fascinated by what our zodiac sign says about our lives, whether it's which signs are most compatible or how each sign handles conflict in relationships. That's why Bustle has enlisted Mecca Woods, a New York City-based astrologer of MyLifeCreated.com, to tell us all about how astrology is affecting our lives each day. Today's topic: your daily horoscope for Nov. 30, 2017.
It's an action-packed vibe for the first half of the day as the Moon remains in fiery Aries, syncing up with rebellious Uranus in Aries and opposing Mars in Libra. Under this cosmic combo, the atmosphere may be ripe for arguments, accidents, and disagreements; so it'll be important to tread lightly during the early part of the day. However, this combination can be helpful when it comes to breaking free of relationships that lack productivity and growth, while the meetup between the Aries Moon and responsible Saturn in Sagittarius shows us where our strongest bonds can be a source of support. Meanwhile things may get loud toward the mid-afternoon when the Moon meets up with Mercury in Sagittarius. While this pairing can be helpful when it comes to expressing what we feel and speaking from the heart, we may need to watch for the tendency to speak over others or the need to be right. Still this combo could be helpful for coming up with fresh, innovative ideas. By the late afternoon, the energy calms down considerably as the Moon slips into laid-back Taurus; putting us in the mood for quality, comfort, and beauty.
Read below to see what the stars mean for your sign today, and be sure to check out your November 2017 monthly horoscope, too.
Aries (March 21 - April 19)
You might find yourself at odds with someone you're close with today, which could have you in your feelings. Though as easy as it is to get upset, you might have to take a high road approach in getting your point across. Meanwhile, a little self-care go a long way. Go ahead and treat yourself to something nice.
Taurus (April 20 - May 20)
It might be easy to feel anxious or overwhelmed today, especially when it comes to the tons of stuff you've got on your plate. That's why setting some boundaries around your time and energy will be key to keeping your stress levels down. If something is really bugging you, talk to someone you trust.
Gemini (May 21 - June 20)
A romantic relationship could be heating up, though when it comes to building something long term with the person you're seeing, you may need to make sure you're both on the same page. Meanwhile, coupled Gemini succeed by mixing things up a little. Creatively, this could also be a banner day.
Cancer (June 21 - July 22)
You might find yourself buckling under the demands of both your professional and personal life today, which could have you feeling stressed with a capital S. Though this may be the push you need to exercise your boundaries in terms of how much you're willing to do. On another note, it's time for a new job.
Leo (July 23 - Aug. 22)
You might find yourself feeling extra opinionated today, though before you go giving someone a piece of your mind where it may not be welcomed or needed, you may want to rethink what you say and how you say it. Perhaps that energy may be better channeled into something more creative.
Virgo (Aug. 23 - Sept. 22)
You might want to keep an eye on your wallet today as you could find yourself ready to make an impulse buy or having to deal with a sudden expense. Meanwhile, if you've been thinking about moving, it's possible that you may make progress today. On another note, do something that feeds your mind.
Libra (Sept. 23 - Oct. 22)
It's possible that someone could get under your skin today, but they might find themselves getting more than they bargained for today. While you're usually the first to find a compromise, you may need to be firm in how you deal with this person today. Be direct and don't mince your words.
Scorpio (Oct. 23 - Nov. 21)
You might find yourself with a lot of pent up energy to burn off today, which is better than sitting around letting it stew. On another note, when it comes to your professional life, it may be time to say goodbye to a toxic job or working situation. Someone close to you may be the shoulder you need to lean on.
Sagittarius (Nov. 22 - Dec. 21)
You might find yourself full of creative inspiration today and perhaps in the right place at the right time when it comes to connecting with people that may be able to get one of your creative ideas off the ground. On another note, a love affair could take you by surprise. Go ahead and have some fun.
Capricorn (Dec. 22 - Jan. 19)
You might find yourself at odds with your supervisor or management which could have you ready to cut your losses and head for the hills. Though you're not the kind to do something impulsive, this could have you questioning whether you need a more emotionally fulfilling job. Go with your gut.
Aquarius (Jan. 20 - Feb. 18)
You might find yourself feeling extra impulsive today, which means it may be a good idea to run your ideas by a trusted friend before making any snap decisions. It could save you a headache later. On a different note, it's time to take a different approach or outlook when it comes to pursuing a dream.
Pisces (Feb. 19 - March 20)
You may need to stay on top of a financial matter today, especially when it comes to money you owe or money owed to you. If job hunting, you could find a promising lead but make sure you are demanding your worth. Meanwhile, it's time to let go of a relationship that's messing with your self-esteem.