Here's Your Horoscope For Today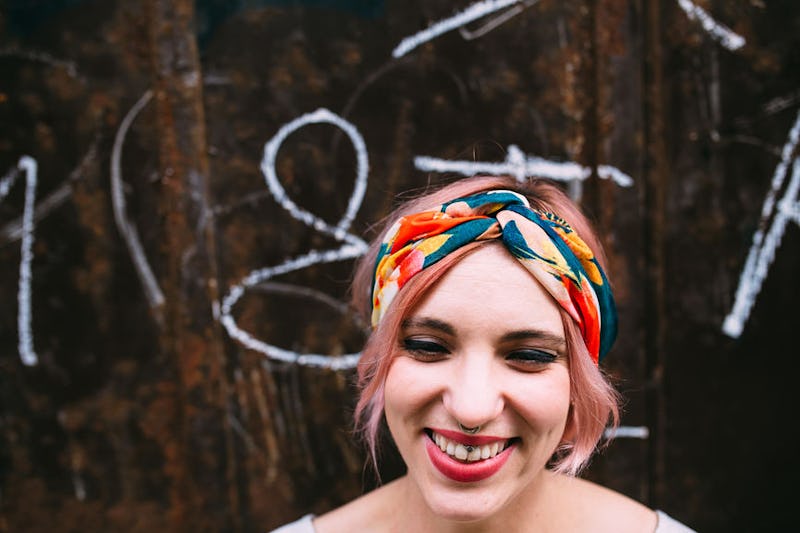 Thais Ramos Varela/Stocksy
We're constantly fascinated by what our zodiac sign says about our lives, whether it's which signs are most compatible or how each sign handles conflict in relationships. That's why Bustle has enlisted Mecca Woods, a New York City-based astrologer of MyLifeCreated.com, to tell us all about how astrology is affecting our lives each day. Today's topic: your daily horoscope for November 30, 2018.
The Moon remains in analytical and hardworking Virgo today, helping us to remain busy and productive. Under a Virgo Moon we usually find that we're most interested in getting organized, helping others, and handling the smaller details of a project or task. When the Moon meets up with powerful Pluto in Capricorn by later this afternoon, we get some extra help from the cosmos to overcome obstacles and find solutions to tough problems.
By later tonight, Venus in partnership-oriented Libra moves into an opposition with unpredictable Uranus in Aries, which could bring some surprising or unexpected developments in love, relationship, and money-related matters. The best way to harness this energy is by using to break out and outworn patterns in these areas.
Read below to see what the stars mean for your sign today, and be sure to check out your December 2018 horoscope.
Aries (March 21 - April 1)
You've got a heart full of determination today when it comes to going after your goals and getting the job done. As long as you stay focused and pay attention to the details, you can't go wrong. Meanwhile, it's time to let go of old relationship dynamics. Don't let history repeat.
Taurus (April 20 - May 20)
Don't play yourself small. This is the message for today. When it comes to something you're creating or a dream you're manifesting, show up fully for it. Don't worry about who's on board or not. It's all about you right now. It's time to pay more attention to your well-being.
Gemini (May 21 - June 20)
Family or someone close to you may come to the rescue for you today, especially if you find yourself in your feelings. Taking some time to talk about what you're feeling could help you heal. In matters of the heart, you could meet someone new in a very unexpected way. Be open.
Cancer (June 21 - July 22)
If you need to have a heart-to-heart conversation with someone today, there's a strong chance that it could go well. Overall, you have the gift of gab now, which means communicating your needs or desires will get you far. With respect to work, it may be time for something more fulfilling.
Leo (July 23 - Aug. 22)
You're focused on your money now, and there's a good chance that you could manifest some extra income today if you're willing to dig deep and put in the time and dedication. However, if you really want to level up it may be time to pick up some new skills. Improve your game.
Virgo (Aug. 23 - Sept. 22)
It's all about you and your needs today, so shower yourself with some attention and self-care — self-care in the form of something that stokes your passion). If you've been doubting yourself or feeling self-conscious, the cosmos pushes you to believe in yourself again.
Libra (Sept. 23 - Oct. 22)
You might find yourself feeling a bit moody today, but that's a sign that you need to pay closer attention to your emotional well-being. Know that tears can be cleansing. At the same time, you just might find the strength you need to keep going. Keep practicing self-love.
Scorpio (Oct. 23 - Nov. 21)
You're thinking in terms of business and pleasure today when it comes to connecting with others. Attending a social gathering could bring you a professional opportunity as well as the chance to make some new friends. Look to ways you can find a healthier work-life balance.
Sagittarius (Nov. 22 - Dec. 21)
You've got your eyes focused on your career today and it's possible that you could hit a milestone of sorts, especially where your money is concerned. At the same time, you're reminded not to give up on your goals, as what you want is close. Look to the people that inspire you.
Capricorn (Dec. 22 - Jan. 19)
You might find yourself feeling more confident today than you have in a while. Your instincts are strong, so make sure to trust them. Overall, you're being encouraged to live according to your own rules and beliefs, not someone else's. Also, if one door closes, another one will open.
Aquarius (Jan. 20 - Feb. 18)
Take today as an opportunity to let go of the past, especially if it's something that's been weighing you down emotionally. Remember, you have the power to write your narrative. Don't let an old way of thinking stop you from seeing what's possible. Think outside the box.
Pisces (Feb. 19 - March 20)
A friend or someone close to you may call on you for help today and you're more than happy to help. Just be mindful of giving too much time and energy to a lopsided relationship. On a different note, pay attention to your spending. A sudden expense could come up.