Here's Your Horoscope For Today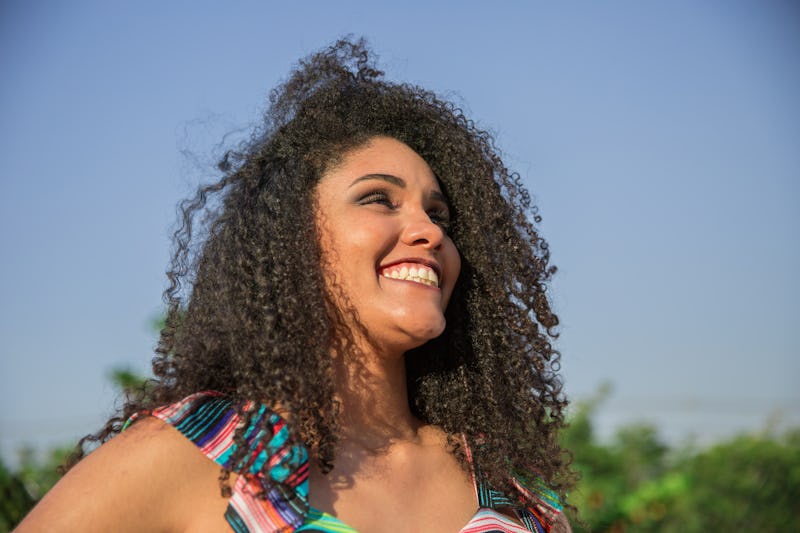 Cristiano Babini/Fotolia
We're constantly fascinated by what our zodiac sign says about our lives, whether it's which signs are most compatible or how each sign handles conflict in relationships. That's why Bustle has enlisted Mecca Woods, a New York City-based astrologer of MyLifeCreated.com, to tell us all about how astrology is affecting our lives each day. Today's topic: your daily horoscope for October 12, 2018.
The Moon leaves the deep, murky waters of Scorpio early this morning and enters warm and fiery Sagittarius. With the Moon in Sagittarius, we should find ourselves craving laughter, adventure, and thoughtful discussions about everything under the sun. If we've got plans for a night out on the town, the Sagittarius Moon will be working to make sure that we have a good time. We may just need to be careful not to overindulge. At the same time, if we've been swimming in our feelings for too long, the Sagittarius Moon could help to lighten the mood a bit, pushing us to find the silver lining in any bad situation. Through Sagittarius, we gain wisdom and the ability to see the bigger picture through our experiences.
Read below to see what the stars mean for your sign today, and check out your October 2018 monthly horoscopes.
Aries (March 21 - April 19)
After diving deep to your emotional depths, you're ready to shake off the melancholy and get back out into the world. This is the perfect day for a day trip or any activity that affords you a change of scenery and the opportunity to have a good time. Your sense of optimism returns.
Taurus (April 20 - May 20)
You might find yourself craving some intimacy now, which makes today the perfect time to snuggle up and get in some quality time with your partner. If single, you might find yourself getting some clarity on the challenges you may be facing in your love life. Hint: release the past. Love your "ugly" side.
Gemini (May 21 - June 20)
Your partner or someone close to you may be calling on your love and support today and you're more than happy to oblige. Though remember that the street goes both ways. As such, don't be shy about reaching out if you need some love and support too. Nourish your relationships.
Cancer (June 21 - July 22)
It's all work and very little play today, which means you'll have to make sure you take good care of yourself so you can keep up with all the stuff coming your way. Meanwhile, if you find that you're not feeling as fulfilled as you should when it comes to your everyday life, step out of your comfort zone.
Leo (July 23 - Aug. 22)
You're in the mood for some fun and romance now and it seems the cosmos is more than happy to feed that craving you've got. If looking to meet someone new, it's a good time to be out and about doing things you enjoy as joy is an attractive force. Nurture your creative energy too.
Virgo (Aug. 23 - Sept. 22)
It's all about your home and family life now and you might find yourself needing to be home or with the people that you love. If you've been running on empty, time spent at home could be a source of rest and comfort. Feeling nostalgic? Spend some time with your good memories.
Libra (Sept. 23 - Oct. 22)
You might find yourself feeling extra sensitive to the people and the energy around you today, which means that you should take some extra care with the kind of media, music, or information that you consume. Look to things that boost your mood and inspire you. Friends or siblings could be helpful.
Scorpio (Oct. 23 - Nov. 21)
You may be in the mood to spend some cash today and most likely it'll be on something that will bring you some comfort. Though just make sure you're not focusing too much energy on thinking about what you have or don't have. "Stuff" doesn't define you. Only you can define you.
Sagittarius (Nov. 22 - Dec. 21)
You may find yourself feeling more upbeat today, which is a good thing. Though overall, you're reminded not to neglect your needs when it comes to your well-being. Don't be afraid to speak up and let others know what you feel or what you need from so you can get it. Open yourself up.
Capricorn (Dec. 22 - Jan. 19)
It's time to dial things back a bit, Capricorn. If you find yourself feeling slow and sleepy today, then it's a good sign that you need to recharge. In fact, you might be craving your bed right about now. Meanwhile, take care of your emotional needs too. Look to something that fills up your soul.
Aquarius (Jan. 20 - Feb. 18)
It's all about your community and network today, as you're encouraged to get out and circulate. The connections and conversations with others could be the fuel you need right now. At the same time, doing something on behalf of those that may be less fortunate will also be a reward.
Pisces (Feb. 19 - March 20)
You might find yourself feeling more confident about your career and your future than you may have in a while. To keep your confidence up, make sure you're not spending too much time trying to compare yourself to what others are doing. This is time to reach down deep and believe in you.