Here's Your Horoscope For Today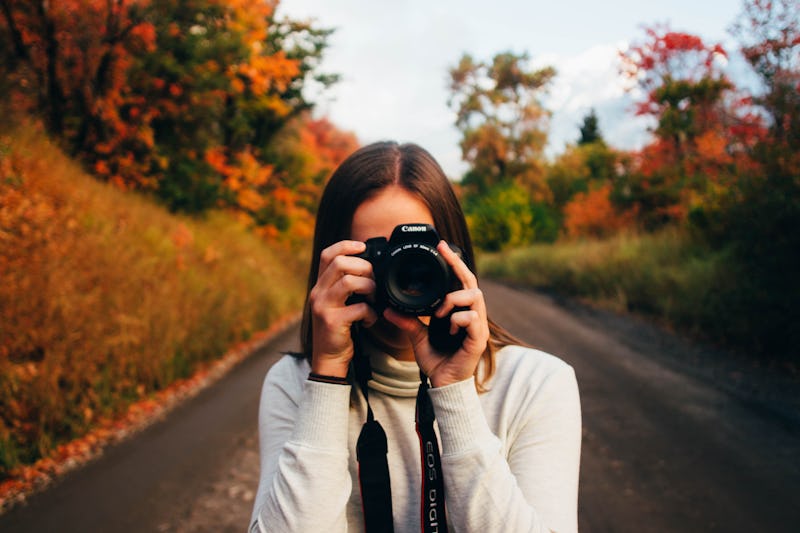 Evan Kirby/Unsplash
We're constantly fascinated by what our zodiac sign says about our lives, whether it's which signs are most compatible or how each sign handles conflict in relationships. That's why Bustle has enlisted Mecca Woods, a New York City-based astrologer of MyLifeCreated.com, to tell us all about how astrology is affecting our lives each day. Today's topic: your daily horoscope for Oct. 20, 2017.
The vibe is a bit subdued today as the Moon remains in undercover Scorpio for the day, putting us in the mood for solitude, behind-the-scenes activities, and intimate exchanges. Those feelings should intensify as the Scorpio Moon goes on to meet up with dreamy Neptune in Pisces later in the evening, heightening our sensitivity, compassion, and intuition. With a Moon-Neptune combination like this, it's the perfect time to relax, follow through on an inspiration, and immerse ourselves in the things we love, with the people we love.
Read below to see what the stars mean for your sign today and be sure to check out your October 2017 monthly horoscope, too.
Aries (March 21 - April 19)
You may not be feeling your usual outgoing self today, though it shouldn't worry you too much as may need a timeout. This is a good time for delving inward and clearing out any emotional "gunk" that you my be feeling. Your intuition is so on point right now it's almost scary. Pay attention to it.
Taurus (April 20 - May 20)
It may be hard not to lose yourself in your bae's gaze today, as the romantic vibe between you will be strong. If you're single, there's a possibility you could meet someone with potential through a friend. Meanwhile, time spent with a friend or a close confidant could be exactly what you need today.
Gemini (May 21 - June 20)
A creative idea could help you to gain recognition from a VIP, public accolades, or a step up in your career, which means you shouldn't be shy about sharing your ideas or taking the lead. If you're not feeling as fulfilled as you should with your job, maybe it's time to think about moving on.
Cancer (June 21 - July 22)
You're on a creative hot streak today, which means it's the perfect time to sequester yourself away from the world for a few hours in order to fully dive into that creative energy. There's not telling what kind of genius you could come up with now. Dare to follow your heart and take a creative risk.
Leo (July 23 - Aug. 22)
It's time to dial it down and give the more tender side of you some attention. Connect with family, rest, laze around the house, or spend some quality time with the one you love. If you've been feeling off-kilter, use this time for getting calm, grounded, and nourished. That includes not skipping any meals.
Virgo (Aug. 23 - Sept. 22)
Today could bring you a much needed conversation or heart-to-heart with your partner. You both could reach a mutual agreement or finally come to an understanding that puts you both at ease. Similarly, a close friend could have great wisdom for you. Don't be afraid to open up and say what you feel.
Libra (Sept. 23 - Oct. 22)
If you've been job hunting, you could make some serious progress today, which means it's a good time to send out applications and resumes. Though overall, when it comes to the money you make or the job you get, you'll be able to get what you want sooner by recognizing that you deserve it.
Scorpio (Oct. 23 - Nov. 21)
Love is in the air for you today, which is yet another thing for you to smile about as the stars align in your favor. Make time to indulge in this energy though, even if it means showering yourself with that love. Doing something fun with someone you enjoy can be a welcome escape. Get free.
Sagittarius (Nov. 22 - Dec. 21)
If you're feeling rundown or tired, Sag, don't be too alarmed. You've been working so hard that you need the rest. Today's the perfect day for getting in a nap, some good home cooking, or a Netflix marathon. Slow down long enough and you just might be able to hear yourself think. Listen to your intuition.
Capricorn (Dec. 22 - Jan. 19)
You survive today with some help, support, and good vibes from your friends. Call one of them up and catch a movie or drink. The conversation and company will recharge you. Meanwhile, don't be surprised if you're feeling a surge of fresh energy, especially when it comes to your goals. Go big.
Aquarius (Jan. 20 - Feb. 18)
You could get some recognition or attention today that could lead to VIPs taking notice of just how special you are. This is why you shouldn't second guess yourself about taking the lead or stepping up to be noticed. As long as you trust your gut, you can't go wrong. It's OK, put yourself out there.
Pisces (Feb. 19 - March 20)
Don't be surprised if you're feeling like you have the eye of the tiger today. The energy in the air is the kind that can help you take over the world. Now that you're back to being in your element, use that power to go after what you want. Plus, what you want may arrive sooner than you think. Push forward.