Here's Your Horoscope For Today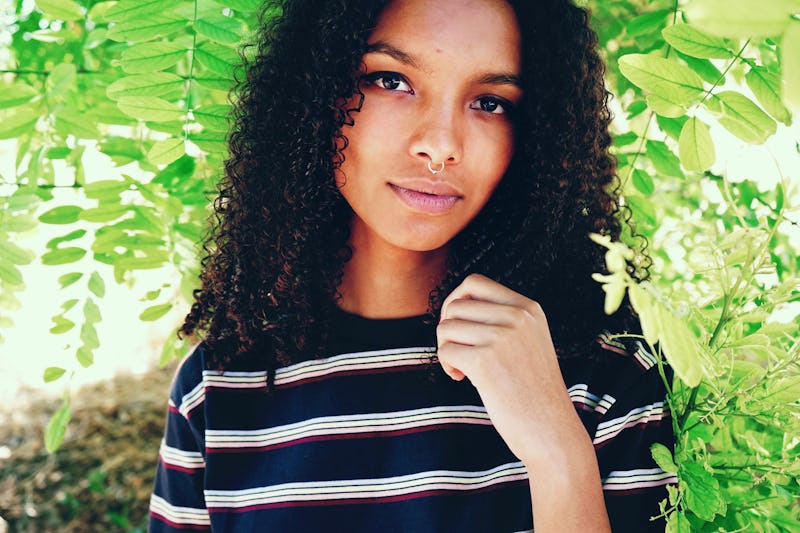 nanihta/Fotolia
We're constantly fascinated by what our zodiac sign says about our lives, whether it's which signs are most compatible or how each sign handles conflict in relationships. That's why Bustle has enlisted Mecca Woods, a New York City-based astrologer of MyLifeCreated.com, to tell us all about how astrology is affecting our lives each day. Today's topic: your daily horoscope for September 12, 2018.
"Intensity" is the word of day as the Moon moves into passionate, all-or-nothing Scorpio by this afternoon. With the Moon teaming up with Venus and Jupiter in Scorpio, we should find ourselves feeling pretty passionate too — no matter if it's about someone we love, something we love to do, or something that we believe in.
This kind of passion can come in handy when it comes to moving past challenges or obstacles, but we may need to be careful of taking that passion too far when the Moon squares off with aggressive Mars in Aquarius and opposes unconventional Uranus in Taurus by the late afternoon.
Luckily, Saturn in Capricorn stops by to stabilize and calm things down a bit; meeting up with the Moon and Venus by the late evening. With Saturn in the picture, we're called to only give our time and energy to the people and things that are truly worth it. Choose wisely.
Read below to see what the stars mean for your sign today, and check out your September 2018 monthly horoscopes.
Aries (March 21 - April 19)
It may feel like something you've been nearly obsessing over isn't coming into fruition as quickly as you want it to, especially if your finances have anything to do with it. While this won't be a case of instant gratification, it doesn't mean it won't happen. Slow and steady wins the race now.
Taurus (April 20 - May 20)
You may have some pretty fixed ideals on how love and relationships are supposed to go but it could be that you need a fresh perspective. Sometimes things happen in a way that you least expect. Be open to another point of view or possibility. There's more than one way.
Gemini (May 21 - June 20)
It may be hard to keep the nervous tension at bay today because it may feel like everything is being thrown at you all at once. Though while you may have a number of things on your plate, this is one of those days where focusing only on the things you can handle will help. Take it slow.
Cancer (June 21 - July 22)
Someone could be trying to get under your skin today, making you feel as though you're not enough or don't quite fit in with the "cool crowd". Know that you don't have to give this person your power or your energy. As such, if you need to exercise your boundaries today, do so. Look out for you.
Leo (July 23 - Aug. 22)
A home- or family-related issue could have you at odds with your partner or someone you live with. On a similar note, you might feel like you're being pulled in all directions today when it comes to your personal and private life. Prioritizing what's important and what's not will get you through.
Virgo (Aug. 23 - Sept. 22)
You might have a bad case of analysis paralysis today, which could not only put wear and tear on your brain but on your body as well. If you want clarity on a particular subject it may help to step away from it for now and come back later. Clear your head by doing something entertaining.
Libra (Sept. 23 - Oct. 22)
You may be feeling impulsive with your cash today, specifically when it comes to spending money on something fun or pleasurable. While you shouldn't deny yourself treats, overspending now could have you paying for it later. Instead, look to ways you can better manage your money.
Scorpio (Oct. 23 - Nov. 21)
A family or relationship matter may be tugging on your heart strings today, and while it can be hard for you to let go of the past, the time has come for you to look at things realistically instead of how you want them to be. Hint: it's time to put you first. By caring for yourself, you can attract what you want.
Sagittarius (Nov. 22 - Dec. 21)
You may feel pulled between your social life and your private life today, but with your energy not being as high as you need it to be right now, it's probably best that you take a break and chill. Don't feel guilty about not extending yourself to others. It's OK to focus on your own needs.
Capricorn (Dec. 22 - Jan. 19)
You may find yourself caught between your usual lone wolf ways and needing support from others. Just know that is doesn't necessarily have to be one or the other. You can be independent and still need your community. In fact, community and friendship will get you through today.
Aquarius (Jan. 20 - Feb. 18)
It may be hard not to let uncertainty or insecurity get in the way today when it comes to pursuing your goals or making a big career move or decision. However, the universe wants you to know that you've got this so have some faith. Things are working on your behalf even if you can't see it.
Pisces (Feb. 19 - March 20)
You may be feeling a bit anxious and overwhelmed by your thoughts and fears right now, which could be making it hard for you to see the bigger picture. As such, don't be shy about leaning on your friends for support, if you're having a hard time finding clarity or staying positive. Don't give up.