Here's Your Daily Horoscope For Today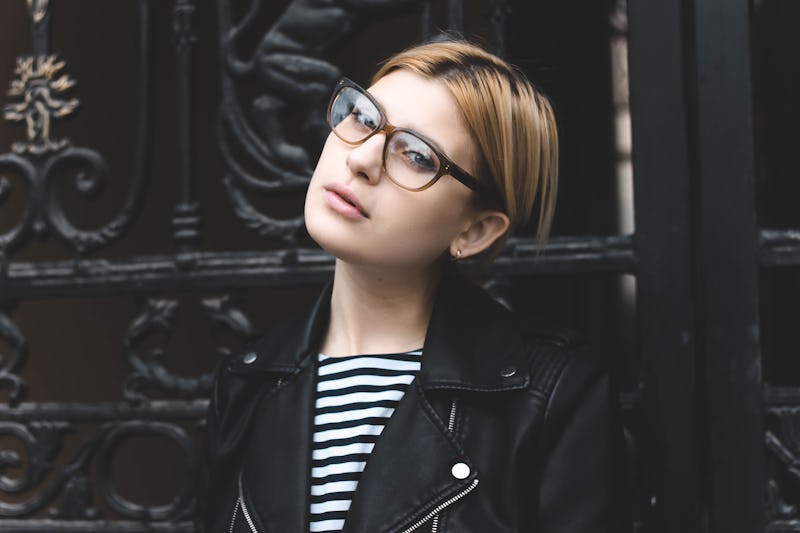 Alesia Kazantceva/Unsplash
We're constantly fascinated by what our zodiac sign says about our lives, whether it's which signs are most compatible or how each sign handles conflict in relationships. That's why Bustle has enlisted Mecca Woods, a New York City-based astrologer of MyLifeCreated.com, to tell us all about how astrology is affecting our lives each day. Today's topic: your daily horoscope for Sept. 22, 2017.
The Moon shifts into sexy and seductive Scorpio this afternoon, putting us in the mood for passion, mystery, and deeply intimate encounters. Under a Scorpio Moon, feelings are at their most intense, so we'll have to be mindful of taking anything too personally. However, if we need to take on anything that requires focus or a deep reserve of emotional strength, the Scorpio Moon can help. Speaking of staying focused, there's a meeting between Mercury in detailed-oriented Virgo and Pluto in Capricorn by mid-afternoon that's perfect for anything requiring research, problem solving, or getting to the truth. The the big news of the day comes courtesy of the Sun's entrance into Libra (4:02 p.m. ET), which kicks off a month-long celebration of all things associated with beauty, art, romance, and peace. Toward the end of the night, the Moon syncs up with Venus in Virgo, motivating us to take an all-or- nothing approach to money and relationships.
Read below to see what today's stars mean for your sign.
And remember to tune into Bustle's weekly horoscopes video live on Facebook every other Monday at 5 p.m. ET for a rundown of your weekly horoscope.
Aries (March 21 - April 19)
Today is an extra busy day, which means you'll have to pace yourself accordingly. However, don't think your work is going unnoticed, as you could land a pay raise, job opportunity, or another professional reward. Look to the people around you to help you with achieving your goals. Love gets sweeter.
Taurus (April 20 - May 20)
Love and romance are on the menu as you're in high demand. If single, you could make a love connection with someone new, while Tauruses living the bae life should make plans for a date night. Creatively, you're on fire, too. It's time to harness that energy and put it to good use. Don't let it stagnate.
Gemini (May 21 - June 20)
You may feel like you're pulled between two options today: fun and everything not-so-fun. Though, when you think about it, a big part of taking care of yourself means making space for play, especially when things have been so busy/heavy. Meanwhile, it's time to declutter your home and work space.
Cancer (June 21 - July 22)
It's time for you to have a little fun today, so call up some of your closest friends or family and do a something that brings some laughter into your heart. Speaking of family, the attention turns to yours as a parent or parent-like figure may come calling on your for help. Don't forget to nourish yourself.
Leo (July 23 - Aug. 22)
Your financial security and overall stability are the focus for you today. As such, you could find yourself taking the steps to move or upgrade your home. On another note, it's possible you could make some extra cash from freelancing or a home-based business. Get out and promote yourself.
Virgo (Aug. 23 - Sept. 22)
The conversations and connections you have with others today could put you on to an opportunity or two, so keep your eyes and ears open. It's truly a small world and you never know who you might meet or who knows who. Meanwhile, you're at your most magnetic when keep it original and authentic.
Libra (Sept. 23 - Oct. 22)
Happy Birthday, Libra! It's your time in the spotlight now. As such, get ready to make this new year one of your best. How? Well, for starters you can work on mending your heart and letting go of things that no longer serve you. Another thing you can do is to remember how valuable you really are. Godspeed.
Scorpio (Oct. 23 - Nov. 21)
It's all about you and taking care of you today, which means self-care is on the top of your list of priorities. Don't worry about pushing yourself too hard. Your energy won't be where you want it to be anyway. Though if you find yourself in your feelings know that your friends are standing by and ready to help.
Sagittarius (Nov. 22 - Dec. 21)
Part of you may be ready for a nap while the other part of you is ready to socialize and talk business. Try to make time for both today. Professionally, you're still going strong, which means a promising opportunity could present itself. Allow your intuition to guide you forward. Do what feels right.
Capricorn (Dec. 22 - Jan. 19)
You're the biggest boss that we've seen thus far and right now it's all about capitalizing on that impressive resume you've been building. Meanwhile, your friends are a source of support for you. Look to them to cheer you on when you need it most. It's important that you remember how powerful you are.
Aquarius (Jan. 20 - Feb. 18)
You're ready to head into a new direction and your professional life may be one of those areas where you're feeling the itch to move. You could uncover a promising job lead as a result or decide to pursue a position or project that brings you a deeper sense of fulfillment. Right now, sky's the limit.
Pisces (Feb. 19 - March 20)
You're in need of an escape today, especially with all of the hard work you've been putting in as of late. An impromptu day trip or something that eases and lifts your spirits will do. A conversation with your friend, partner, or someone equally close could provide you with the pep talk you need to keep going.