Here's Your Love Horoscope For The Weekend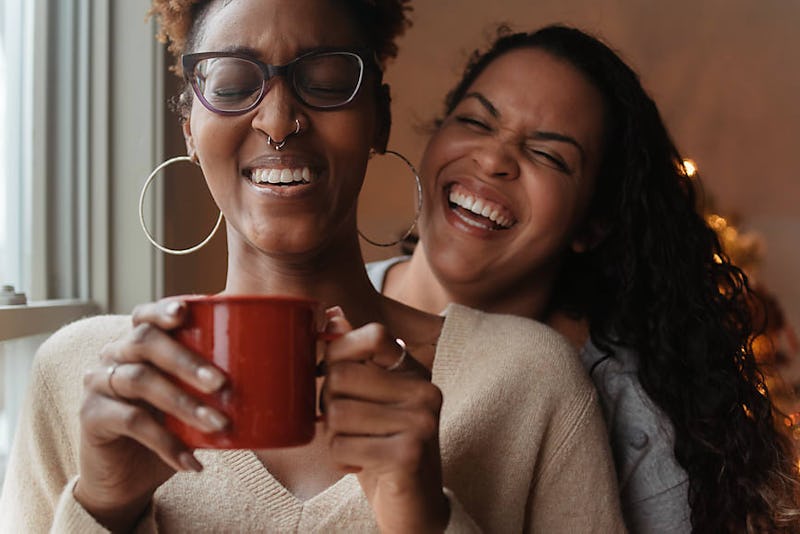 Chelsea Victoria/Stocksy
We're constantly fascinated by what our zodiac sign says about our lives, whether it's which signs are most compatible or how each sign handles conflict in relationships. That's why Bustle has enlisted Mecca Woods, a New York City-based astrologer of MyLifeCreated.com, to tell us all about how astrology is affecting our lives each day. Today's topic: your weekend love horoscope for December 8-9, 2018.
The focus is on quality and commitment this weekend as the Moon moves into serious Capricorn early Saturday morning while love planet Venus remains in all-or-nothing Scorpio. With the Capricorn Moon teaming up with Venus, plus serious Saturn in Capricorn and romantic Mars in Pisces this weekend, it's possible that we could find someone worth keeping around if we're single and ready to meet someone new. Coming fresh off of yesterday's auspicious New Moon in Sagittarius, we can look to the New Moon vibes to help us with starting a new chapter in our love lives while pushing us to take a chance on a promising romantic connection.
For those already in relationships, this weekend can help us with deepening the bond we share with our partner, while helping us to work out any problems within the relationship. On Sunday, Mercury in Scorpio teams up with Chiron in Pisces, which could trigger a soulful conversation that could help to heal the connections that need healing heighten the intimacy.
Read below to see what the stars mean for you this weekend.
Aries (March 21 - April 19)
It's possible that you could meet the real deal now or you could be with someone that feel like the real deal, though you may need to ask yourself if you're truly ready for this kind of a grown-up relationship. Don't shy away from it, but know it's going to require effort from you.
Taurus (April 20 - May 20)
You and your partner may not have had a lot of free time to spend together as of late, but this weekend you're encouraged to make the time. You both will be happier as a result. If you're single, it may be time to change your ideas on what you think a relationships should be.
Gemini (May 21 - June 20)
You and your partner may need to have a discussion this weekend about finances or shared responsibilities as someone may be feeling like they're doing more than their fair share. If single, it's time to work through your fears around intimacy. Allow someone to see you as you are.
Cancer (June 21 - July 22)
You continue to win when it comes to love as if you're single and you're looking to make a love connection, the stars are aligning to see that it happens. If you already have a bae, a serious talk or discussion could lead to positive results and put you both back on the same page.
Leo (July 23 - Aug. 22)
When it comes to attracting love, are you willing to put in the work it takes? Mostly are you willing to hold yourself accountable to your standards and hold out for someone with true potential? Don't shortchange yourself this weekend by going for what's superficial.
Virgo (Aug. 23 - Sept. 22)
This is not the weekend for staying in as getting out of the house and doing things that you enjoy, with people that you enjoy as happiness is a magnet for love. You might even meet someone worthwhile. Just don't doubt your desirability. Coupled up? A date night could be sexy.
Libra (Sept. 23 - Oct. 22)
If you have a partner, the two of you may be more focused on home- and family-related activities this weekend, though you may need to schedule some time in just for yourself. Single? Self-love goes a long way in terms of meeting the right person. Try not to obsess over the past.
Scorpio (Oct. 23 - Nov. 21)
You're the cosmic darling of the moment as all eyes are on you. With your magnetism shooting through the roof now, don't be surprised at the number of admirers knocking on your door. Need motivation? Rock a sexy new look. Partnered Scorpios may need to have a heart to heart.
Sagittarius (Nov. 22 - Dec. 21)
You might be feeling like love is a bit elusive to you right now, but it's not. You're just being asked to get clear about what you want as instant gratification won't bring you what you truly deserve. Don't worry, Sagittarius, the universe has heard your call. Give it some time.
Capricorn (Dec. 22 - Jan. 19)
You should find yourself in a social mood this weekend, making it a perfect time for you to get out and meet new people. A friend could introduce you to someone new. Online dating might not be a bad option either. Don't overthink it. For couples, it's time to try something different.
Aquarius (Jan. 20 - Feb. 18)
A dream could be coming true for you this weekend as you could meet someone with all of the right stuff. Though instead of wondering if this person is too good to be true or dwelling on disappointments from the past, ask yourself why you think you don't deserve happiness. You do.
Pisces (Feb. 19 - March 20)
There's no reason that you can't have what you want when it comes to love, and this weekend, there's good chance that you can get it. That's why it will help for you to be clear about what you want instead of going too far with the flow and ending up adrift. Travel could bring new romance. If partnered, a weekend getaway is what you two need.