Here's Your Love Horoscope For The Weekend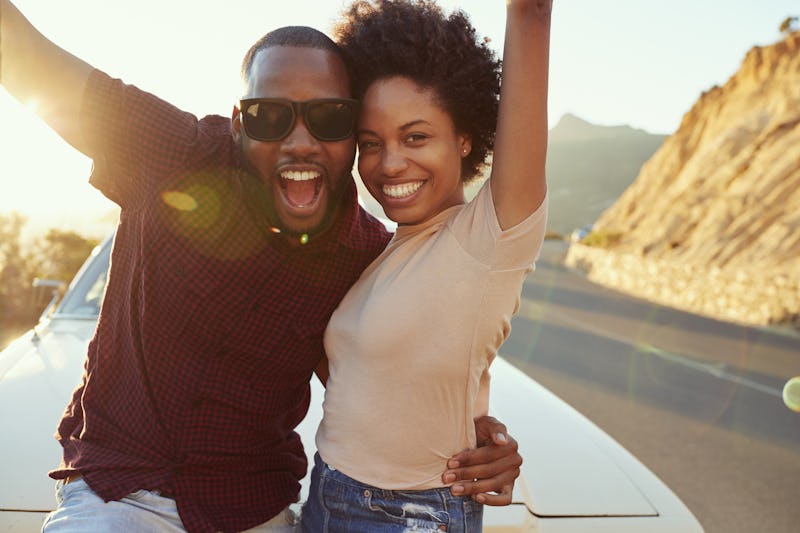 Monkey Business/Fotolia
We're constantly fascinated by what our zodiac sign says about our lives, whether it's which signs are most compatible or how each sign handles conflict in relationships. That's why Bustle has enlisted Mecca Woods, a New York City-based astrologer of MyLifeCreated.com, to tell us all about how astrology is affecting our lives each week. This week's topic: your weekend love horoscope for August 12-13, 2017.
The forecast for love this weekend is a bit stop-and-go, thanks to the Moon in Aries and the Sun in Leo revving our engines while Mercury retrograde slows things down. Plus with Venus, the planet of love herself, in sensitive Cancer — we might find all the passion and excitement to be a bit overwhelming as the Moon in Aries wants to keep things fast and free while Venus in Cancer just wants someone to cuddle and hold. Still, we can look to the Aries Moon along with the Sun and Mars in Leo, to help the sparks fly and keep the vibe interesting. However, if we have dates scheduled this weekend, it may help to stay flexible and have a back up plan handy as Mercury retrograde begins on Saturday night, causing all kinds of glitches with travel and communication.
"There's also a chance an ex-flame or two could make a comeback this weekend."
And speaking of communication, it'll help to be on the lookout for misunderstandings too as things can get real confusing real fast under a Mercury Rx. Of course, there's also a chance an ex-flame or two could make a comeback this weekend, which can be welcome...or not. With Mercury in Virgo, it'll be up to each of us to discern which. Things settle down a bit when the Moon shifts into Taurus on Sunday morning, which could be good for some post-sex cuddling and breakfast in bed.
Read below to find out what this weekend's stars mean for your love life. And remember to tune into Bustle's weekly horoscopes video live on Facebook every other Monday at 5 p.m. EST for a rundown of your weekly horoscope.
Aries (March 21 - April 19)
You're out to have some fun this weekend and you can look to the cosmos to oblige you as your dance card should be pretty full. Whether you're single or not, expect the sparks to fly and the passion to run hot this weekend. That said, know that your love life isn't anyone's biz but your own. Be happy.
Taurus (April 20 - May 20)
You may not be seeing a relationship or a potential one as clearly as you should this weekend, which means you may need to pay closer attention to your intuition. At the same time, an ex-lover could pop back up into the picture. If things ended badly, you may want to think twice about going back.
Gemini (May 21 - June 20)
Hanging out with friends or attending a social event this weekend could lead to love. If looking, dress your best and get out and about. Meanwhile, you could have your own #WeMetOnTwitter story to share as the virtual world could also yield some promising results. *Insert heart eyes emoji*
Cancer (June 21 - July 22)
You should find yourself in high demand this weekend, which means a shortage of potential matches shouldn't be a problem. However, it's important that you vet carefully because you need a relationship that you can build and grow into something solid. Friends or siblings could play matchmakers.
Leo (July 23 - Aug. 22)
You may be single and ready to mingle this weekend but whether you're looking for a meaningful connection or something more casual, you may need to be super honest with yourself about what you want. Your love interest should be honest with you too. In a relationship? Try a little tenderness.
Virgo (Aug. 23 - Sept. 22)
If single, you might want to take this weekend as a bit of a time out from romance in order to get crystal clear about what and who you want. If you're not happy with your love life, it may be time to examine why. You may need to change your attitude about relationships. Couples should keep it low-key.
Libra (Sept. 23 - Oct. 22)
You might be feeling an "I love you, I love you not" kind of vibe this weekend when it comes to your bae. Though the underlying reason may be that there's something you two need to address that you're avoiding. If you need a little space, that's OK. Though intimacy is dealing with the ugly parts too.
Scorpio (Oct. 23 - Nov. 21)
You might have to resist the urge of planning things down T when it comes to first dates or venturing out with your sweetie as the potential for glitches and last-minute cancellations is high. Your best bet is to go with the flow and be open to new experiences when it comes to love. Travel could be romantic.
Sagittarius (Nov. 2 - Dec. 21)
You may feel a push-pull vibe this weekend as half of you may be ready to get hot and heavy while the other half of you wants to keep the romance carefree. Though with your personal magnetism through the roof now, you may want to be more intentional about your love matches. Use your head and heart.
Capricorn (Dec. 22 - Jan. 19)
You and your love may not see eye-to-eye during the first half of the weekend as there could be an issue around finances that could upset you. However, know that a power struggle between both of you isn't what you need. By the end of the weekend, thing should improve. Keep the communication open.
Aquarius (Jan. 20 - Feb. 18)
The romance is hot this weekend, for better and for worse, though you get to determine which way it goes. When it comes to someone you're seeing or may be thinking of seeing, you may need to determine if they can fit into your everyday life. A conversation about shared finances may need to be had.
Pisces (February 19 - March 20)
You may think you've moved on, but an ex returning could bring up old feelings. The key to handling them though is to determine if this person has a new or improved role to play in your life. Meanwhile, your chances for meeting someone new improves. Just make sure they align with your values.