Here's Your Love Horoscope For The Weekend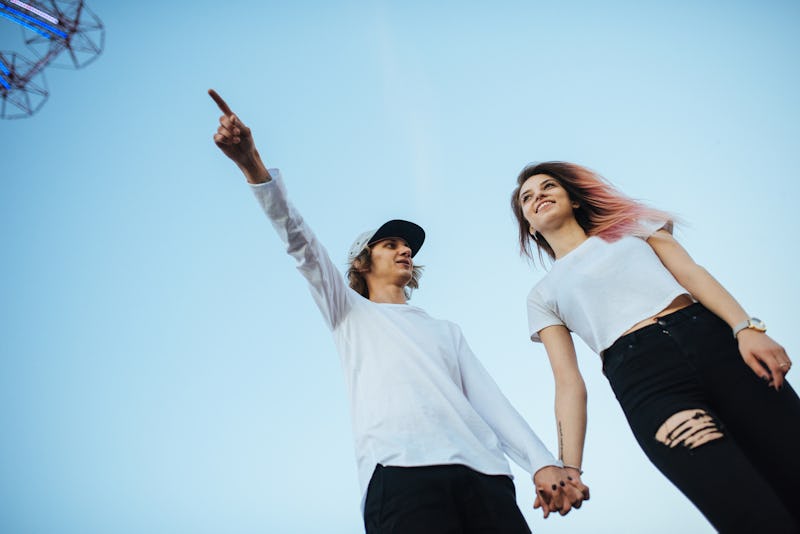 sata_production/Fotolia
We're constantly fascinated by what our zodiac sign says about our lives, whether it's which signs are most compatible or how each sign handles conflict in relationships. That's why Bustle has enlisted Mecca Woods, a New York City-based astrologer of MyLifeCreated.com, to tell us all about how astrology is affecting our lives each week. This week's topic: your love horoscope for the weekend of Feb. 18-19, 2017.
With the Sun entering dreamy and romantic Pisces on Saturday morning, the spotlight returns to love and relationships that have a soulful, intimate vibe. However, things may get off to a rocky start as the Moon shifts into free-spirited Sagittarius by Saturday afternoon, which leads up to a square off with the Pisces Sun just moments later. Though Pisces and Sagittarius can be quite idealistic when it comes to love, under this Sun-Moon combination there can be a conflict between getting what we want (intimacy) versus getting what we need (freedom). As a result, there may be a "come here, now go away" vibe that permeates the air which may hinder those of us looking for more commitment from a lover.
By Sunday morning, the energy shifts a bit when the Sagittarius Moon meets up with Venus in Aries for a friendly chat. With these two supporting each other, romance takes on a passionate, lighthearted, and spontaneous mood. This cosmic combination is perfect for a spur of the moment brunch date with lots of conversation or a daytime date that calls for some physical fun.
"We may have a hard time seeing someone for who they really are or may feel like the perfect person or relationship is too far out of our reach."
However, by the afternoon, things may get wonky again when the carefree Sagittarius Moon squares off with sensitive Neptune in Pisces. Under this combination we may have a hard time seeing someone for who they really are or may feel like the perfect person or relationship is too far out of our reach. The key to avoiding these love traps is to remember that if something or someone seems too good to be true, it probably is.
Read below to find out what this weekend's stars means for your love life. And remember to tune into Bustle's weekly horoscopes video live on Facebook every other Monday at 5 p.m. EST for a rundown of your weekly horoscope.
Aries (March 21 - April 19)
With you wanting a deeper kind of love now, you'll have to be careful of jumping all in with the first person that catches your eye. While there's nothing wrong with having a bit of fun, you'll need to be more honest about your needs now and more accountable with your heart.
Taurus (April 20 - May 20)
You could have a passionate encounter this weekend or find yourself craving more steam and more intimacy in your love life which may leave you vulnerable to an off-limits kind of affair. Before you go getting in over your head with the wrong person, work on attracting someone better.
Gemini (May 21 - June 20)
There may be a conflict between you going after your goals and tending to the needs of your love life. Though before you put what you want on hold, recognize that the person that's truly meant for you will support your dreams and your sense of independence. Doing what you love shouldn't hinder love.
Cancer (June 21 - July 22)
While you may hoping to be whisked away by your love or whisked off your feet by a potential match, this might be one of those times where handling your business will have to come before anyone else. Not that you can't make time for love, but for right now that attention needs to be brought inward.
Leo (July 23 - Aug. 22)
There's potential for you to meet someone new this weekend if you're single and looking. However, you'll have to be on guard for the emotional vampires, which means you'll have to trust your intuition. In a relationship? You could be feeling extra needy now. You may have to give yourself what you need.
Virgo (Aug. 23 - Sept. 22)
Something from the past could come up this weekend that causes some tension between you and your lover. Though this conflict can help you to finally heal the wound. Single? Someone might not be all they seem to be.
Libra (Sept. 23 - Oct. 22)
There could be some miscommunication to watch out for between you and your partner this weekend, which means you'll have to make sure you're hearing what's being said and not what you want to hear. If this person is a new love interest it may be time to consider if they're really long-term worthy.
Scorpio (Oct. 23 - Nov. 21)
The spotlight on your love life returns which increases the opportunity for you to find love. However, is there a discrepancy between who you're dating and what you really want from love. Remember authenticity (especially with yourself) is key. In a relationship? Time to get finances straight.
Sagittarius (Nov. 22 - Dec. 21)
There may be some tension between you and your love this weekend which could have you feeling off kilter. Though the issue here may be that you've become too comfortable and may need to work on shaking things up a bit. Things won't get better on their own. Single? It's time to release the past.
Capricorn (Dec. 22 - Jan. 19)
There may be something that you've been holding on to that you've been hesitant to bring up to your partner. However, this isn't the time to pretend that you can fix it all on your own. Opening up and talking with the one you love may pleasantly surprise you. Single? Expect a soul-stirring encounter.
Aquarius (Jan. 20 - Feb. 18)
The subject of money could come up again between you and your beloved which could force you to be more realistic about your future. Single? There's a chance you could meet someone through friends. Though before things get too hot and heavy, make sure what you're getting aligns with what you want.
Pisces (February 19 - March 20)
Welcome back, Pisces! Your time of year is here which should bring some goodies along with it. Though when it comes to love, it seems that there's some work to do. Simply put — how can you avoid getting tripped up by an ideal of love instead of the real thing? Hold fast to your values/self-value.