Here's Your Love Horoscope For The Weekend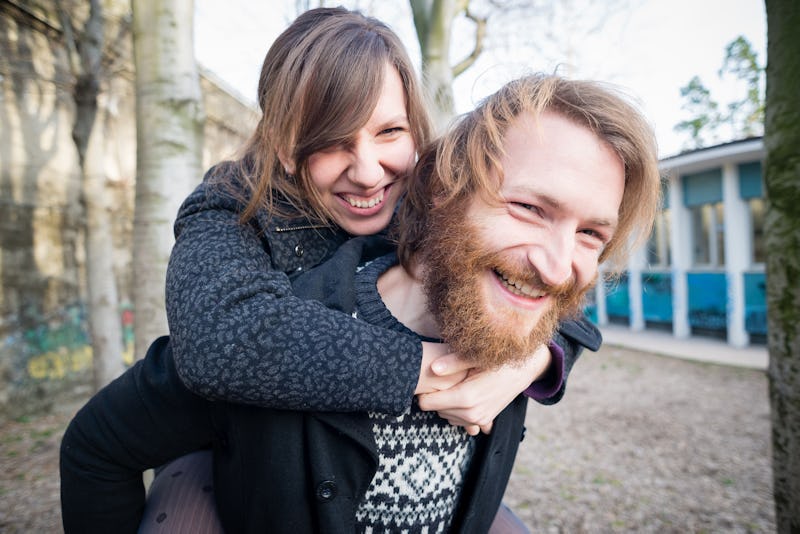 Eugenio Marongiu/Fotolia
We're constantly fascinated by what our zodiac sign says about our lives, whether it's which signs are most compatible or how each sign handles conflict in relationships. That's why Bustle has enlisted Mecca Woods, a New York City-based astrologer of MyLifeCreated.com, to tell us all about how astrology is affecting our lives each week. This week's topic: your weekend love horoscope for Feb. 3-4 2018.
With the Moon in romantic and partnership-oriented Libra for much of the weekend, we can expect love and relationships to be a big focus. Since Libra is a social and outgoing air sign, this weekend was largely made for attending events and gatherings designed to bring people together, especially as communicative Mercury in Aquarius teams up with Mars in worldly Sagittarius on Saturday morning, giving us a serious itch to connect and chat with others. If single and looking for love, this is the perfect weekend to be out and about. The chances of meeting someone new are high, whether you're alone or with friends, especially with Venus (the planet of love) in friendly Aquarius.
Couples can get in on the action too by taking a cue from the Moon in Libra and Venus in Aquarius to plan date-night activities centered on thought engaging, experimental, and innovative experiences. By Sunday morning, things get a little dicey as Venus in Aquarius squares off with Jupiter in passionate Scorpio and the Libra Moon squares off with serious Saturn in Capricorn. The result of this planetary combo could create a push-pull effect between lovers, especially for those of us looking for something a bit deeper than a casual fling or an innocent flirtation.
Still, with the Libra Moon meeting up with the Sun and Mercury in Aquarius by Sunday evening, those of us looking to connect with someone can at least get the conversation started.
Read below to find out what this weekend's stars mean for your love life.
Aries (March 21 - April 19)
Your chances of meeting someone new this weekend increase when you take the off-beaten path and do something you haven't done before. Friends could introduce you to someone too. Keep it light and see where it goes. Meanwhile, couples should get out and try something different.
Taurus (April 20 - May 20)
With so much on your plate this weekend, love may be the farthest thing from your mind. If you're seeking a relationship, it's time to get clear about the kind of transformation you'd like to make in your love life. What unhealthy love patterns can you break? Work on loving you a little more.
Gemini (May 21 - June 20)
It will be hard for you to ignore the love vibes in the air this weekend, so you might as well get out and enjoy them. Travel, whether distant or local could bring love, as well as doing something daring or a little adventurous. Give yourself permission to have fun. Love need not be so heavy now.
Cancer (June 21 - July 22)
You and your bae may opt for staying at home and keeping it cozy rather than going out. That's a good thing though because you could both use the time. If single, you might not be feeling the crowds this weekend either. Instead, this is a good time for self-care and healing from past hurt.
Leo (July 23 - Aug. 22)
You've been enough of a homebody. It's time to get back out and start circulating again, especially if you want to meet new people. If looking for love a friend or sibling could introduce you to someone special. Meanwhile, couples may need to get out of an old routine. Invest in playtime.
Virgo (Aug. 23 - Sept. 22)
In terms of meeting someone new this weekend, it could happen when you least expect it like while you're en route to run an errand or at your local gym. Though try not to put pressure on yourself to find love as desperation only chases it away. Focus on nourishing you and let the rest sort itself out.
Libra (Sept. 23 - Oct. 22)
You might be feeling yourself this weekend as you find yourself in high demand among admirers. As such, this is a great time for you to get out and mingle as your energy will be infectious. Just be wary of letting the past weigh you down. With a love match make sure your values align.
Scorpio (Oct. 23 - Nov. 21)
You may be feeling more withdrawn than usual now, which may not be the best time for socializing. However, if looking for love, it's possible that you could connect with someone at an intimate gathering hosted by a close friend or family member. Be mindful of thinking negatively about love.
Sagittarius (Nov. 22 - Dec. 21)
With your confidence level at an all time high, this is your weekend to go out and strut your stuff. It'll be hard for others not to take notice of you so don't feel any shame in soaking up all the attention. Just know that holding on to the past won't let anything new come through so let go and move on.
Capricorn (Dec. 22 - Jan. 19)
You might find yourself craving some attention from others this weekend, though there's a chance that attention may not be as forthcoming as you would like. Instead of gauging your self worth by the validation you receive or don't receive, send some extra love and care your way for a change.
Aquarius (Jan. 20 - Feb. 18)
You continue to be the darling of the zodiac when it comes to love and relationships, remaining on the top of everyone's most wanted list. Attending a public event or meetup could spark a conversation with a cute stranger, as well as donating your time to a volunteer event or good cause.
Pisces (Feb. 19 - March 20)
You could meet someone this weekend in a way that feels fated or meant to be. Though before you get swept off your feet, you may need to do a little research or digging to make sure this person is who they say they are, so there's no surprises later. Don't let your heart cloud your judgement.