Here's Your Love Horoscope For The Weekend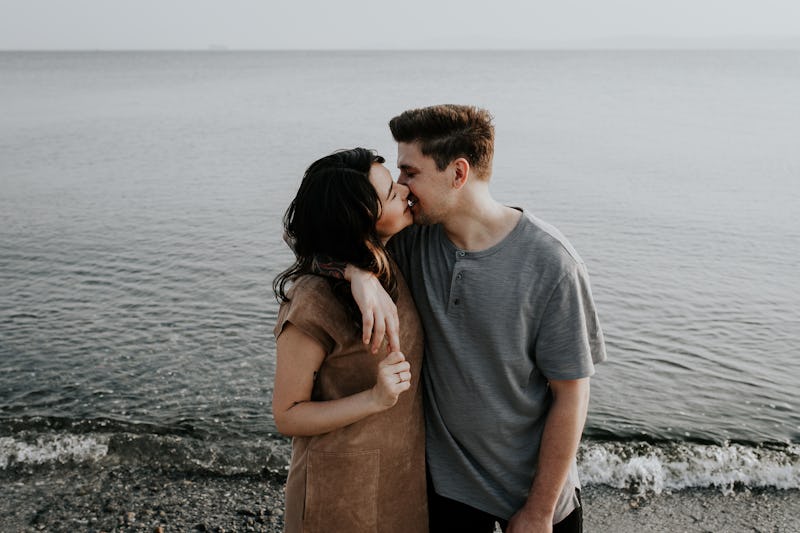 Beth Solano/Unsplash
We're constantly fascinated by what our zodiac sign says about our lives, whether it's which signs are most compatible or how each sign handles conflict in relationships. That's why Bustle has enlisted Mecca Woods, a New York City-based astrologer of MyLifeCreated.com, to tell us all about how astrology is affecting our lives each week. This week's topic: your weekend love horoscope for October 7-8, 2017.
If there was ever a weekend built for lovers, this might be it, with the Moon in sensual Taurus and the Sun in loving Libra. On Saturday, the Moon meets up with dreamy Neptune in Pisces and Pluto in commitment-oriented Capricorn, deepening our desire to curl up with someone special. If single, the attraction will be hard to deny when it comes to a potential love match. Though couples will be able to get in on the sexy fun too, especially as the Taurus Moon syncs up with Venus and Mars in devoted Virgo by Sunday morning. Meanwhile the Sun and Mercury sync up in romantic Libra, inspiring flirty encounters and emoji heart eyes on and offline. By late Sunday night, the Moon shifts into chatty and curious Gemini, which could make for a fun evening out.
Read below to find out what this weekend's stars mean for your love life. And remember to tune into Bustle's weekly horoscopes video live on Facebook every other Monday at 5 p.m. EST for a rundown of your weekly horoscope.
Aries (March 21 - April 19)
If you're looking to meet someone new, you may not have to try too hard as just about everyone wants to get close to you. Though quality beats quantity when it comes to love this weekend. Even if you're looking for something not that serious, your romantic interest should still be worth your time.
Taurus (April 20 - May 20)
Love sparkles for you this weekend, which means if you've been looking to get lucky, there's a strong chance a good looking stranger will come and whisk you off your feet (if you're into that kind of thing). For couples, date night works best at a concert, party, or a fancy to-do. Go have some fun!
Gemini (May 21 - June 20)
It's a low-key, cozy kind of weekend for you and your sweetie, which means a Netflix and chill night might be just what you both need after a long week. Single? A couple's cooking class could be a great date idea, while a wine tasting or eating at a posh restaurant could be fun too. Love is calling!
Cancer (June 21 - July 22)
If you're planning to hang with friends this weekend, make sure you're looking and feeling your best as the chance for meeting someone new will be strong. If you're feeling a bit shy, you can ask a friend to play wingman to get the ball rolling. Already in a relationship? A little spontaneity goes a long way.
Leo (July 23 - Aug. 22)
You may have been waffling back and forth about someone or whether you even want to be in the dating game right now but survey says — it's time to get crystal clear about what you really want otherwise you'll continue to get not quite right results. Couples may need to discuss long-term goals.
Virgo (Aug. 23 - Sept. 22)
Your star is still burning bright which means you shouldn't have too much trouble catching the eye of an admirer or two. Travel could bring love, as well as venturing out to do something that you haven't done before (like parasailing?). Meanwhile couples could use getaway out of town.
Libra (Sept. 23 - Oct. 22)
You may be feeling more low-key this weekend, which means you might not necessarily be in the mood to go out. However, your magnetism is pretty strong right about now, which means you won't have to work too hard for attention. Just make sure to carefully vet anyone you decide to entertain.
Scorpio (Oct. 23 - Nov. 21)
You're in a cuddly, snuggly kind of mood this weekend, which means you'll be wanting lots of one-on-one time with your sweetheart. That's cool because your sweetie won't mind obliging. Single? You could meet someone with long term potential through a friend or someone you know. Believe in love!
Sagittarius (Nov. 22 - Dec. 21)
You might feel like you're too busy for love this weekend, but a little flirting won't do you any harm. Sometimes it's good to know that you still got it. However, if you are interested in making a love match, this is one of those times where it could happen when you least expect it. Be receptive to love.
Capricorn (Dec. 22 - Jan. 19)
Hey, hot stuff. You're sexy and the everyone knows it this weekend, which means good news for you when it comes to romance. Since you're in the mood for something different, you could connect with someone of a different culture or background while out having fun. Make pleasure a priority.
Aquarius (Jan. 20 - Feb. 18)
You may not be able to leave the bedroom this weekend because that's just how steamy it can get. Regardless if you're single or attached, you're going to be in the mood for action and action is what you'll get. Thinking of trying something new in bed? Go for it. The intimacy will help to deepen your bond.
Pisces (February 19 - March 20)
The fun comes back to romance this weekend, which means an interactive date for you and bae could be better than just going to a bar or out to dinner. In other words, make it interesting. Single? You could hit it off with a neighbor or someone you meet locally. Your sibling could play matchmaker for you.