A Figure Skater's Top Almost Came Off During Her Routine, But Her Save Should Earn A 10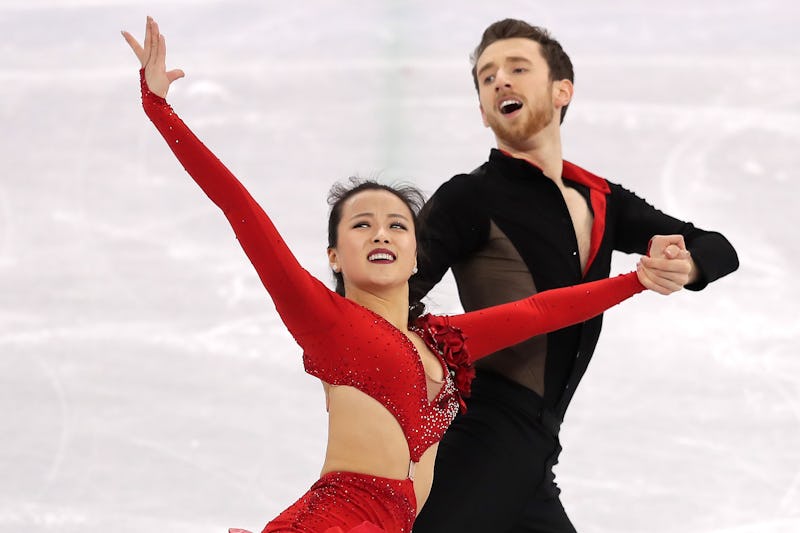 Richard Heathcote/Getty Images Sport/Getty Images
On Sunday, one Olympian received praise for swiftly adapting to a borderline sartorial disaster. On the brink of a total wardrobe malfunction, skater Yura Min responded to the situation with a combination of grace and quick thinking.
Just moments after she and partner Alexander Gamelin took to the ice for for their performance, a clasp securing her top came undone. However, there was even more at stake, because the bottom portion of the costume appeared to hang from the top portion, meaning the integrity of the entire outfit was nearly compromised.
"'I was like, 'Oh no!'" Min told The Detroit Free Press. "If that comes undone, the whole [outfit] could just pop off. I was terrified the entire program."
But, unwilling to give up, Min quickly assessed her options. Instead of stopping wholesale or quitting outright, she adjusted her posture during certain portions of the routine. By making sure to hold her shoulders back, she managed to keep the top of her outfit on and to avoid any potentially embarrassing images from escaping into the world. That being said, the video shows it was a very close call.
While she did ultimately hold her outfit together, deciding to keep going took some serious cost-benefit analysis. She told the Free Press:
I didn't stop. I went from the beginning to the end. I didn't stop because you get a deduction if you stop in the middle of a program. In my head, I was thinking, "Is it better to stop and fix it and get the deduction or keep going?"
She further explained her train of thought to AP:
I know that if this comes undone, then the whole thing is going to come undone. So I had that panic. That wouldn't be the most ideal Olympic experience, obviously. The whole time in the back of my head I was just thinking: "Keep your back straight because it might come down."
At least once, Min did pause to reposition a piece of her top — during a "twizzle," which is a synchronized side-by-side twirl— but overall the pair continued to glide and coast despite the challenge.
Gamelin told the Michigan paper that he realized what was going on, and picked up on Min's method of avoiding a complete disrobing.
Anytime she brought her shoulders in, it came down I only noticed it halfway through. During our twizzle, it came off her shoulder, all of the way. She had to stop and pull it back up and that cost us a bunch of points. It wasn't because we were skating poorly.
"We were skating well — you just had to keep everything, well, intact," Min's partner also told AP.
Ultimately, they finished ninth out of 10 teams — but even if the accident cost the pair points, they received an outpouring of support from viewers, including the crowd present. On her Twitter account, Min thanked the crowd for their support.
Despite the wardrobe malfunction, I had an amazing time competing in my home country! I promise to sew myself in for the individual event. 😂 I would like to thank the audience for keeping us going until the end. Couldn't have done it without you guys ❤ #grateful
Min shared similar sentiments in interviews. "The second we stepped onto the ice, the fans started to scream and I think we really fed off that energy," she told AP. "Even with my costume coming undone, the fans helped us, picked us up."
She also seemed to poke fun at the snafu, sharing a gif of her self closing her jacket across her chest and laughing. "Oopsie," she captioned it.
The 2018 PyeongChang Games are the first Olympics both Min and Gamelin have competed in. While they are representing South Korea, Min was born in California and has U.S. citizenship, and according to the Free Press, she trains at a Michigan skating rink. Similarly, Gamelin was born in Boston, and received South Korean citizenship in July 2017.