This DACA Recipient Was A Guest At Trump's Speech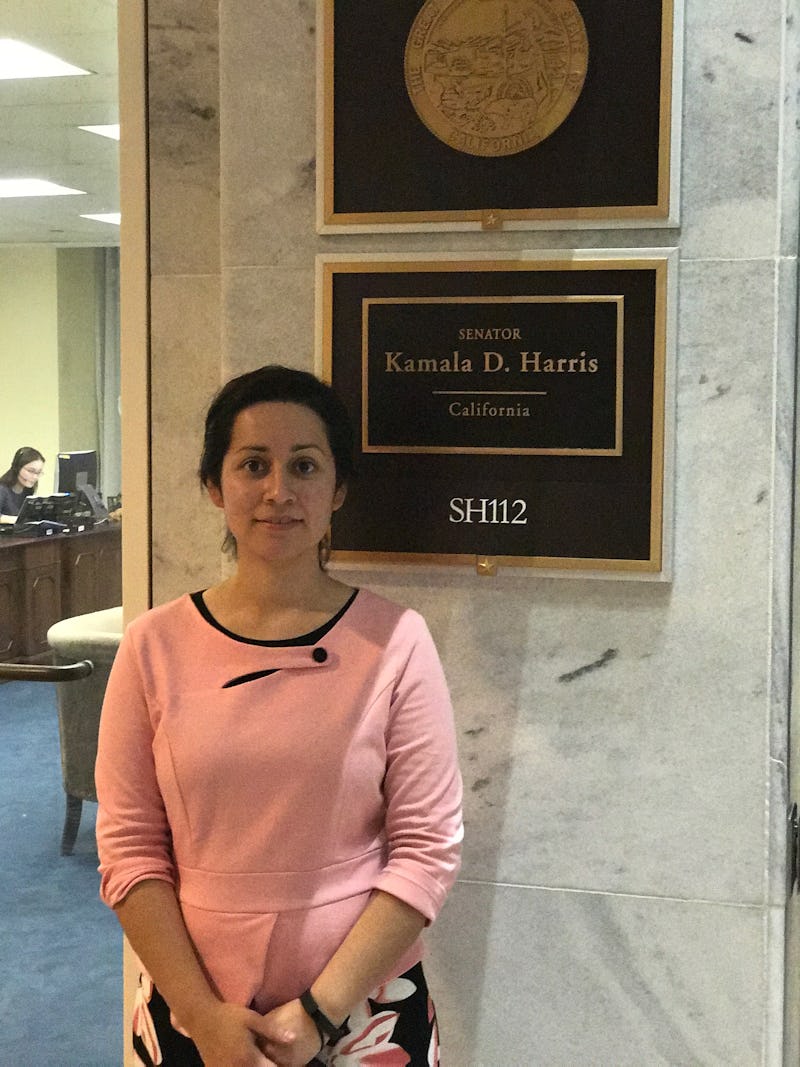 Sen. Kamala Harris' Office
"I'll never forget the day I heard the news about DACA," said Yuriana Aguilar, a scientist who is one of hundreds of thousands of undocumented immigrants who came to America as children and were granted work permits under Barack Obama's Deferred Action for Childhood Arrivals (DACA) program. "I was in the lab and I cried."
Aguilar is among the first DACA recipients to earn a Ph.D., and she was California Sen. Kamala Harris' guest at Donald Trump's address to Congress on Tuesday night.
Speaking to Bustle before the president's speech, Aguilar had an open mind. "I'm very honored to be here. This President has surprised us many times," she says. At the same time, she added, "I feel like I'm going into la cueva del lobo [the cave of the wolf]," she said.
Aguilar has lived her entire adult life in the United States, but was brought to this country as an undocumented immigrant when she was five years old. Despite her undocumented status, Aguilar has only ever known the United States. as her home. "I love this country and this is what I know," she told Bustle.
"The only reason I did the Ph.D. was because of DACA," Aguilar explained. "Before DACA came, I was just a volunteer." With a degree in cardiac electrophysiology, Aguilar is at the forefront of biomedical research, studying how the heart's electrical system functions and affects diseases like arrhythmia and electrical dysfunction.
As she pursued her education, Aguilar said she realized how her undocumented status would hinder her studies and potential research. "High school was when I started to see the limitations of being an undocumented student," Aguilar recalled. "When I transitioned into the bachelor's degree, that's when I found that there were policies that prohibited federal funds being used towards undocumented students."
Aguilar said her parents were instrumental in helping her pay for college, but after she graduated, she struggled to figure out the financial means for continuing her studies.
That was the number one question: "Can you go get one?" And, I was like, "It does not work that way."
"I don't mean to brag, but I finished my bachelors in really good standing," Aguilar said. "To find out that there was going to be no support for me because I didn't have papers was a big disappointment." Whereas other students would fund their doctorate programs by doing work study, Aguilar was ineligible. "They said, 'No, you don't have a social security number, you don't have a work permit.'"
Having neither U.S. citizenship nor a visa put Aguilar in a tough spot with few options. She says administrators would ask her, "'Do you have a visa?' 'No.' 'Can you go get one?'"
I feel very vulnerable.
"That was the number one question: 'Can you go get one?' And, I was like, 'It does not work that way.'"
Though DACA offered her a temporary reprieve from fears of deportation, Aguilar says that the new administration's stance on undocumented immigrants is very troubling. "I stand with all the other immigrants. Even though DACA has given us that work permit, that's all it is, and it's an executive order," she says, which means it can easily be revoked by Trump.
"I feel very vulnerable," she says.
Aguilar's husband is also an undocumented immigrant. "I get a lot of questions like, 'Aren't you married to a U.S. citizen? Can't you apply [for residency through him]?'" she says. "I fell in love with the wrong person."
Aguilar says her husband works in Chicago, a city that was part of the Department of Homeland Security raid last month that led to the arrest of some 680 immigrants in a week. DHS Secretary John Kelly said the raid was not out of the ordinary and part of standard enforcement.
We fear... what if they get us both? What if they pick us up at the bus stop or something?
Routine or not, the arrests are another reminder to Aguilar of how vulnerable her family's situation is. "We do fear that he won't come home." Aguilar says. "I fear being alone."
An added twist to their precarious situation is that Aguilar's two-year-old daughter, Victoria, is an American citizen.
"We fear... what if they get us both? What if they pick us up at the bus stop or something?" With most of her family support back in California, it makes the risk of deportation even more dire. "Who's going to take care of her? Who's going to come from California all the way here?"
For now, though, Aguilar said she hopes to continue her research, and one day get her own lab, probably after completing another post-doc. "I'd like to do that in California," she noted. "It's where I feel at home."