How To Pronounce The Newest Royal Baby's Name, In Case You're Confused Like With Prince Louis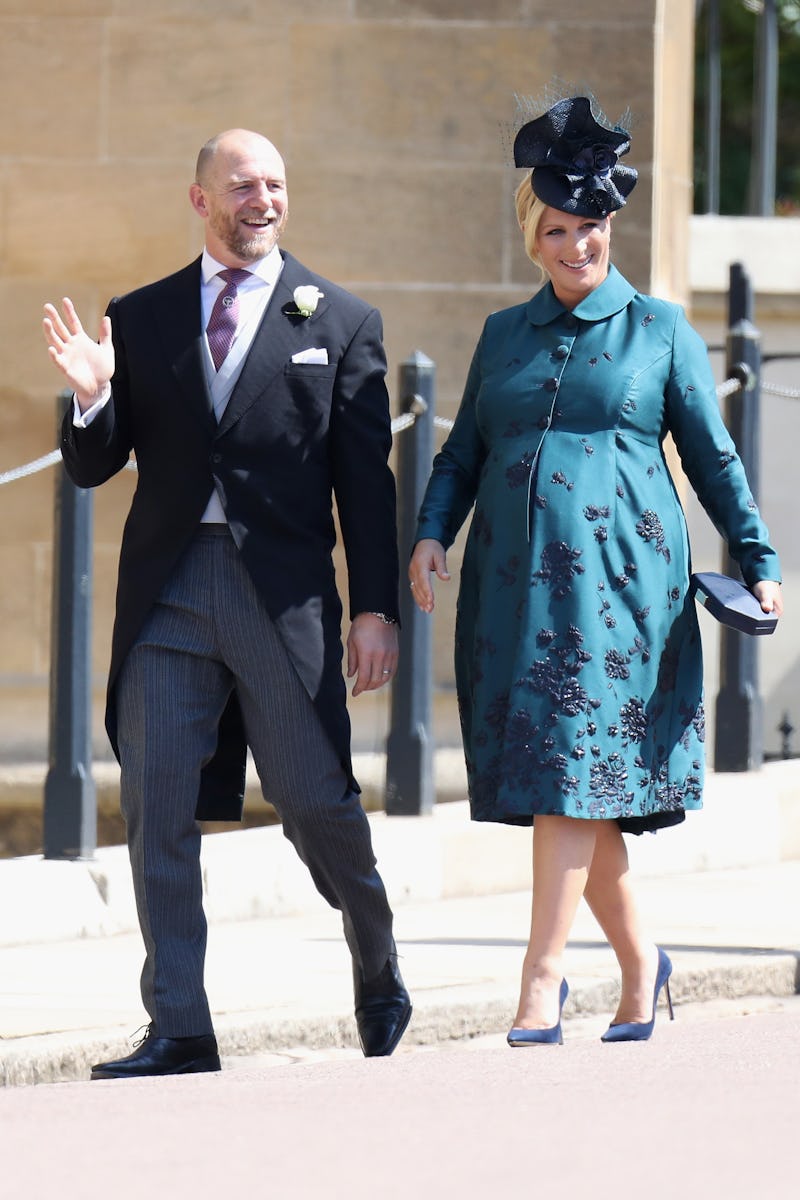 Chris Jackson/Getty Images Entertainment/Getty Images
Royal names can be confusing, especially when it comes to pronunciation. Even Zara Tindall's husband, Mike Tindall, is clarifying how to say Lena Elizabeth Tindall's name, because some people aren't entirely sure. Lena is Zara and Mike's newest baby girl, who was just born into the British Royal Family on June 18. Zara is Princess Anne's daughter, which means Queen Elizabeth II is her grandmother. The couple announced their second daughter's name on June 27, and with it, came a lot of questions.
After Ann Gripper, the executive editor for MirrorOnline, tweeted about Lena's name, a fan asked Gripper and also tagged Mike, "Is it pronounced Lena or Leena in the UK?" Gripper replied, "Great question!" Then, Mike also responded, by revealing, "Pronounced like Lay-na".
Then, another fan wondered about his 4-year-old's name, Mia Grace Tindall. "Love it ... and Mia is My -ah, right ... not Mee -ah?" the fan tweeted Mike. He replied, "No Mia is Me-a". And there you have it. No one has to fret over the correct pronunciation of Mia and Lena anymore.
People reported Buckingham Palace confirmed Lena's birth on June 19. The palace also released a statement reading, "Mrs Michael Tindall was safely delivered of a baby girl on 18th June, at Stroud Maternity Unit. Mr Tindall was present at the birth. The weight of the baby was 9lbs 3oz." It continued, "The Queen, The Duke of Edinburgh, The Princess Royal, Captain Mark Phillips and Mike's parents, Mr Philip and Mrs Linda Tindall, have been informed and are delighted with the news."
Zara and Mike's spokesperson also revealed to People the reason they chose Lena. Apparently, they settled on the moniker because "it was just a name they liked." That's a great reason to choose a name. Her middle name, obviously, most likely a tribute to her great-grandmother, The Queen.
Similar to Lena, when Prince Louis was born, many weren't sure how to say the name of Prince William and Kate Middleton's youngest son. Louis can be pronounced two different ways, "LU-EE" or "LU-ISS." As everyone now knows, it is the former.
Louis is also one of William's middle names. For those unaware, the Duke of Kensington's full name is Prince William Arthur Philip Louis. Like his son, William's name is pronounced "LU-EE". At his wedding to Middleton, the Archbishop of Canterbury, who officiated the ceremony, used William's full name and said "LU-EE". You can check it out here.
Louis' full name is Prince Louis Arthur Charles, which is a family name, of course. Charles is after Prince Charles, William's father, and Louis has a deeper meaning. According to People, the name Louis is meaningful to Charles, who was close to his great-uncle and mentor Earl Louis Mountbatten. In Netflix's The Crown, Greg Wise, portrays Lord Mountbatten, aka Uncle Dickie.
The birth of Lena means the world to Mike and Zara. She suffered a miscarriage in December 2016 and the couple found strength through their firstborn, Mia. In May 2017, Mike, a former rugby player, told The Sunday Times (via People), "The saving grace for us has been Mia, our daughter who is now 3. However down we feel she will come running up in our faces. When I was playing I hardly saw her; now we can see her grow up. I can take her swimming and I can take her to Ninja Tots. You'll never be able to see her there because she disappears in a puff of smoke."
Both of their girls are true blessings. Between Lena and Louis, there are so many royal children now with great names — and everyone now knows how to pronounce them.