Zayn & Gigi Somehow Just Celebrated Their 2nd Anniversary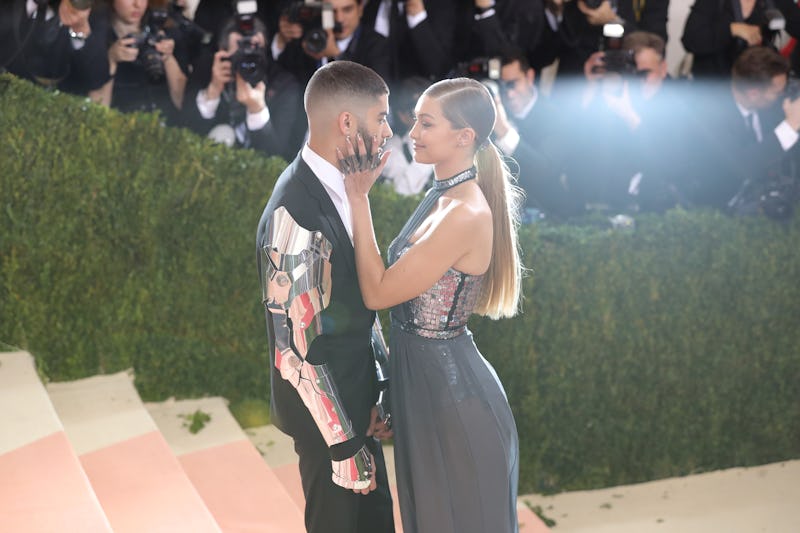 Neilson Barnard/Getty Images Entertainment/Getty Images
Try not to feel too single, but super couple Zayn Malik and Gigi Hadid just celebrated their second anniversary. Hadid posted a video of herself and Malik kissing to her Instagram story to share the milestone with fans. In the clip, the two appeared to be on a special date for the occasion, and Hadid was shown holding a drink with a strawberry in it. She captioned the short vid "2 yrs w my favorite human."
The two are fairly open about their relationship, and it's not uncommon for them to share sweet moments to social media. In September, Malik and Hadid celebrated the Muslim holiday Eid al-Adha with family and appeared in their mothers' pictures on Instagram. More recently, they shared an adorable picture of their Halloween costumes. Malik went as Spiderman, while Hadid was The Black Cat.
It is hard to believe that Malik and Hadid have been together such a long time, but time flies when you're two of the most beautiful people in the world having fun together. The two have been together since November 2015, and they were first reported to be linked by Us Weekly after leaving an after-party together in Hollywood. They were spotted holding hands hands later that month. In December 2015, Malik made the relationship Instagram official, and Hadid started wearing her now-famous "Z" necklace. They've also appeared together in Malik's music video for "Pillowtalk" and in several fashion magazine spreads. They clearly support each other creatively.
It's been a season full of high-profile breakups (Selena & The Weeknd! My heart), but ZiGi aren't going anywhere. The couple continue to gush about each other in interviews, including a recent conversation with Us Weekly in which Malik gave an update on the relationship. When asked how he handles dating as a major celebrity, he insisted that he focuses only on trying to be a good partner. "I just concentrate on my relationship and try to do right by my girlfriend and she does by me," he told the publication, "and we hope for the best, as we all do." He also said that they keep grounded by doing normal relationship stuff, like cooking meals for each other.
In March, the two stars interviewed each other for the Versus Versace campaign, and it was yet another chance for them to talk about how much they care about each other and discuss their shared interests. When asked by Hadid who he wants to be with when he's alone, Malik said, of course, "you". He also added that their families and dogs are priorities, as well. It's clear from these recent interviews that their lives are really intertwined, and that they are able to lean on each other for support.
Malik is accustomed to living in the spotlight, as the success of One Direction launched him to fame. Hadid and her sister are both high-profile supermodels, and their mother was known for The Real Housewives of Beverly Hills, so she, too, is accustomed to a certain level of fame. It's clear that this mutual understanding about the pressure of being a celeb has helped keep their relationship sustainable. In an interview with the Evening Standard in June, Malik confirmed that this is the case.
"She gets it, she's very understanding," he told the magazine. "But I can understand how it can look, that you've got these two people in a 'power couple'. That's not something I want to be a part of. I'm with her because I like her and I hope she's with me because she likes me. When we come home, we don't really talk about that sh*t. We just spend time together as a normal couple, cook food, watch TV, have a laugh."
It's difficult to think of a more quintessential millennial celebrity couple (they first bonded over funny viral videos, as you do), and it's only good news that their relationship is still going strong after all this time. Two years is a long time in a traditional relationship, and given their busy career schedules and the pressure of fame, it's obvious that their relationship is something special if it's lasted. The adorable moments they share on Instagram, as well as their comments about each other in interviews, make it clear why.