OMG, Zayn Malik Just Tattooed His HEAD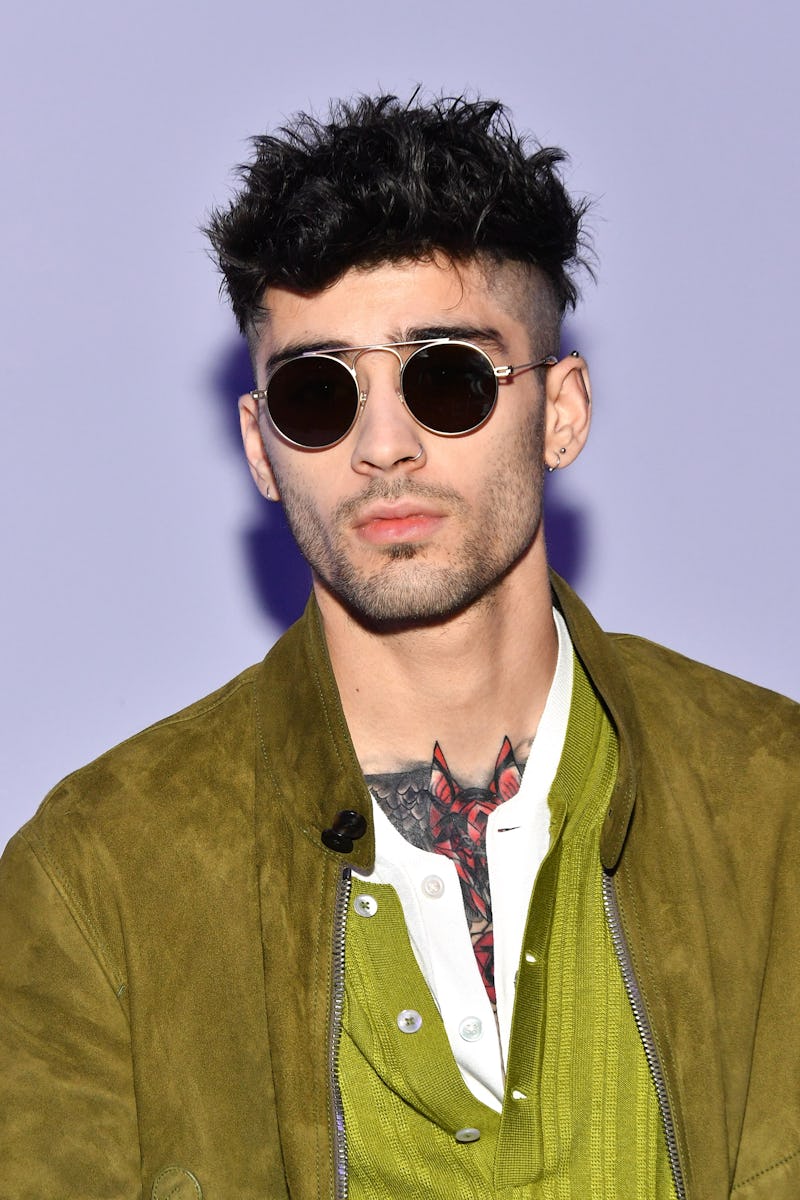 Dia Dipasupil/Getty Images Entertainment/Getty Images
Forget everything you know about celebrity hair transformations, because this singer is taking it up a few notches. As the latest in celebrity trends, Zayn Malik shaved and tattooed his head all in the same day. Because this man's love for tats knows no limits.
You're probably used to seeing celebrities do a slow motion hair flip when they get a new cut, but Zayn did it a bit differently. Instead, he uploaded a caption-less video of him self sitting in a chair with a bald head and a tattoo right above his ear. The black and white design covers almost half of his skull. There's no word on what led him to get this likely super painful tattoo.
In some countries it is illegal to get a tattoo on your head. According to previous Bustle coverage, the law was passed in 1966. Apparently the law has not made it across the pond yet, because Zayn is proving that it is still very much possible.
The singer has yet to post any images of himself with the tattoo, except the announcement image. He has however posted some pictures of himself with long hair again. Either the singer grew hair overnight or her is seriously missing his luscious locks.
Whether or not the tattoo is permanent or not has yet to be determined, but all signs point to it sticking around for a while. This wouldn't be the first time that he has fooled the world into thinking that one of his tattoos were real, though. In March 2016, the singer got a giant tattoo of a bird with the initials "M.O.M" on the side of his head. It didn't take long for people to see it was fake.
That's not to say that Zayn doesn't love his tattoos though. As of February 2018, Zayn has 68 tattoos, according to his fans. That up from 55 in March 2017. The man loves to express himself with ink.
Believe it or not, his new head tat isn't even the biggest to span his body. Zayn has a Harry Potter battle scene down his leg and a giant wolf on his chest, according to Teen Vogue. The publication also mentions that this is his first head tattoo.
Zayn isn't the only star to be fully obsessed with tattoos. Basically, this guys has enough ink to rival David Beckham. The soccer star's tattoo count was up to 40 in 2015, and has since grown quite a bit. Not to mention that his son, Brooklyn Beckham, is well on his way to having just as many as the other two celebs.
While the singer might not have had words himself to describe the new 'do on his Instagram, his fans did for him. Some fan think that Zayn is going a little too over-the-top with all of his tattoos. Others love to see him express himself through ink. Either way, it's not anyone's decision but Zayn's.
At this rate, Zayn's entire body could be covered by the end of the year. No matter what people say, there's no way that Zayn will be slowing down on the ink any time soon. Between fake and real tattoos, this man loves it all.
Only time will tell whether or not this tattoo is real. All eyes will be on his social media and, well, him in real life to see if the ink way temporary or not. You just never know anymore. One thing is for sure — Zayn does and always will keep his fans on his toes with all of his tattoos, but that's why they love him.