Zayn Malik Now Has A Bleach Blonde Beard & The Internet Has A Lot Of Opinions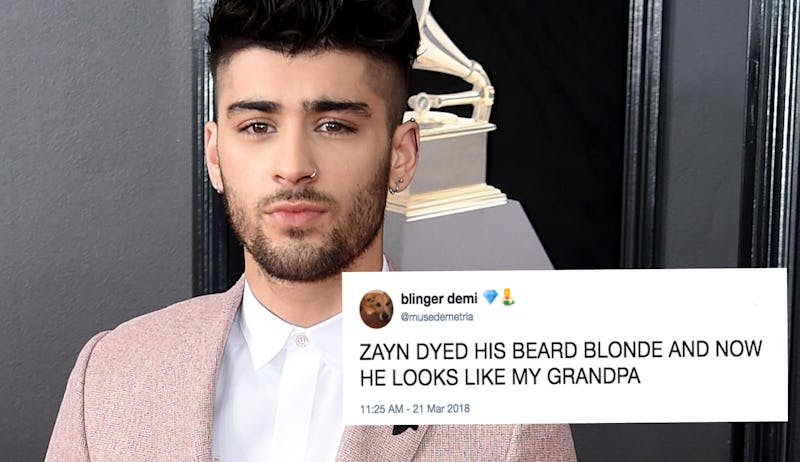 Jamie McCarthy/Getty Images
When it comes to Zayn Malik, drastic hair changes aren't an issue. While the majority of people hem and haw over the decision to chop off a few inches, Malik goes all in. From trading in his signature floppy hair for a drastic buzz cut in 2015, to quickly dying it green right after, to making it platinum blonde moments after that, he's not afraid to cross over into new territory. Now, he's debuting his new platinum blonde look after his most recent split with long-term girlfriend, Gigi Hadid. While needing to change your look after a breakup isn't anything new, no one was expecting his newest style move: Malik now has a bleached blonde beard along with his bleached locks.
Anyone who has ever had a tough breakup might be able to sympathize with his itch to create a new, single identity. You need to turn the page by creating a completely new you, which is why it wasn't a shocker when Malik debuted a new peroxide-blonde look on Instagram (along with a series of new neck tattoos.)
Changing your look can help create a clean break after a breakup. But the artist took it a step further by matching his dark beard to that same peroxide shade. He was spotted with this new look while on the set of his new music video in Miami, where paparazzi promptly snapped his photo while he waited in a tan suit in between takes.
Some fans are already weaving conspiracy theories behind this new style, drawing a connection between the freshly bleached hair and the fact the last time he was this blonde was for his music video for "Pillow Talk," which starred Hadid. Perhaps he was creating a break up video that was like a Part II to "Pillow Talk?"
However, one has to point out that he was also blonde in 2017's "Dusk Till Dawn" with SIA, but sported a buzz cut rather than the longer look, so that might not necessarily hold up.
Conspiracy theories aside, Twitter has had a lot of opinions over this bleached beard experiment. Not everyone loved it. For example, there were quite a few people who thought he instantly matured into senior citizen territory, drawing parallels between his white-blonde look and their own grandparents.
Others thought it gave him a definite "Bond villain" vibe, and began to speculate if he was going to play the villain in his music video.
Many people agreed, feeling it gave off a kind of mob look. Something about a guy in bleached blonde hair just exudes "evil." Blame it on Draco Malfoy.
Some weren't phased by the bold stylistic move, and asked why we couldn't just embrace it. He looks great in whatever color he chooses.
Some people were quick to defend him, saying if he did it because of his breakup, then he is, by law, entitled to do so, and whatever other drastic thing he wants to do in the next few weeks.
Others also applauded the fact that he is never scared to try something new, even though he's in the public eye and a million and one people are going to dissect his sartorial decisions. Meanwhile the majority of us are scared to toe the line with out looks, even though only a handful of people would weigh in on our style choices.
This new blonde beard could possibly just have been bleached for the music video, especially considering how quickly facial hair grows and how temporary the aesthetic could be. Whatever the reason, Malik looks amazing.