Zendaya & Reese Witherspoon Are Teaming Up To Tell This Woman's Incredible Story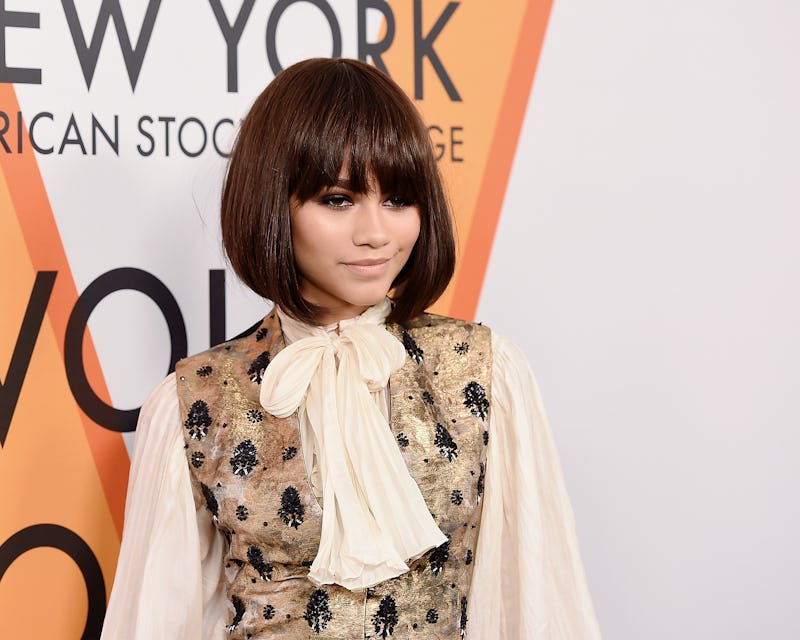 Nicholas Hunt/Getty Images Entertainment/Getty Images
After the success of Big Little Lies, Reese Witherspoon and Zendaya will produce a film called A White Lie, according to Deadline. Don't be fooled by its title, though; this thriller is actually based on the true story of Anita Hemmings, the first African-American woman to graduate from Vassar. If that doesn't sound like much of a thriller, then it's worth noting that, in the late 1890s, the light-skinned Hemmings, who was a descendent of slaves, was only able to attend the college by "passing" as white. So, yeah, A White Lie will tell a thrilling story that will really make you examine our nation's history.
The film is an adaptation of the Karin Tanabe historical novel The Gilded Years, which looks at the risks Hemmings took for a better life. The story focuses on Hemmings and her roommate, who happens to be Louise "Lottie" Taylor, a member of one of New York's most prominent families. The two become fast friends, despite Hemmings' concerns of getting caught, but, when Lottie becomes interested in Hemmings' brother, her little white lie becomes something far more dangerous. This novel is based on Hemmings' life, yes, but it's ultimately a work of fiction.
That's something worth remembering, since the book and now the movie will bring new life to the important story of how Hemmings was able to graduate from Vassar in 1897 despite the fact that African American students would not be accepted into the prestigious college until the 1940s. But to get the truth and nothing but the truth, you're going to want to actually research what happened, which no doubt is stranger than fiction.
In a 2000 feature in the Vassar The Alumnae/ i Quarterly magazine, it was reported that Hemmings nearly graduated without anyone knowing her secret, but, a few weeks before graduation, her roommate began looking into her past. It was then that the roommate's father hired a private investigator, who figured out Hemmings' background was not "English and French," as she said it was. In the end, the college allowed her to receive her diploma.
Zendaya is set to star as Hemmings and will also produce the film, along with Witherspoon and her partner Lauren Neustadter. Having Zendaya onboard as a producer should make fans excited, since she's already showed that her producing style is, no surprise, very woke. After all, as a producer of the Disney Channel series K.C. Undercover — which looks at a girl, played by Zendaya, who ends up being recruited by a secret spy organization alongside the rest of her family — the actor has pushed for diversity and better female characters.
Back in July, Zendaya told Vogue that she requested that her character on the Disney show didn't sing or dance, but instead was a math wiz and had a black belt in karate. "There are other things that a girl can be," she said when asked why she made those requests. Zendaya also reportedly required that the show feature a family of color and, no surprise, she got her way. So prepare for A White Lie to check of all the boxes Zendaya thinks are necessary to telling Hemmings' story.
Already, it's been announced that Monica Beletsky will write the script for A White Lie, which is a good choice considering that Beletsky is best known for writing the third season of FX's TV thriller Fargo, along with The Leftovers and Parenthood. There's no word yet on who's going to direct the film, and it doesn't have a release date as of now. But at least fans of Witherspoon, fans of Zendaya, and fans of historical stories in general can rest assured that, in the hands of these female professionals, Hemmings' tale will be given the care and depth that it deserves.