Zendaya's MTV Movie & TV Awards Dress Basically Looked Like A SUPER Chic Umbrella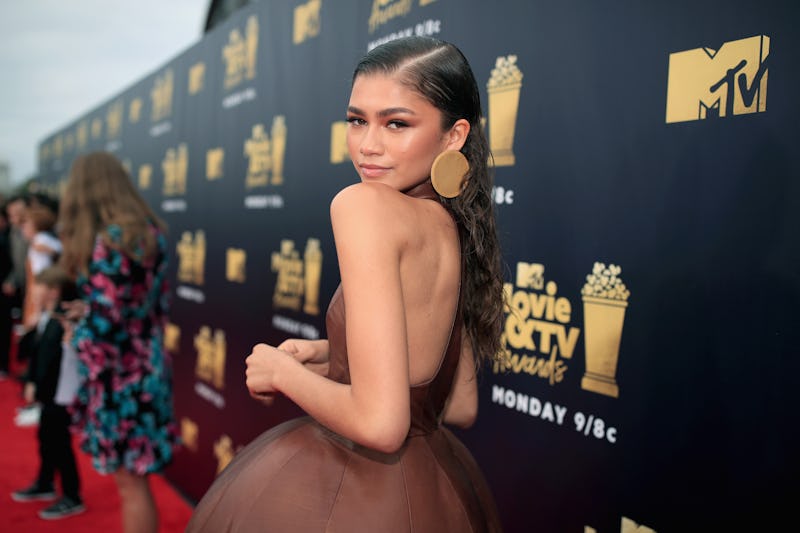 Christopher Polk/Getty Images Entertainment/Getty Images
The red carpet is all laid out and the celebrities are not holding back. Zendaya wore a structured mini dress to the MTV Movie and TV Awards that looked a whole lot like an umbrella. It proves that she has tons of different styles in her fashion arsenal. The look is a lot more simple than other red carpets that she' walked, but she looked fierce as usual. This outfit proves that you don't need to do a whole lot to make a style statement.
You never really know what Zendaya will wear until she hits the red carpet. Will she show up in an epic two piece matching suit or in a sleek and flowy dress? Well, this time it was neither. The 21-year-old walked the MTV Movie and TV Awards red carpet in an all-brown outfit that had an exaggerated skirt. Like most of her outfits, the look combined feminine with the perfect amount of edge. The outfit is great, but it's Zendaya that brings the clothing to life in the best possible way.
If you think the sartorial statement is good, then just wait until you get a look at her accessories. The actress is constantly bringing it with the fashion ass-ons and this time is no different.
She rocked oversized circle earrings that brought the perfect pop of gold to the all-brown look. Just like her simple dress, the earrings were an easy addition to the outfit, but they added a whole lot to the look.
Compared to last year, Zendaya took a completely 180 degree turn with her outfit. In case you don't remember, she stepped out in a gorgeous yellow dress. It was a lace beaded number that would be perfect for homecoming. After all, she was there with Tom Holland to talk about Spider Man Homecoming. She opted for short, slightly curled hair to hit the red carpet and eventually the stage to present an award.
Zenday went a whole lot more minimalist for this year's award show. Between her matching brown dress and shoes and slicked back hair, she is killing it when it comes to style. Not to mention her also-monochrome makeup that tied together the look perfectly.
Like mentioned before, you never know what Zendaya will wear. Just last year she showed up at the awards show looking as feminine as ever. This year could not be more different than that? It just goes to show you how great this girl is at finding her personal style and having a little bit of fun with it.
Despite starring in The Greatest Showman alongside Hugh Jackman and Zac Effron, Zendaya isn't up for any awards at this year's event herself. The movie did get nominated for Best Musical Moment though, so there's a good chance that she will be there to accept the award, if it ends up winning. The star sang in numerous songs on the album.
You will get a second chance to see her epic outfit on-stage, win or no win though. According to Page Six, Zendaya is on the list of presenters, just like last year. There's no word on who she will be walking with or what award she will be presenting, but at least there will be another chance to look at her epic earrings.
There's no word on whether or not the cast will be performing at the MTV Movie and TV Awards. MTV has not commented on who will perform besides Nick Jonas and Chloe + Hallee. Although this will be the first year that Best Musical Moment is a category, so it's possible that the entire cast could surprise fans and take the stage.
Regardless of who hits the stage, Zendaya's outfit is more than enough to hold fans over until next year's awards show. The actress has a way of owning an awards show and making the event her own through her style.