What To Know About Derek Chauvin's Trial
Nearly a year after George Floyd's death, the former police officer faces a jury of his peers.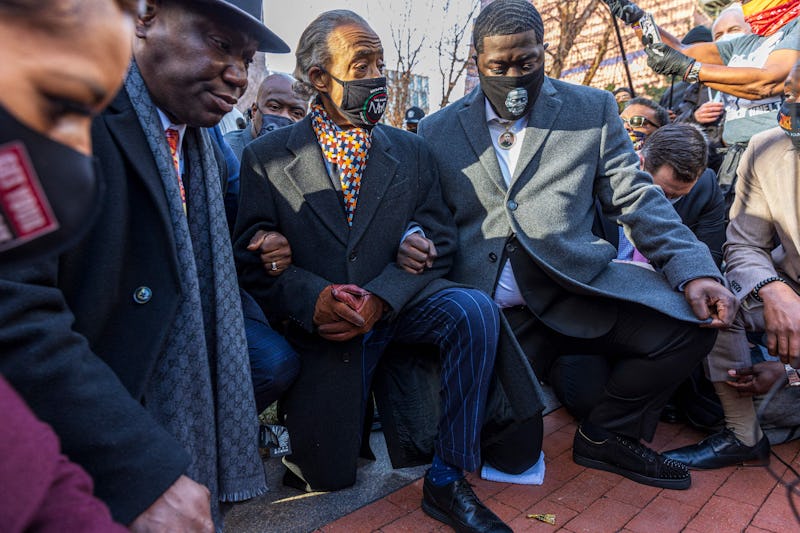 KEREM YUCEL/AFP/Getty Images
In Minneapolis, Minnesota, the trial of Derek Chauvin is under way. The former police officer is charged with second- and third-degree murder, as well as manslaughter, in the death of George Floyd on May 25, 2020. The trial is expected to last four weeks, and Chauvin has pleaded not guilty.
Last May, Chauvin arrested Floyd and knelt on his neck for more than nine minutes. Floyd repeatedly said he couldn't breathe. Bystanders' videos of the moment were shared widely, inspiring some of the largest racial justice demonstrations in U.S. history. Shortly after the video became public, the Minneapolis Police Department fired Chauvin and Minneapolis Mayor Jacob Frey asked the F.B.I. to investigate. (Three officers besides Chauvin were involved in Floyd's death, and they will be tried together this summer for charges of aiding and abetting both second-degree murder and manslaughter.)
This case is being televised live, in part because of COVID-19. Pandemic safety limitations allow just two reporters to observe the court at a time. Live-streaming ensures that media outlets — and the public — have access to the case. Major news networks and online platforms are streaming or broadcasting daily proceedings. (This is the first time a Minnesota court case will be globally live-streamed.)
What are Derek Chauvin's charges?
In Minnesota, second- and third-degree murder charges include homicide caused by disregard for human life or negligence. They carry sentences of up to 40 and 25 years in prison, respectively.
Chauvin and his defense team maintain his innocence, claiming that the former Minneapolis police officer acted appropriately. "You will learn that Derek Chauvin did exactly what he had been trained to do over the course of his 19-year career," defense attorney Eric Nelson said in his opening statement. Minnesota law allows the use of deadly force if an officer "believes that the person will cause death or great bodily harm to another person."
How was Derek Chauvin's jury chosen?
The prosecution and defense teams began jury selection last year. Since the video of Floyd's killing was recorded, widely circulated, and analyzed, the court faced the challenge of finding jurors who didn't already have an opinion on the case. People were also asked to fill out a questionnaire in December to gauge their involvement in relevant movements and whether or not they had seen the video.
And as race will likely play a role in the trial, a magnifying glass has also been placed on the demographics of the jury. Ultimately, the group consists of 12 jurors and a couple of alternates. According to the Washington Post, the group includes one Black woman, three Black men, two multiracial women, six white women, and three white men. About half of them are younger than 40 years old.
What's the timeline for Derek Chauvin's trial?
Over the next weeks, both the defense and the prosecution will call witnesses, refer to evidence, and make arguments in hopes of swaying the jury toward a guilty or not guilty verdict. After each side presents its arguments, the jury will deliberate. In the deliberation process, the jury needs to come to a unanimous verdict, which could take weeks or months. (But, by Minnesota state law, jurors cannot serve longer than four months.)