The Delicious Burns Of Mazie Hirono
In her new memoir, the senator levies some lyrical jousts at her GOP colleagues.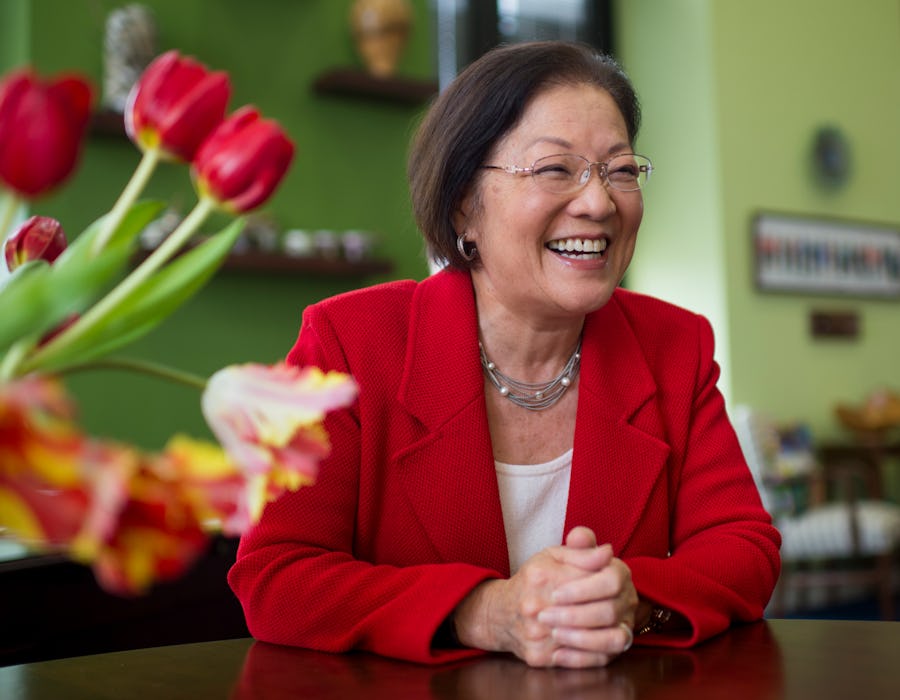 Bill Clark/CQ-Roll Call, Inc./Getty Images
On April 1, Sen. Mazie Hirono (D-Hawaii) shared a New Yorker cover image on Twitter. It features an Asian American mother on a New York subway platform, holding her child tightly by the hand as they await a train. The illustration by Hawaiian artist R. Kikuo Johnson, titled "Delayed," responds to the rise of anti-Asian hate crimes over the past year, which the nonprofit Stop AAPI Hate estimates have increased nearly 150% nationally. The senator, who collects New Yorker covers, added text with her retweet, "This one represents a poignant reminder of the times and will hold a special place in my collection. #StopAsianHate #StopAAPIHate."
A few weeks before, she'd introduced the COVID-19 Hate Crimes Act to the Senate, aiming to make it easier to report and review hate crimes. The bipartisan bill passed 94-1 in the chamber, and President Joe Biden signed it into law on May 20.
Hirono, 73, became more attuned to anti-Asian racism after moving to the contiguous United States for law school at Georgetown University. "Choosing to go to a mainland school came with significant considerations ... questions about how I would navigate a setting where, as an Asian American, I would experience myself as a minority for the first time," she writes in her new memoir, Heart of Fire: An Immigrant Daughter's Story. (People of Asian descent make up the largest racial group in Hawaii.)
The book tracks her childhood in Japan and Hawaii and how her experiences have informed her 30-plus years in state and federal office. But it's ultimately a tribute to her late mother, who passed away in April. Hirono credits the matriarch for modeling how "sometimes you just have to stand up, say your piece, and refuse to be oppressed."
It's also an apt description for the second-term senator. "I began to very much use my voice during the Trump years, because someone had to stand up to this bully," she tells Bustle.
Her IDGAF attitude isn't new, but has caught public attention recently. She's cussed in a Senate prayer breakfast, called "bullsh*t" on national TV, and when voting against the nomination of Judge Amy Coney Barrett to the Supreme Court, added an audible "Hell, no." In 2018, New York magazine even published the article "A Running List of Every Time Senator Mazie Hirono Has Called 'Bullsh*t.'"
"You know, the term 'She found her voice'? We all have voices, we just have to use them," says Hirono, the Senate's first Asian American woman member. "I got out of my comfort zone by speaking up, and during my process, I got away from some of the expectations of Asians and Asian women, that we are reserved and quiet. I began to shed those stereotyped behaviors."
Heart of Fire continues this trend on paper, brazenly calling BS where Hirono sees it. She reflects candidly on the men in her life, from her father, who struggled with alcohol use disorder and branded her mother with a hot iron, to a fellow state legislator, who wrote her a letter calling her "a silly girl" with "little substance, a mere hanger-on."
"I'm very honest about what I experienced," she says of the book. "I also realized that I was quite the enabler [of those men]."
Those enabling days are long gone. In writing, her verbal jousts sound practically Shakespearean. In the book, she aims particular fury at her Republican colleagues, with their "puppetlike abandonment of conscience," and Sen. Mitch McConnell. She writes of bills dying in "the black hole of [his] inhumanity." (Hirono is, it's worth noting, the only woman Scorpio currently in the Senate.)
"He doesn't mind being called a Grim Reaper," she says of McConnell. "He calls himself the Grim Reaper because he kills hundreds and hundreds of bills that are sent to us from the House."
At the end of our call, I ask a question: Does it ever feel like when you wake up, you're yelling at a brick wall? "There are often days when I say, 'What the heck,'" says the septuagenarian. "I may use another word, to tell you the truth. [Laughs.] I get up every morning, and I say 'Up and at 'em!' We always have to get up, and gird our loins."