A New Bill Would Fix A Major Issue With Caring For Sexual Assault Survivors
"I have a feeling we're going to be shocked on how bad it is."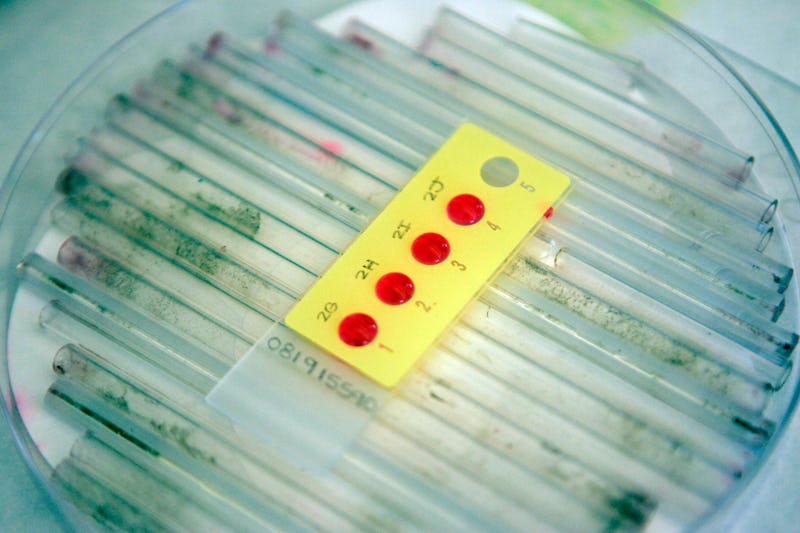 Ann Johansson/Corbis Historical/Getty Images
In the United States in 2021, there are no federal standards for sexual assault examination and care. For survivors of sexual assault who decide to submit a rape kit — the first step to take for someone deciding whether to report an assault — they could get totally different treatment depending on what city and state they're in.
Congresswoman Pramila Jayapal (D-WA) and Senators Patty Murray (D-WA) and Lisa Murkowski (R-AK) want to change that. On March 23, they re-introduced the Survivors' Access to Supportive Care Act (SASCA). This bill, first introduced in 2016, would develop national guidelines on expanding testing, treatment, and help for sexual assault survivors; standardize and certify trained sexual assault examiners; and broaden the sexual assault examiner workforce. The bill would also commission a state-by-state survey to understand why, exactly, people aren't able to get rape kits in a timely and uniform way across the country.
"It's a big decision for a survivor to even consent to a rape kit," Congresswoman Jayapal tells Bustle. "It's intrusive all over again. It needs to be done in the moments after an assault, a time when survivors are most vulnerable and in trauma and shock. And then to take a rape kit with a nurse who hasn't been trained on how to administer one, and doesn't even understand how to talk to a survivor about any of this, and then have that rape kit go sit on a shelf? It is the ultimate insult."
"We need to know: How bad is this problem?" Jayapal says, of the bill's provision for a survey. "I have a feeling we're going to be shocked on how bad it is."
The problem is even worse in rural and tribal communities, where it's not always easy to get medical care close by.
While laws surrounding the prosecution of sexual violence vary by state, DNA is critical for identifying perpetrators and holding them legally accountable, if a survivor wants to do so. But the evidence can only be collected through a rape kit, which should be administered by a Sexual Assault Nurse Examiner (SANE), who is trained in best practices for collecting samples that contain DNA evidence. When rape kits are administered by nurses without this specialized training, it can lead to a rape kit that contains no actual DNA samples.
But in many communities, such professionals simply do not exist, often because of lack of funding for training. As a result, survivors might be passed along from hospital to hospital following an assault in search of a SANE practitioner. They might even subjected to a rape kit by someone who isn't trained to perform one, and may not accurately or appropriately collect the samples needed. A national shortage of these specialized nursing professionals means that even in urban areas, it's difficult to get a rape kit performed by a qualified practitioner; the problem is even worse in rural and tribal communities, where it's not always easy to get medical care close by.
SASCA would address these issues in very specific ways. The bill will develop national standards of care for sexual assault survivors; provide grants for SANE training in rural and tribal communities, as well as create culturally sensitive tools for working with those populations; require hospitals to make their capacity for SANE services known; and making it easier, through grants and other resources, to train new providers to administer rape kits.
Since these gaps in care have been so common for so long, people don't realize that the federal government actually can step in and help. "The Department of Health and Human Services should be setting a national standard or protocol for examiners," says Jayapal. She notes that the SASCA bill especially prioritizes rural areas, tribal health systems, and minoritized communities, to provide quality care for people disproportionately hurt by being unable to have a rape kit performed if they want one when it comes to navigating the criminal justice system.
Part of the problem is cultural, Jayapal says, reflective of longstanding American norms of silence and stigma around rape and sexual assault. "But with #MeToo, the Violence Against Women Act, and now this bill, these things all start to show that we're taking these issues seriously and are giving them the resources."
Jayapal is confident that she and her colleagues in Congress can pass this legislation. "We have bipartisan support for this bill in both the House and the Senate," she says. "This is the minimum we can do right now."
If you or someone you know has been sexually assaulted, you can call the National Sexual Assault Telephone Hotline at 800-656-HOPE (4673) or visit online.rainn.org.