Let's Be More Like Angel Reese
What if we stopped chasing mandated perfection and said, "To hell with their respectability politics"?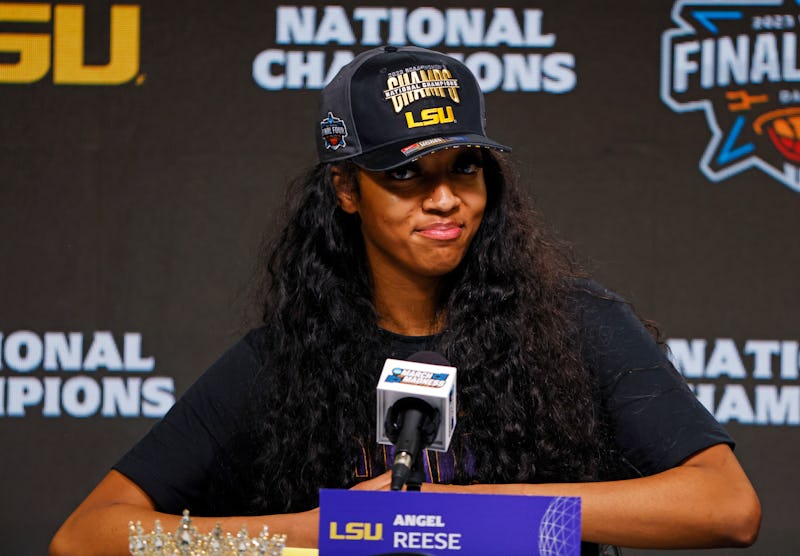 Ron Jenkins/Getty Images Sport/Getty Images
Before the Louisiana State University women's basketball team bested Iowa last weekend to win the program's first-ever NCAA Women's Division National Basketball Championship, the Tigers were up by a wide margin in the fourth quarter. Sophomore forward Angel Reese made a taunting motion, John Cena's "you can't see me" sign, toward Iowa's Caitlin Clark. And then, instead of celebrating LSU's eventual victory, all digital hell broke loose. Claims of Reese's "classless[ness]" and "awful sportsmanship" littered the internet, quickly overshadowing her team's historic win.
One week later, I'm still thinking about that moment. To be clear: Reese was not the problem. Her performance was outstanding, she was neither rude nor offensive, and more than that, she won. The world wants Black women, and Black women athletes like Reese, to strive for perfection as defined by white people. And that sh*t is getting tiring. What if we stopped chasing perfection and said, "To hell with their respectability politics"? Perhaps realizing the inequity of our situation as Black women can be empowering in its own way — hear me out.
In her seminal 1999 report on identifying the tenets of white supremacy, activist and DEI consultant Tema Okun wrote: "[It is] more common to point out either how the person or [their] work is inadequate," rather than their victories or contributions. Okun was talking about white supremacy in organizations, but we can easily see the parallels to Reese's situation. Rather than applaud the highest-scoring game in women's college basketball history, sports commentators and public figures like CBS Sports' Danny Kanell and Barstool Sports founder Dave Portnoy thought a hand motion was the more pertinent story.
"It's important for all of us [Black women] to be authentic instead of trying to ensure we meet others' expectations, especially strangers', because why would we need to do that?"
Focusing on this gesture while simultaneously seeking to "protect" Clark, who is white, and the Iowa team further proves this racially charged double standard. Clark, a highly competitive athlete herself, came to Reese's defense, stating in an interview with ESPN, "I don't think Angel should be criticized at all." The Iowa player continued, "I think everyone knew there was going to be a little trash-talking the entire tournament… I'm a big fan of hers."
I'd posit that Reese's real crime was simply choosing to show up as herself, a capital offense in a world that's determined, over and over again, to remind Black women to behave — or else. We must look, act, talk, and walk a certain way to receive basic respect and civility.
"People don't like when Black women are themselves," says therapist Nicole Lewis, a licensed clinical social worker who specializes in helping Black women dismantle the need to perform perfection. "Without saying the words, they're saying, 'You need to get back in place.'
"When we're trying to be perfect Black women, what does that look like?" she adds. "We smile a lot, we are nice to people all the time, we wear certain clothing, we make sure our hair is a certain way."
The time, energy, and labor Black women invest in palatability as a survival mechanism is exhausting. And make no mistake, conforming to the ever-moving goal post of respectability is absolutely labor, and unpaid labor at that. Think of what we would achieve if we could redirect that energy. Can you imagine a world where Black women were able to exist without fear of retaliation or retribution? How liberating would it be to show the full range of emotion, to lose ungraciously or win without humility, unburdened from the expectations of a society that demands our strength and then punishes us for using it?
Unfortunately, that's not an option for athletes like Reese, or her contemporaries and predecessors — people like Naomi Osaka, Serena and Venus Williams, Sha'Carri Richardson, Simone Biles, and Surya Bonaly: all winners who are expected to spend excessive energy not only competing but competing with class. No emotional responses, no hubris, and don't be too good, as Simone Biles learned when she received lackluster scores during 2021's U.S. Classic. Biles made history when she successfully executed a previously impossible move, the Yurchenko double pike. Critics say the scoring committee purposefully undervalued the Olympian's difficulty score. The message? Excel, but not too much; that wouldn't be fair.
"This is for the girls that look like me."
To reject this environment, Lewis recommends leaning into decolonization, community, and self-awareness to start divorcing ourselves from the boobytrap of perfection. "I think it's important for all of us [Black women] to be authentic instead of trying to ensure we meet others' expectations, especially strangers', because why would we need to do that?" she says. "The first step [in showing up authentically] is to acknowledge that we have thoughts and behaviors that need to be decolonized."
That might sound like a lofty goal, but Lewis says you can start small. Ask some difficult questions and acknowledge some uncomfortable feelings. "I have to say, OK, am I going to say this? Am I going to do this? I don't like it. That doesn't feel good to me." It's a long journey to unlearn a lifetime of twice as good to get half as much.
If Reese's post-championship interviews are any indication, at just 20 years old, she's already on that path. "I'm too hood, I'm too ghetto. Y'all told me that all year," she said to reporters after the win. "But when other people do it, y'all don't say nothing. So this is for the girls that look like me."