Younger Women Are Stepping Up As First-Time Poll Workers
"[It's] a last-ditch effort to contribute to saving democracy."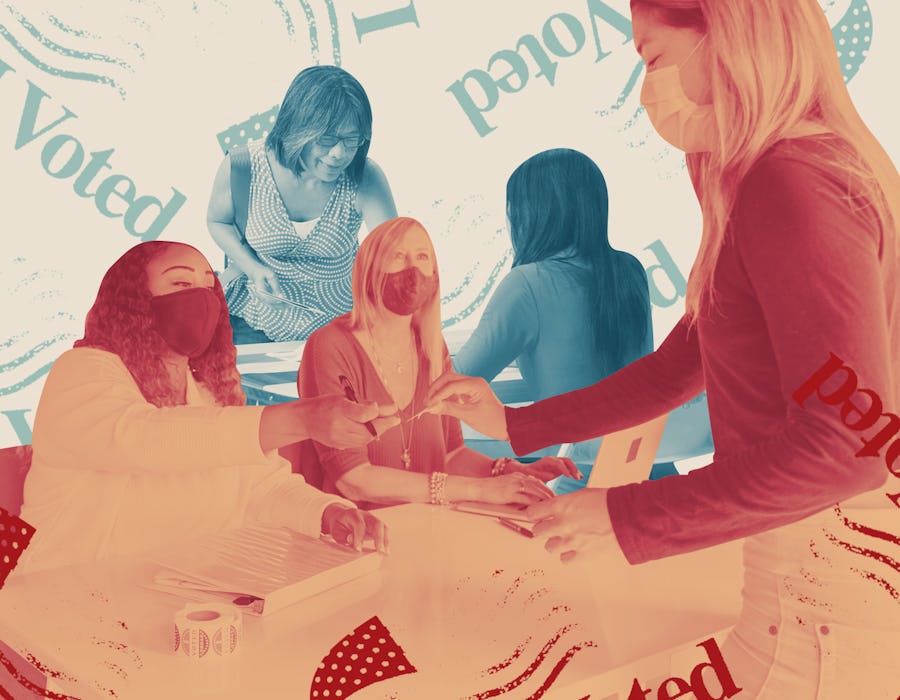 Hill Street Studios, Tetra Images/Getty, Jayme Burrows/Stocksy
Lauren Maxwell's late grandmother was a regular poll worker. This year, the 35-year-old writer decided to follow in the matriarch's footsteps as a first-time Election Day worker in Greenville, S.C., a conservative stronghold in a red state that's slowly inching left. "I can't keep complaining about the process if I'm not willing to help," she tells Bustle. "[It's] a last-ditch effort to contribute to saving democracy."
During her training, "tension in the room was high, and the anxiety on all levels was palpable," Maxwell says. Another first-time worker posed a question in front of the group: "What do I do if someone shows up with guns to intimidate us? I am not willing to die over this." (In South Carolina, concealed carry guns are banned from polling places, but rifles are not.) According to Maxwell, the director of elections admonished the volunteer for scaring other workers. Another person asked about COVID-19 precautions. Would they offer voters masks, as nearly 4,000 people had died in South Carolina? "Not on our dime," the director said, later requesting that other questions be asked privately.
Across the country, first-time poll workers like Maxwell — especially young women — are stepping up to fill the void left by seniors. In Greenville County, for example, around 75% of poll workers are new, according to a local official. Their experiences, though varied state by state, sound a bit like an "expectations versus reality" meme. They express shock and disillusionment, but also, throughout it all, flashes of patriotism.
According to the Pew Research Center, in 2018, 58% of election workers were 61 and older, and less than 18% were under the age of 40. Many of those perennial workers bowed out in 2020 due to COVID-19, as they're at a higher risk of developing severe symptoms from the virus — and younger counterparts are serving in their stead. Earlier this fall, Madison, Wisc., reported that its elections office was turning down applications after receiving more than 6,000 for only 3,000 spots. In Washington, D.C., officials have seen Americans step up en masse. And in Philadelphia, 20,000 applications came in for just 8,500 slots. (Application requirements vary by state.)
But renewed vigor from first-time poll workers doesn't mean that, in many places, dated processes have changed. For Donia Robinson, a software engineer in her early 40s who lives in the Chicago suburbs, her training felt straight out of the '90s. In an instructional video, the speaker talked about a woman worker's "inappropriate" clothing, which Robinson found sexist. The training examples used only male subjects, and she found the entire enterprise unorganized. She had to follow-up to submit her application, and then to find her placement. "I imagine it all works out in the end," she says. "[But] things like this tend to put a lot of stress on the workers … I don't feel particularly ready for [Election Day], but I'm hoping what they said about being paired with someone more experienced will be true, and that at 6 a.m., when the polls open, it will be pretty quiet."
Even liberal cities are having trouble with election protocols. New York City's Elections Board, for example, was the subject of a recent New York Times exposé, which showed how nepotism and general administrative ineptitude led to issues like long lines and unsent mail-in ballots.
Why is the process so inefficient? To start, these problems existed long before the coronavirus public-health crisis. Some in the U.S. have taken pride in the country's "clunky" way of holding elections, and officials have argued that a decentralized system can keep voter fraud and election interference at bay. But this approach also means thousands of municipalities are individually in charge of their community's elections, rather than a unified process that's been established by the federal government. Thus, the work and responsibility often rests on a tiny number of underfunded public servants who also don't have the power to change inefficient processes without additional oversight.
Not everyone's felt the brunt of these problems. Stephanie Torres, a 22-year-old college student who is working the elections in Lowell, Mass., was comforted by the fact that her county was prioritizing PPE and cleaning supplies. "The trainer went through what the usual plan would be if we weren't in a pandemic, and gave us the changes in a clear manner — more PPE for workers, cleaning of high-contact areas, and one sign-in table instead of a separate sign-in and sign-out table to decrease the amount of time people stay inside," she tells Bustle.
In Texas, AnnaMarijka Tilleman, a 25-year-old nonprofit program manager, has enjoyed the job, which has given her a new perspective on voting. "I wasn't aware of all the behind-the-scenes prep that went into it," she says, noting how her site's preparing for language barriers, accessibility concerns, and people with "buyer's remorse" who want to void their submitted ballot and revote. (This is legal in many states.) She'd happily work again. "[It] left me feeling connected to my community," she tells Bustle. "We would cheer for first-time voters, lend assistance wherever we could, and laugh with voters as they waited."
Maxwell, in South Carolina, similarly intends to apply to be a poll worker again. "It connects me to my grandmother in a way that was never available to me before," she says. "I sometimes think about how she would handle an election in the time of COVID. Quietly and graciously, I'm sure. I hope I can do the same on Nov. 3."
Are you ready for Election Day? Start by registering to vote and making a plan for Nov. 3.