Nadiya Hussain's Warmhearted Advice For The Rest Of Lockdown
The British baker has adopted new hobbies, mantras, and campout locales.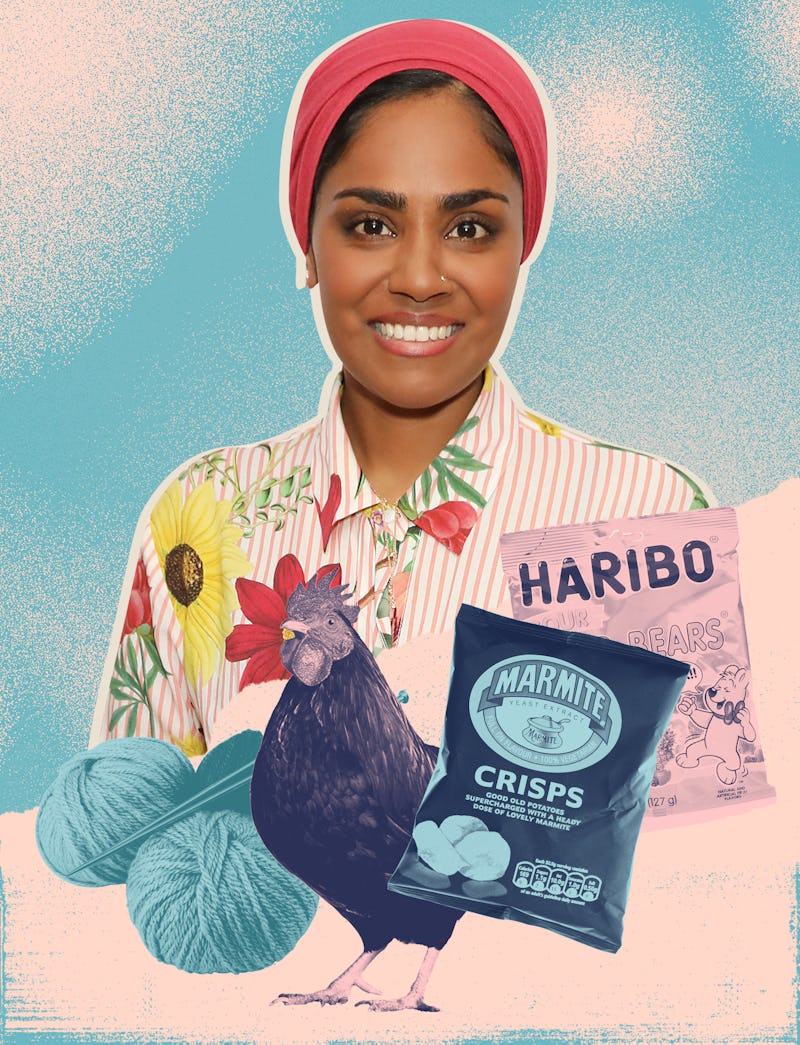 Richard Clark, David M. Benett, Tetra Images/Getty
In "Pep Talk," Bustle chats with celebrities about finding levity in a year of loss. This week, hear from The Great British Bake Off winner Nadiya Hussain, whose new cooking show Nadiya Bakes is currently available on Netflix.
Nadiya Hussain doesn't believe in guilty pleasures. She balks at the notion. "Let's not say the word 'guilt' with food," she tells Bustle. "There are enough people trying to make us feel badly for eating what we enjoy, and I hate that. I eat what I want to eat." For the uninitiated, it's a perfect introduction to her cooking approach: fun, earnest, and no matter how decadent, never guilt-ridden.
Since her 2015 Bake Off win, Hussain's rise to fame has been groundbreaking, particularly as a visibly Muslim woman of color. The 36-year-old has pushed through racism, Islamophobia, and online trolling, usually with a smile on her face and cupcake in her hand.
In 2016, she was named one of Britain's most influential people. A Welsh website lauded her for "doing more for British Muslim women than politicians," and just last weekend, The Guardian declared she's done more for Bangladeshi visibility than the British Bangladesh Chamber of Commerce and Industry. She's even baked a birthday cake for the queen of England, a three-tiered masterpiece of orange curd and orange buttercream.
This summer, her new cookbook will be published stateside, focusing on cakes, tarts, and sweet bakes — a candy-colored respite from the pandemic. On the first anniversary of the U.K.'s COVID-19 lockdown, Hussain talks to Bustle about her last year, from egg scarcities to garden sleepovers.
"Sometimes it wasn't easy to find ingredients, like eggs and flour. ... When we didn't have them, we didn't bake."
Has anything good come out of lockdown for you?
For me, it was not having to get dressed and wearing whatever I wanted. When you're thrown into such a difficult situation, I think you have to find some light in the dark. If you've got children at home, they've got to see the struggle, but they've also got to see the light. They've got to see that you're OK, too.
As a baker and cook, I imagine you've been doing most of your job at home. How did the pandemic affect your work?
Sometimes it wasn't easy to find ingredients, like eggs and flour. When I'm testing a recipe, I need two or three times the amount. I have to test it over and over. I didn't have a special supplier [for] eggs or flour. When we didn't have them, we didn't bake.
Which ingredient did you miss most during food shortages?
You know, you can't do much without eggs. We have chickens, so we were lucky at the beginning and got loads of eggs. [Later], it was a process of rationing. I said [to my kids], "If you want eggs at breakfast, you can't have cake for another two days." We had to really think about what we were cooking and baking.
Did you ever get sick of the kitchen?
I've spent every single day cooking, almost every single meal. There's a point when it's too much. I've been better at saying to my husband, "Actually, you handle the food. I don't care whether you get takeout, whether [we're] having scrambled eggs. I don't care. I don't want to know."
What's been your favorite thing to cook this past year?
My kids had never overtly expressed an interest in cooking Bangladeshi cuisine, but at the very beginning of the lockdown, every night I would say, "What do you guys want for dinner?" And they'd say, "We just want rice and curry." That's what [my family] grew up eating. They've somehow diverted back to the cuisine I grew up with, which is really special.
Why do you think that is?
They want to learn about who they are, and where they're from. So that's the thing that we've been cooking together, a good traditional chicken curry. One kid's chopping onions, one's peeling garlic, one's doing the ginger. We're doing the spices and making the clarified butter. We're doing all of that together. It's been amazing.
And separately, do you have any favorite snacks?
A bag of crisps, Marmite-flavored crisps. I can eat 12 packs in one go. And I've got a sweet tooth. I love jelly sweets, [like] Haribo, covered in sugar. Tangy, sour sweets. When I'm baking cake, I usually have a bowl of tangy sweets that I'm eating at the same time.
A lot of people started making bread as a "pandemic hobby." Did you pick up any new hobbies last year?
I took up knitting. It's something that I'd always wanted to learn. My daughter said, "Can we just knit the longest scarf in the history of time?" I was like, "Yeah, let's do that."
We've passed the anniversary of lockdown in many countries, and I imagine you've celebrated birthdays in lockdown. Any tips for celebrating at home?
My boys are teenagers, and my little girl's 10. They're at the ages where they just want to go out with their friends, [which] they can't do. I thought they'd be really bothered about it, but the boys enjoyed that they didn't need to plan anything. I made them their favorite breakfast. They got to pick what we had for dinner. I made them cake, and we did what we always do, which is share the cake with neighbors. My little girl was supposed to have a sleepover. Instead, we pitched a tent in the garden and slept in the garden with her. It was nice to hear them say, "Mom, this is not what I want. This is what I want." There was no outside influence. It was just about them, and that was lovely.
What have you been most grateful for during this year?
My home. Everybody's been saying, "We're stuck at home." I was repeating it, "stuck." I said to the kids, "We've got to change this. We're not stuck. We have a lovely home. You can all go off to your bedrooms when you need space. We can all get back together in the middle. We get to eat, we're warm, we have shelter. We're lucky, we're safe at home."
To have a safe place, somewhere I can be with my family in this pandemic is the thing that I appreciate the most.
And for a final question: The past year has been really tough. What words of advice do you have for someone who's having a hard time right now?
During this pandemic, at my lowest moments, the thing that gives me hope is knowing that it will be over. Believing that it will be over. Even though I don't have the answers, I have allowed myself to believe that it will come to an end. I will eventually see my family, my sisters, my nephews, and my nieces. That gives me hope.
This interview has been edited and condensed for clarity.