How To Ignore The Haters, From 4 Women Who've Been There
When women ascend into leadership roles, trolls often become a de facto job hazard.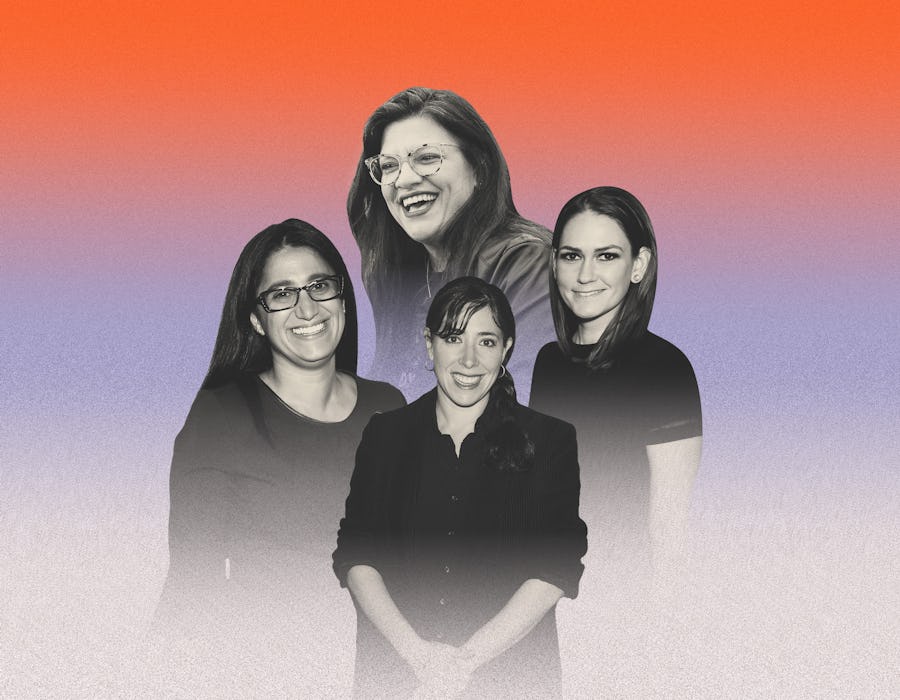 Last month, New Zealand Prime Minister Jacinda Ardern decided she was out of steam. When she took office in 2017 at age 37, she made history as the world's youngest female leader, and her reputation as a trailblazer quickly gained her popularity abroad. But at home, Ardern faced scrutiny, online vitriol, and threats to her safety. "I know what this job takes," she said in her February resignation announcement, "and I know that I no longer have enough in the tank to do it justice."
It's a truism both in and outside of politics: Women leaders routinely face distrust and skepticism, in what amounts to a de facto job hazard. "Qualities of leadership are [still] associated with traditional notions of masculinity," Azadeh Aalai, a social psychologist and adjunct professor at New York University, tells Bustle. "Women are oftentimes treated with skepticism as leaders and have to prove or earn their status of authority, relative to their male counterparts."
This skepticism extends from decisions and strategy to the way the language that's used to describe women leaders, Aalai says. Tough becomes cold, decisive becomes bossy, outspoken becomes shrill. These criticisms, however, which are often rooted in sexist tropes, haven't stopped women from rising to prominent roles across industries. More women are in Congress, more women are directing blockbuster films, and more women are CEOs than ever.
Bustle spoke to four women at the top of their fields about how they keep calm amid persistent flak in order to ultimately carry on.
Rep. Rashida Tlaib
In 2018, Tlaib won her race to represent Michigan's 12th Congressional District. As part of "The Squad," the 46-year-old, who's one of the first Muslim women in Congress, has been inundated with calls from Republicans to "go home," in addition to violent threats from people who disagree with her politics.
I'm always outworking the hate. I feel like I have to work 10 times harder, which I hear from other women too, especially women of color. When I see others [calling out power structures], I think of it as courage. Men do it and they're "courageous." I do it and I'm called a "lightning rod." Folks are so incredibly obsessed with policing my words and how I get things done — not the fact that I got it done.
About two and a half years ago, I discovered [the relief of] being outside in nature and hiking. I went on a 26-mile hike last year, and I never thought I could do something like that. A friend got me into it. I even bought hiking boots for the first time. It's been incredible. There's something about your phone not being able to work. It's almost like you're in a different world. It used to be massages [that would provide relief]. It used to be writing in a journal. It used to be novels. Now I physically [remove] myself from any connection to the toxicity.
I also feel liberated being among people who knew me before I became an elected person. I have a teacher who still remembers me wearing overalls, and when I'm talking to her, I'm still that young teenage girl running around Southwestern High School, saying how wrong [some problem] is and how we should do something about it.
Rachel Chavkin
When Chavkin, 42, won the Tony Award for best direction of a musical for 2019's Hadestown, she called out sexism in the theater industry in her acceptance speech, noting that she was the only woman director on Broadway that season.
Often the source of my negativity is my phone, whether it's an email I got or social media that makes me feel bad about myself and my work. It doesn't feel any less bad than it did the first time on the 40th time, but I know it will pass. I sort of say, "You won't feel like this tomorrow" to myself. I try to do something that takes me out of myself. I put down the phone, and often I'll look to art, [such as] watching a movie, or I'll turn to my community of colleagues and friends to share both hard truths and vulnerability.
I also work with an incredible woman named Sheena Wadhawan, who does strategic leadership coaching and decision-making coaching through a feminist, anti-racist lens. Sheena has been transformative for me and my work. She was recommended to me by Liliana Padilla, who's the playwright and one of the co-directors of How to Defend Yourself, along with me and Steph Paul. Sheena coached all three of us as a directing team to think about sharing leadership and empowering each of us.
Jessica Tarlov
Since 2021, the 39-year-old has co-hosted The Five on Fox News, in addition to her job heading research at Bustle Digital Group. In January, former President Donald Trump posted a scathing critique of Tarlov's presentation and voice on his social media platform, Truth Social.
A few weeks ago, Trump basically did a review of my show, The Five. According to Trump, the show is great except for me — I'm terrible, I'm always wrong, and my voice is "unendurable." I think that was the term he used. It was really hurtful. He said I had a jittery presentation, which is something I'm quite self-conscious about. That's what I woke up to on a Friday morning.
It was definitely a shock. I got a lot of very sweet messages of support from people, [some of whom] I've never met, saying, "We're supporters of President Trump, but we hate that he said this about you." That was really nice to see, but I definitely went right into the mode of, "What can I come up with to get him back?" It pulls you down into the mud.
My mom was the first person I talked to. She was really helpful. And then I immediately talked to my best friend, who lives in Baltimore. Dana Perino, one of the co-hosts of The Five, recommended trying to turn it into something that can be like a place of strength, so I tried to get to a place where I could see [Trump's criticism] as a compliment. Someone with so much power was paying attention to what I was doing, and I was doing a good enough job that he couldn't focus on the facts. He had to go after a superficial thing [like my voice].
I ended up going to a SoulCycle class. It's a place where I can't be on my phone, which is really limited these days. Exercise is a fantastic way to think through things, to get out the endorphins, to feel better about yourself. I like to cycle for a little quiet reflection. It might sound kind of hokey, but I think through things that have happened at work and also reflect on my path and achievements.
Dr. Mona Hanna-Attisha
The Michigan pediatrician's research helped expose the Flint water crisis. The 46-year-old has dedicated her career to shining a light on environmental injustice, despite growing politicization in the field of public health.
We just had a shooting on [Michigan State's] campus, and everybody in the state was impacted. The day after, I was scheduled to be in clinic all day. My eyes were red and puffy, like, "Here is another freaking example of how we have literally failed kids." So much of my work is making sure that kids are healthy today — treating their sniffles and their broken bones — but also making sure kids all over have the brightest future possible.
[When I'm feeling frustrated or my work is ignored], these kids are my inspiration. Interactions with them enable me to go forward. But I also have a few tips: The first is to find your "why," to find your passion. Find the thing that you care about, that keeps you up at night. My next bit of advice, especially for young people, is to find your people. I have been blessed to have a village, and often a village of sisters, at my side. There are ups and downs to making the world a better place. You need to do this as a team. This is also a story of nevertheless, she persisted, right? It's a long game — change doesn't happen overnight, so keep at it.
These interviews have been edited and condensed for clarity.