She Was The Model For Racist Stereotypes. She Also Helped Me Love My Body.
History exploited Saartjie Baartman, but I admired her.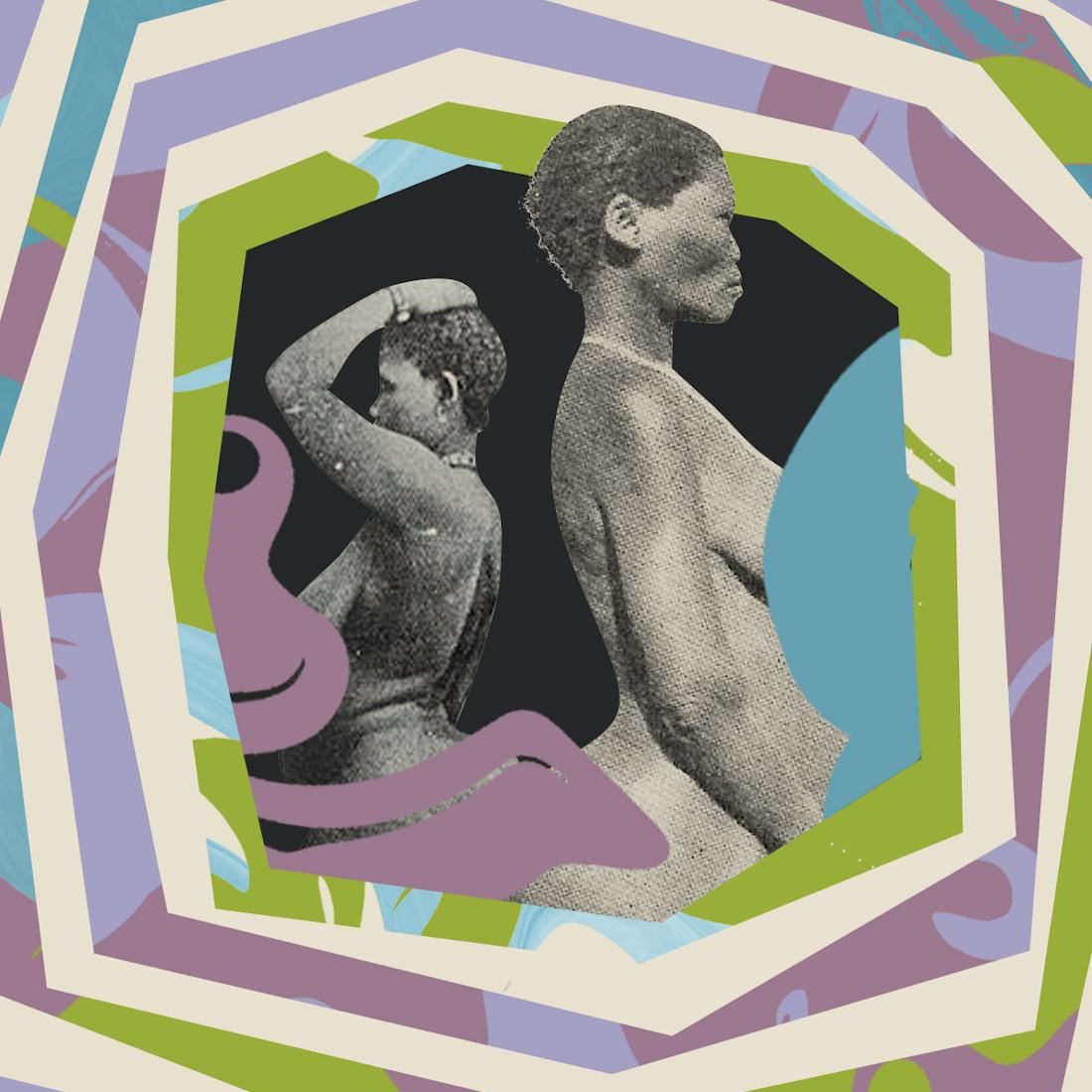 Growing up, I never wore clothes that would emphasize my backside. From an early age, I was built like Tinker Bell in Disney's Peter Pan — all waist and ass, a little bit of fairy dust, and nothing else. In today's world of thickems, Stallions, and Instagram glutes, my peach is nothing to get excited about. But during the '90s and '00s it was a part of my anatomy I was constantly trying to hide.
The song "Baby Got Back" by Sir Mix-a-Lot came out in 1992. I was 10. My parents felt I was too young for the song, so I listened to it in secret. I loved it because it represented my essential truth. The song begins with a Valley girl talking to the first quintessential "Becky" of record: "Oh my God," she screams as they encounter the body of a Black girl. "Look at her butt. … I mean gross. She's just so, Black." The song goes on to iconically praise curvaceous dark-skinned women. But in the real world, although I was barely even a preteen, all I got from my classmates was the ridicule of the song's intro.
I didn't hide my butt because I was embarrassed by its shape and stereotypical Blackness. I hid my butt because having it made my life dangerous. I wasn't old enough to think about kissing or dating, yet the negative imagery surrounding bodies like mine marked me as a "woman" promiscuous, undesirable, and unworthy of protection. This feels like coarse language to attach to a child, but it was true. As kids, most of us are painfully aware of the ways our bodies don't measure up by the time we reach gym class. In my case, my elementary school memories are filled with sexual harassment: wolf-whistles, kicks in the buttocks by school bullies, and boys who took bets to see who could grab under my skirt without me noticing. It was a hard time, all of it met with difficult visits to the principal's office in which the all-white administration tried to persuade my mom that none of this would be happening unless I invited this attention myself.
As we close out Women's History Month, I've been thinking about the people who made me feel comfortable in my own skin, and Saartjie Baartman is one of them. The "Hottentot Venus." A woman whose curves have been surrounded by controversy for centuries. The tragedy in Baartman's story makes people slow to recognize her as a body-positive heroine. But the travesty of how she was treated has so little to do with who she was and everything to do with how the world perceived her.
Born in the late 18th century, Saartjie (originally Sawtche) was an ancestor to the Khoisan people of South Africa. As a teenager, her fiancé was murdered by Dutch colonists, and she was subsequently sold into slavery. Although accounts vary from there, at a certain point she came in contact with a ship's doctor who kept her as a common-law wife and promised her great wealth if she traveled to England with him to exhibit her exquisite body to Europeans. Baartman was 16. And what the doctor presented as economic freedom was actually sex trafficking, but Baartman is one of the many women throughout history who — when presented an impossible option — searched for a way to carve out of it her own sense of agency. Within a few years, she'd left behind the doctor and entered into a contract with two nefarious dudes for work in British freak shows, which was supposed to provide her a financial stake in her performances. It was the early 1800s, and Baartman was one of a handful of women presented in freak shows around Europe and the U.K. under the moniker of the Hottentot Venus. The shows were fetishistic and exploitive, earning such a negative reputation that anti-slavery lobbyists pushed London's attorney general to investigate Baartman's level of compliance in the performances. When interviewed, Baartman claimed she wanted to stay and work until it was time to return to the Cape, and her employers were not convicted.
Baartman is one of the many women throughout history who — when presented an impossible option — searched for a way to carve out of it her own sense of agency.
Fraught as it may have been, the show made Baartman so famous she became one of the most well-documented women of her time. Images of her — sometimes advertisements, sometimes scientific — were often used to support racist and misogynistic propaganda of the time, highlighting the supposed superior beauty of pale, frail European women. But by the mid-1800s, these renderings of her curves were iconic, with western women wearing modified fashions that resembled the Hottentot Venus' coveted shape. Even today, Saartjie Baartman's cultural influence is undeniable, down to the name of this website. "What does Saartjie Baartman have to do with the original bustle?" you may ask. She designed it. Or, I should back that up (pun intended): The design of the bustle, the 19th-century skirt contraption that made Victorian era women look like that champagne picture of Kim Kardashian — was modeled after Baartman's skeleton.
As is often the case in the history of BIPOC entertainers, Baartman was cheated out of her share of the profits from her performances and died penniless at 26 — mere decades before her curves became the rage of the international fashion scene. This history that surrounds her is ugly, but Baartman is not. Although the abuse of her image is still used to support ideas surrounding the inferiority of Black femininity, I have always drawn strength from her image, as far back as when I was a girl. In every drawing and photograph, Baartman's face is consistent. Fierce, mischievous, and stalwart. She challenges the white people who ogle her with an ambivalent gaze. She says to me, "How dare anyone think of the body I carry in this world as a lesser vessel." She reminds me of women like Grace Jones, Alek Wek, Iman, and Lupita Nyong'o who, throughout the years, have been swift to remind the people who try to exotify them that their beauty is "nothing special" in the countries they come from. Saartjie Baartman looks proud, not only of who she is but also of the women she comes from.
In today's world, plastic surgery, bum creams, and cheek-enhancing shape wear have all replaced the bustle as the chief way to cop Saartjie Baartman's beauty. Through her, I learned at an early age that whatever the dominant culture labels undesirable about us will only stay that way until it becomes a trend. Marginalized groups within feminine communities — plus-sized women, women of color, and sex workers (all categories into which Baartman fit), in addition to femmes of all kinds, transfolk and individuals who break gender stereotypes — suffer this fate more greatly than anyone else.
You can see this happening now, with the rise of gender-agnostic fashion in the cis-hetero world of pop culture. I'll be honest: Knowing that Black activists like Marsha P. Johnson and Miss Major were imprisoned (and in the case of Johnson, died) while advocating to end the policing of queer and trans communities makes me eye-roll at the thought of Harry Styles in a skirt as the revolution. Especially because, at the same time, the body positivity movement is being advanced with self-love and authenticity by people like adrienne maree brown, Alok Vaid-Menon, Sonya Renee Taylor of The Body Is Not An Apology, Joshua Allen, Elexus Jionde, Jodie Patterson, Jameela Jamil's I Weigh campaign, and every twerk by Lizzo. Their work shows that world is still too dangerous for most women and members of the LBGTQ+ community to present in this world exactly how we'd like.
But I'll take a trend that extends from a painful history if it means more young people find more places in history in which to see themselves, as I did in Saartjie. Not every hero we celebrate needs a story with a happy ending. Sometimes, the very acknowledgment of the body as a struggle is significant. I came to Saartjie as a girl with big heartache, big dreams, and an even bigger peach; I have found radical self-love in her image as a woman. The misogyny and racism that affected Saartjie Baartman in her time hasn't gone anywhere, but she is a reflection of where we've been and where we need to get to.