10 Unexpected Father's Day Gifts From Macy's Under $150
Shop the best gifts at Macy's for music lovers, BBQ pros, style experts, and more.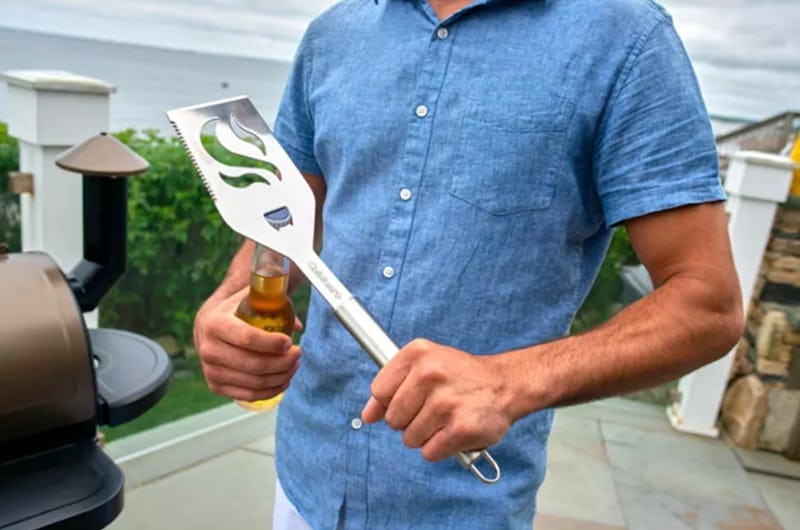 Courtesy: Macy's
Stumped on what to get Dad this Father's Day? In case you didn't know, it falls on June 18th this year, leaving not too much time to sort out the perfect present. But before you panic, consider some of these creative and unexpected Father's Day gifting ideas from Macy's. After all, it's your one-stop shop for all the brands and styles any dad or father figure in your life is sure to love. And best of all, everything on this list is under $150.
No matter what your dad is into, Macy's has got you covered. Are they the type to spend weekend afternoons outside grilling? Upgrade that barbecue game with a sleek utensil set or elegant steak knives that'll cut through that Porterhouse like butter. For the dad who likes downtime, make things cozy and relaxing, courtesy of an ultra-soft robe ideal for lounging — and throw in some sophisticated glassware, so they can enjoy a favorite cocktail in style. And should Dad be the type that never leaves the house without looking totally put-together, help complete that outfit with a colorful watch, playful slides, or a nice-smelling cologne.
Keep reading to see our favorite ideas for unexpected gifts under $150 that are sure to please Dad this Father's Day — all at Macy's.