2 Beauty Editors Put Innisfree's Best-Selling SPF To The Test
An extraordinary sunscreen for every day.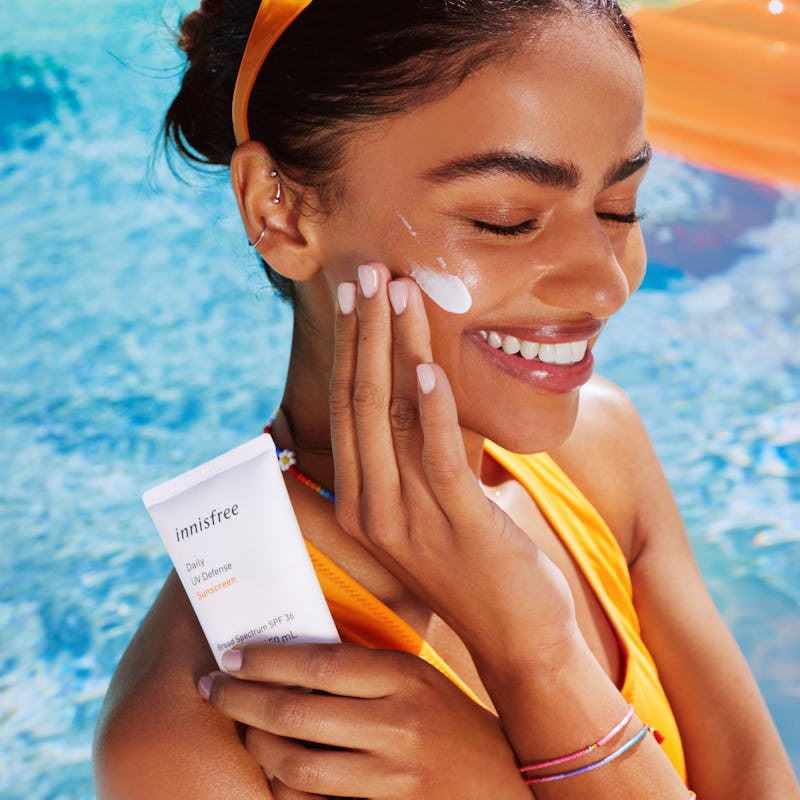 Courtesy of Innisfree
There's no denying the importance of applying SPF every day, especially on your face. It doesn't just help prevent sunburn. Broad Spectrum sunscreen can also help prevent visible signs of aging such as fine lines, dark spots, and loss of firmness, and can help decrease the risk of skin cancer when used daily — rain or shine, all year round. It stands to reason, then, that you probably want to love the formula you wear. That's why we'd like to introduce Innisfree's Daily UV Defense Sunscreen. This sunscreen with Broad Spectrum SPF 36 is the perfect ride-or-die, because it effectively helps to protect from UVA and UVB rays, while its texture, feel, and finish make it a pleasure to wear Monday through Sunday. We'd even go as far to say it's delightfully easy to incorporate into any skin-care routine: It's lightweight, non-greasy, hydrating, and totally invisible, meaning no white cast. To top it off, the price is right at $15 a tube, and you only need to squeeze out three fingertip's worth for your entire face and neck.
It's important to note that this formula is for all skin tones and types. To speak to that directly, we tapped two of our branded beauty editors to put Innisfree's Daily UV Defense Sunscreen Broad Spectrum SPF 36 to the test. Read their love letters to it below, then grab one for yourself for year-round protection.
Shyema, Senior Beauty Editor
"This honestly is my new favorite SPF. It's luxurious and hydrating, and it really streamlines my routine in the AM. I use it like a primer for days I wear makeup, and I use it alone when I'm just running errands. It almost has a dewy-satin finish to it that makes my complexion look really natural and healthy. In terms of the feel, I don't know how else to describe it except that it's a very comfortable formula. It's hydrating like a moisturizer, feels barely-there, and even though the liquid is white, it goes on completely invisible. That's a must for me in an SPF, since most can leave behind a white or gray cast on my medium skin tone."
Irma, Beauty Director
"My main skin concern is visible damage from sunlight, and I actually think this sunscreen helps my complexion with soothing ingredients like cica and green tea. That's a huge plus in my book! I've been applying my regular face lotion, then smoothing this on top. It sits really well under makeup — it's nourishing but feels like I literally have nothing on. But it's also great for non-makeup days, because it helps protect from UVA and UVB rays without looking chalky on my fair skin."