2000s Denim Trends That Should Have Been More Popular
Flares, patchwork, and more.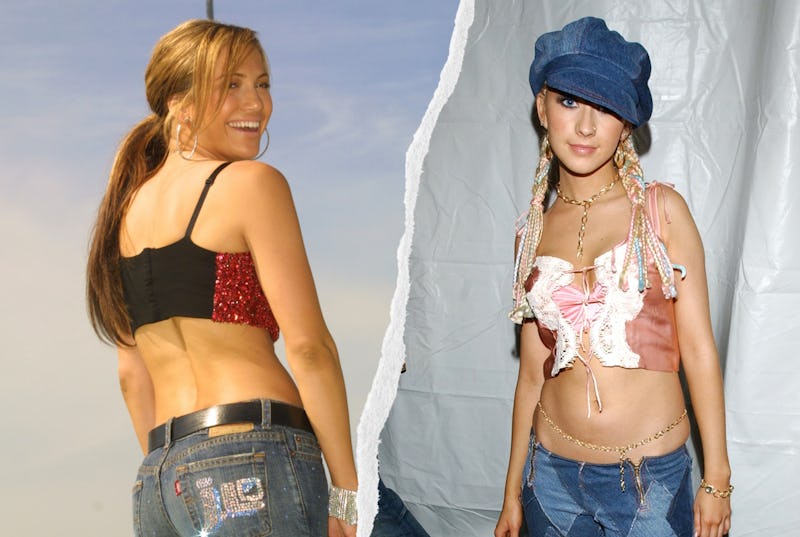 When it comes to denim trends of the early-aughts, it's safe to say that designers and brands thought more was more. With Swarovski crystal embellishments, low-rise styles, and patch work prints, the jeans were statement-making without apology. And while the verdict is out on how chic those styles are today, in the 2000s, they were beloved by everyone from Jennifer Lopez to Beyoncé. That said, there's no reason why these over-the-top 2000s denim trends shouldn't be considered for a resurgence in 2021.
When looking at the denim trends of the early-aughts, it's important to remember that there is a way to interpret them for your chic wardrobe of 2021 without feeling like you're actually living in your cringe-worthy childhood wardrobe. It's just about balance. Pare down the looks from 20 years ago. A clean-cut patchwork, small embroidered details, and the like are great ways to interpret them with a more modern vibe.
It's time to take a trip down memory lane and celebrate those 2000s denim trends that you're going to want to take another look at this season. From embellished denim to flares and everything in between, there is no shortage of looks that you will be shopping for ASAP.
Read on for a deep dive into all your new favorite denim styles.
We only include products that have been independently selected by Bustle's editorial team. However, we may receive a portion of sales if you purchase a product through a link in this article.
Embellished
Ok, so maybe the 2000s went a little overboard with this one, adding ribbons, crystals, and full-blown patches, but the underlying concept is one you can definitely get behind. Opt for denim in any shape or style this Summer that boasts a subtle embroidered detail and gives a nod to the decades that came before.
Joggers
A trend that was a sleeper in the 2000s was the joggers. They were definitely around, though not quite as popular as low-rises and flares might have been. It's time to pull them out and style with a clean bodysuit or classic white tee.
Flares
Of course, flare jeans were a huge trend of the early-aughts and one that is really only starting to take hold again today. Today, try a more high-waisted style that will elongate your legs and give you the perfect retro flair.
Patchwork
When it comes to your patchwork jeans, opt for fewer larger patches instead of several smaller ones. The vibe will still stick just as nicely. And if you're going to choose a pair of jeans that have an innate pattern like these, stick to the basics on top.
Denim Skirts
The classic cutoff denim skirt is making a comeback. You might even want to style it with a baby tee and Juicy Couture hoodie à la Paris Hilton from 2003, or go for a cool puff-sleeve blouse or vintage-style T-shirt instead.