3 Ways To Style Spring's Trendiest Active Pant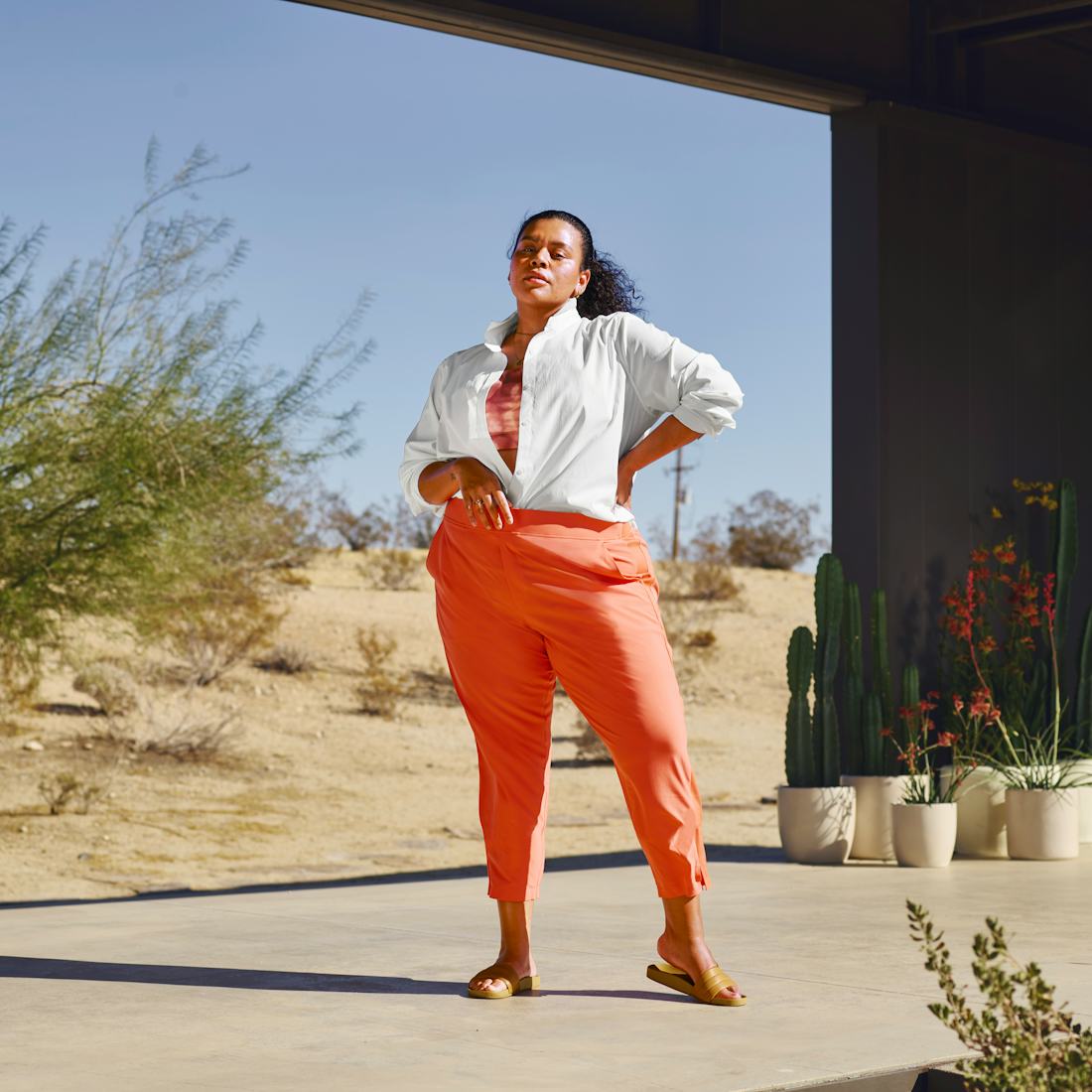 My pandemic style has gone through phases. First, the novelty of being at home required complete comfort — but also a complete disregard for what I looked like. (Hello, hole-y leggings coworkers can't see on video chat!) Then, there was a tentative step toward dressing more presentably. Namely, jeans on weekends, just to remember what they felt like. (Honestly? Not great.) But this spring, I've decided to embrace looks that keep the comfort I've gotten so accustomed to, while actually pushing my style forward — and getting back to my on-the-go routine after months of being at home.
Doing all of that at once won't be as tough as it sounds, thanks to Athleta's Brooklyn Ankle Pant. Made from a silky, sleek fabric that resists wrinkles and feels light as air, they're also super sustainable, with material sourced from post-consumer recycled plastic. The best part? They're chic enough for work, while also being comfortable enough to live in.
I'm not the only one in love with these pants: Reviewers have called them "my anytime, all the time go-tos," "the most comfortable pants I own," and "the best ever." To give you a sense of just how versatile this staple is, Bustle teamed up with Athleta to style the Brooklyn Ankle Pant for three situations that might have you venturing into the outside world this spring.
Keep scrolling for the only lookbook you need this season.
For A Socially Distanced Travel Day
Whether you're embracing the year of the road trip or boarding a 25 percent capacity train to an escape outside city limits, the Brooklyn Ankle Pant in Windowpane Navy is an ideal travel companion. The crisp print provides a bit of elevation, and the wrinkle-resistant fabric will be clutch during a day of awkward positions, ensuring that you'll arrive at your destination looking suspiciously fresh. Plus, the pants are extremely packable — just air out any creases and you're good to go.
Make this on-the-go look even bolder with the Conscious Crop and the Escape Jacket, both in Canyon Red for 2021's — way cooler — take on the classic sweater set. Bon voyage!
For A Brunch Picnic
Light up your next brunch picnic in the park with the Brooklyn Ankle Pant in Orange Haze, paired with the Solace Bra in White Camo and Farallon Sweatshirt in Inversion Light Grey. In case of unpredictable weather, these pieces can handle it all. A quick drizzle? The pants dry in a flash. Feeling the heat? The Farallon Sweatshirt has a UPF rating of 50+, which means it blocks at least 98 percent of the sun's rays. And if you feel like taking an afternoon stroll after the egg sandwiches and iced coffees dry up, strip off that sweatshirt and let the strappy Solace Bra shine.
For Post-Workout Errands
Start your ultra-productive morning by heading straight from your sweat session to your errands in a spring-ready palette of soft, lush hues like Hearth Rose and Sage. The weightless Brooklyn Ankle Pant's lightness and flexibility make it perfect to slip into post-flow, and it's quick-drying so you'll never have to worry about any lingering sweat.
Add the Cinch Longline Bra, a supersoft crop with feminine details that beg to be shown off, and top it with a streetwear-inspired act of color coordination: The Drip Drop Jacket in the same color as your Brooklyn Ankle Pants. Just cinch the waist and you're off to the farmer's market, the pharmacy, and everywhere else the day takes you.
This post is sponsored by Athleta.