4 Ways To Celebrate This Holiday Season In Style With H&M
Winter whites, bright reds, flannels, and knits abound.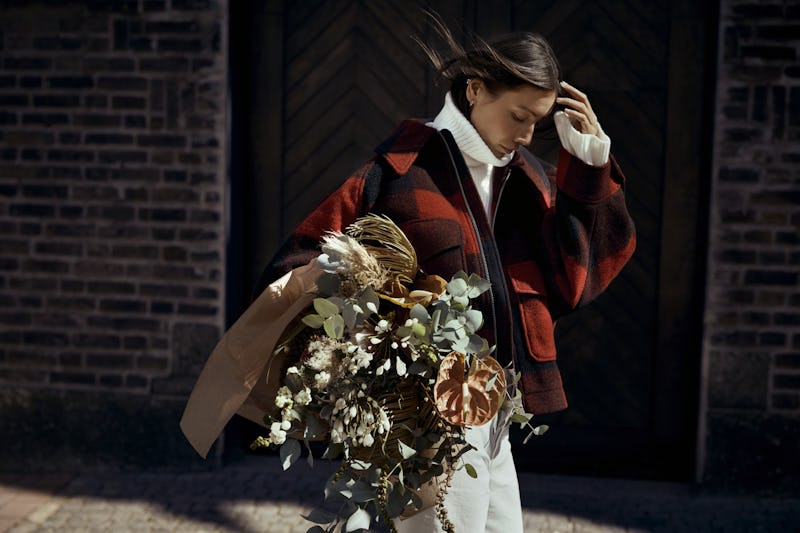 Typically, parties are our favorite part of the holidays – we love an excuse to get all dressed up. Obviously, 2020 is not the year for "parties" as we know them, but that's not going to stop us from decking the halls and decking ourselves in cute clothes. So, we put our heads together and came up with some socially distanced activities worthy of a festive 'fit. You may not find yourself at a boozy soiree, but who says you have to wear sweatpants 24/7?
We partnered up with H&M to help bring our little activities to life with some ideal looks. What do you wear to your virtual office gift exchange? Date night? New Year's Eve? (Yes 2021 is basically a week away). H&M has a slew of cozy, chic pieces in classic shades and fabrics: think winter whites, bright reds, flannels, and knits. Try putting on something festive this season — we guarantee you'll feel your mood lift.
A Foolproof Outfit For The Office-Wide Holiday Video Call
By now we're all well acquainted with the "business on top, party on the bottom" (read: pants optional) technique for video meetings and calls. But for the office holiday video call or gift exchange, you might as well go all the way. This elegant turtleneck knit and flowy pant combo is equal parts bossy and boss-friendly.
A Walk (And Look) To Remember
Yes, you're social distancing, but a relaxing walk around the neighborhood is always a good option for light exercise and fresh air (it's also an underrated family bonding activity). This flannel coat spices up the creamy cable knit sweater, perfect for a chilly morning. Add the winter white pants and you've got yourself a look – now which family member is going to take your pic?
A Serene Date Night
Whether you live in a city or the 'burbs, there's likely some local attraction – typically teeming with visitors – that now has a serene, special kind of vibe (imagine how calm Rockefeller Center is going to be this year). This white faux-leather dress and heeled boot combo is perfect for a date night of rediscovering what makes your city special (mistletoe optional).
You Made It! A Look To Ring In The New Year
Gone is the spontaneity of having no idea where you'll end up when the clock strikes midnight, but the end of this year calls for its own celebration. Seriously, YOU MADE IT! Even if you're just watching the ball drop at home, this bright red dress and faux-fur coat will make you feel like a million bucks while popping that frosty bottle of champagne.