7 Fresh Beauty Looks Created With Products We Forgot We Owned
Rediscovering a favorite product might be the most satisfying feeling ever.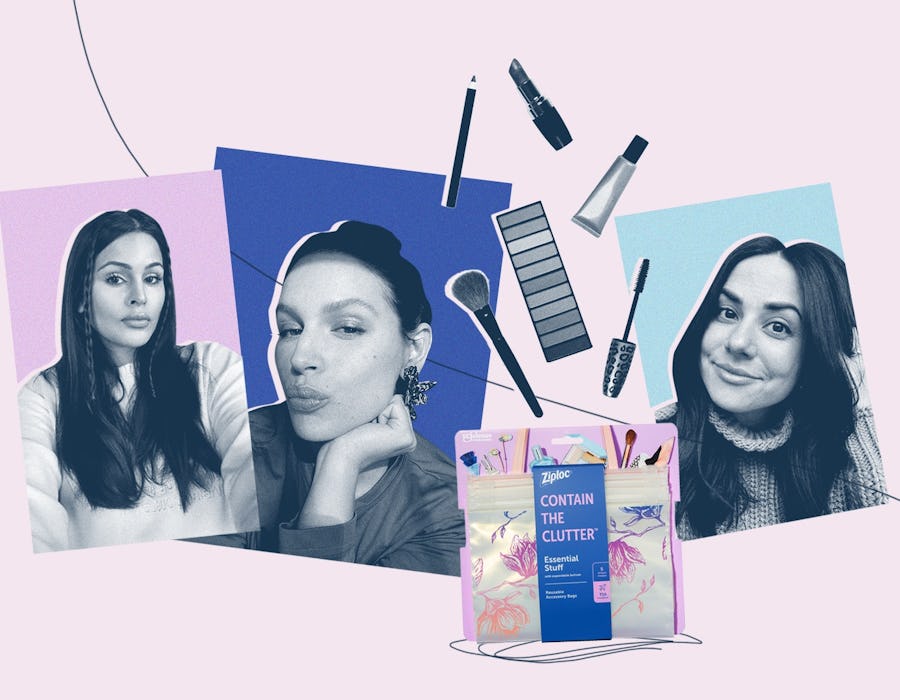 Listen, I know you and I are two totally different people, but I bet we're both carrying around the same messy secret everywhere we go — which, of course, is the fact that neither of us remembers the last time we cleaned out our purse, and are likely missing several favorite (and necessary!) products as a result. No need to tell me I'm right. I already know it's true.
To get to the literal bottom of this issue, I recently challenged myself to inspect all of my usual haunts — my purses, my suitcases, my bathroom drawers — in a quest to find my long-forgotten products. What I was left with was a custom hot-mess makeup line, made complete with a not-so-small pile of half-used lip balms, former favorite bronzers, and more tubes of mascara than I care to admit.
Instead of burying these products back in the depths of my out-of-sight storage spaces, I decided to clean the packaging off a bit, organize them into transparent Ziploc® Brand Accessory Bags (I love how durable and easy to clean they are — so perfect for purse organization!), and incorporate them back into my daily rotation. And what do you know? Some of the makeup products I found have worked their way back to "everyday essential" status.
Inspired by both the confidence I found with a refreshed look, plus the sheer satisfaction of finding more makeup to use, I challenged my colleagues to scour their own homes and create a confidence-boosting look with makeup they forgot they owned. Keep scrolling to be inspired by their beautiful makeup skills, then bring your favorite products back into the limelight with the help of Ziploc® Brand Accessory Bags.
Shyema, Senior Branded Beauty Editor
"As part of my job, I happen to own a lot of makeup that I'm constantly sorting through. It's so easy to misplace individual eyeshadow pods, so when I recently went through a huge bag of makeup I'd stored away, I found a pretty matte lavender shade that I used to create this look. I also found an inky black lengthening mascara, and new-to-me nude lipstick in a sea of 100 others. I realized if I had a place to separate them by different textures, I could create a look like this, which used a beige lip pencil, a pinky-beige liquid lipstick, and clear gloss."
Sarah, Senior Branded Content Manager, UK
"During lockdown, I've gone through a few makeup phases: from no-makeup days to going full-glam for a Friday night at home. This winter, I've rediscovered the joy of using a rosy blush in place of my usual bronzer — which I'm digging as a 'flushed winter skin' vibe. I've had a lot of fun going through some of the creme stick, powder, and liquid formats I'd accumulated over the years."
Diana, Art Director
"A little over a year ago, my mom and I went to a special beauty bar that lets you mix your own custom lipstick shades. It was so fun creating our own colors, adding scent droplets, and watching it get melted and pressed in front of us. I don't wear much lipstick anymore, especially not under my mask, but finding this shade in a pocket of my coat has brought me so much joy. Not only does it remind me that everyone has their own unique path (no one else has shade but me!), but it also sparks the memory of a beautiful day spent with my mom. That's even better."
Sarah, Client Experience Manager
"I love makeup, and I have so much fun playing with different eyeshadows, highlighters, and lip colors in my everyday look — but lip gloss is definitely my vice. I own so many and I lose them everywhere! But recently, I rediscovered my favorite gloss at the bottom of my purse and decided to dab a bit on. It instantly brought me a dose of confidence, and made my mid-winter look feel bright and refreshed."
Suzanne, Senior Branded Lifestyle Editor
"After months of only using a pearly powder highlighter, I found a cream-based peach-toned one hanging around at the bottom of my travel makeup bag. I love how it warms up my face (much needed in the depths of a New York winter), and helps me fake a summery glow."
Gina, Senior Client Experience Manager
"I had a go-to highlighter for quite a while, before a newer product pushed it toward the back of my makeup drawer. Recently as I was scrambling things around to find my mascara, I spotted my highlighter hidden behind an eyeshadow palette. I couldn't believe I had completely forgotten about what was once my go-to product. This morning I added a few swipes to my cheekbones, forehead, and the tip of my nose before a day full of video meetings, and it immediately felt like the day I bought it all over again!"
Lexi, Senior Branded Beauty Director
"I very much tend to get into the habit of using the same few products every single day, so when I find an item that hasn't been on the rotation, it's like wearing it for the first time. Here, I pulled out a few oldies. I found a black, smudge-able eye pencil that hasn't been loved lately (liquid liner has been winning out) and a peachy lipstick-gloss hybrid. But the star is obviously the pink glitter eyeshadow. I loved swiping it on! It just made me look and feel happy."
Feeling inspired to reunite with your former favorite pieces? Track them all down, then keep them organized in Ziploc® Brand Accessory Bags. They're easy to clean and super durable, so you can trust they'll stand up to the hot mess that is your bag, plus they come in tons of cute designs. Check out a few standouts below!
Shop Ziploc® Brand Accessory Bags
This post is sponsored by Ziploc®.