The Cheeky Meaning Behind Katy Perry's Smile Album Cover Outfit
Celebrity stylist Alexandra Mandelkorn opens up.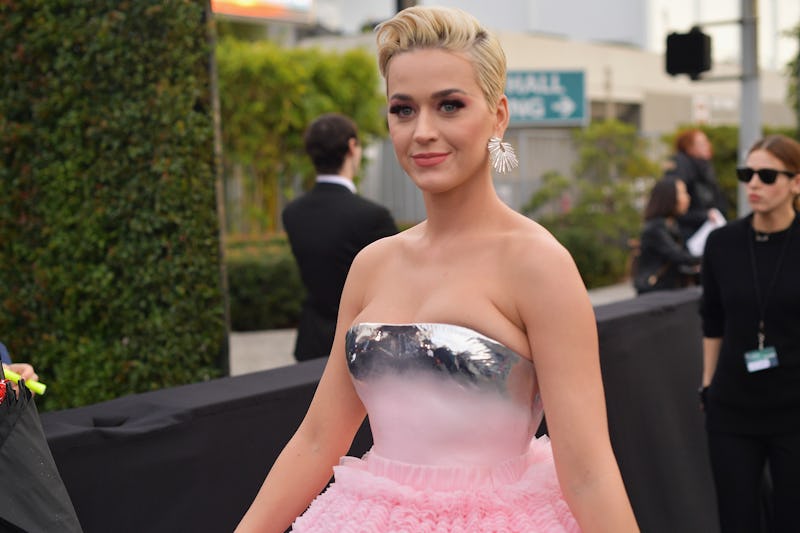 Matt Winkelmeyer/Getty Images Entertainment/Getty Images
With awards season in full swing, celebrity stylist Alexandra Mandelkorn is preparing for red carpet fashion that's a little, well, chaotic.
"Red carpet fashion is going to be all over the place," Mandelkorn tells Bustle. "But I'm okay with that — it keeps it interesting. I love that some people will be showing up to virtual awards shows in gowns, and others will be in sweatpants or chic pajamas."
Mandelkorn — who's worked with Katy Perry, Janelle Monáe, and Jurnee Smollett — believes the pandemic has ignited a fresh sense of experimentation when it comes to high-profile fashion moments.
"Red carpets can feel so serious and stressful," she says. "We're all experiencing this universal moment together and however we choose to show up, whether it's decked out in diamonds or curled up in sweatpants, we're all just doing our best and making it through."
She's also branching out creatively, having just been tapped by four of the world's top female athletes — soccer phenom Alex Morgan, snowboarder Chloe Kim, swimmer Simone Manuel, and hoops star Sue Bird — to style the debut campaign for their new media and commerce company, Togethxr.
"It was incredibly inspiring to be around such strong, accomplished women," she says. "I found myself thinking about how hard they train and fight to be at this level, especially in a world catered so heavily to men."
The experience motivated her to translate that strength and grace into the athletes' wardrobe and get them out of their usual sporty garb. "[I wanted] to help them feel like their most boss selves, while also pushing them out of their comfort zone and into fresh ways of thinking about the cross section of strength and femininity in their fashion," she says.
Ahead, Mandelkorn walks Bustle through four of her favorite fashion moments she's helped create — including Katy Perry's Smile album outfit — and what made each look so memorable.