Amika's New Silicone-Free Hair Oil Is Bound To Sell Out — So Get It While You Can
We're calling it now: this about to become the brand's new cult fave.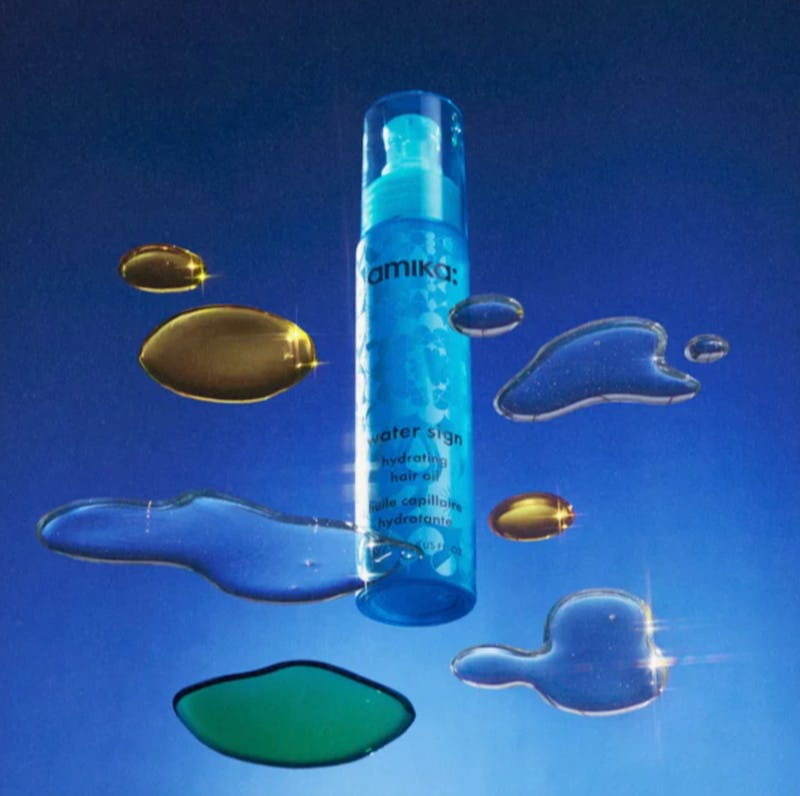 We may receive a portion of sales if you purchase a product through a link in this article.
Amika is known for their thoughtfully formulated, hair-healthy products that have inspired the devotion of consumers (and professionals) 'round the world. The latest product to join their line of cult-faves? Meet: the brand's Water Sign Hydrating Hair Oil. If you ever needed proof that not all hair serums are created equally, this is it.
Fast Facts
Cruelty-free
Vegan
Silicone-free
Recyclable bottle
£31 for 50 mL
The Science Behind The Product
There are a few things that make this hair oil so unique. First, let's dive into what this formula doesn't contain — most notably, silicones, which are typically found in hair care products for their smoothing and frizz-reducing benefits. Silicones may immediately make your hair feel more silky, but over time, they can build up on your hair (and scalp), leaving it feeling heavy and weighed down. Another downside is that people with fine or thin hair may find that silicones make their hair look or feel greasy, so they're not suitable for everyone to use. And lastly, there's the risk of using insoluble silicones, which can coat your hair and prevent any moisture from getting through. Silicones are found in most hair oils and serums, and in many shampoos, conditioners, and treatments. So, the fact that amika's Water Sign Hydrating Hair Oil doesn't contain any silicones is a pretty big deal.
As for the good stuff — it's loaded with hydrating and nourishing ingredients, like squalane, hyaluronic acid, algae extract, mango butter, and plant-derived oils like coconut, jojoba, sweet almond, and argan. And, like all amika products, it contains the brand's hero ingredient, sea buckthorn berry, which is rich in antioxidants, vitamins, and fatty acids. You won't find many synthetics in this oil — amika prides itself on using naturally derived ingredients whenever possible — but it does boast the brand's signature fragrance (a blend of vanilla and citrus with a hint of spice).
The Benefits
Now, onto what this product actually does. Mainly, like any hair oil, it'll add moisture to your hair, soften split ends, make detangling easier, and impart plenty of shine. But it also has the added benefit of doubling as a heat protectant (to be exact, it protects against temps up to 450 degrees Fahrenheit, or about 230 degrees Celsius).
You can use this product in several different ways. If you plan on styling your hair with hot tools, you'll definitely want to apply a few pumps onto your hair while it's damp before styling. But you can also apply it from your mid-lengths to ends after styling for a shiny, frizz-free finish. Or, if you wear your hair in twists or braids, you can apply the oil onto your scalp (and throughout the rest of your hair while it's damp).
Shop More amika Products
This article was originally published on