The Best Dermarollers For Hair & Scalp, According To A Dermatologist
And the safest, most effective way to use them.
by Marissa DeSantis and Masha Vapnitchnaia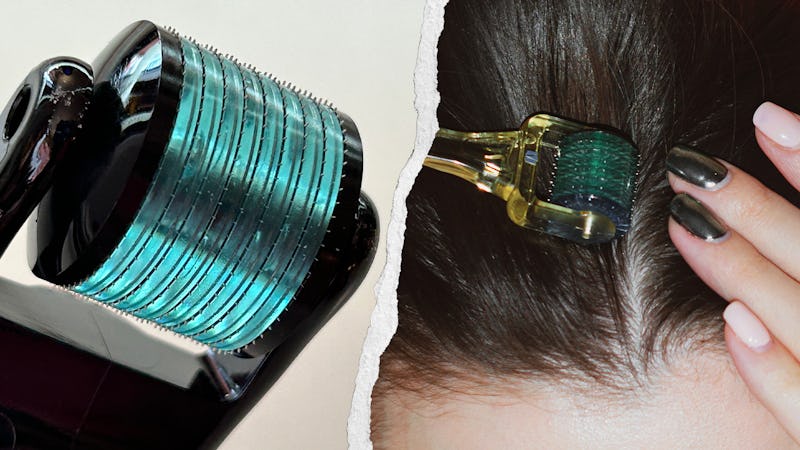 Bustle / Shutterstock
We may receive a portion of sales if you purchase a product through a link in this article.
With so many microneedling devices on the market, it's important to know which ones will be effective (and safe) at helping you achieve the results you're looking for. This is especially true when it comes to finding the best dermarollers for hair. According to dermatologist Sapna Palep, M.D., who spoke with Bustle for this article, the optimal needle length for use on your scalp will vary depending on your goal. In general, you'll want to look for at-home dermarolling devices that use 0.15-millimeter to 1.5-millimeter-length titanium needles to improve product absorption and potentially stimulate hair growth, while minimizing the risk of injury (more on those needles, ahead). You can choose from manual tools that you can gently roll right over your scalp, as well as electric dermarollers that utilize vibration technology to further enhance the needles' ability to stimulate collagen production, increase circulation to the scalp, and improve post-dermarolling product absorption.
The Expert
Dr. Sapna Palep, M.D., is a board-certified dermatologist specializing in medical and cosmetic dermatology, and founder of Spring Street Dermatology in New York. Dr. Palep has also served as Clinical Instructor in the department of Dermatology at the Icahn School of Medicine at Mount Sinai since 2010. Her research in medical dermatology has been published in the Journal of the American Association of Dermatology, the Journal of Cutaneous Pathology, and the Journal of Investigative Dermatology.
What To Look For In A Dermaroller For Your Hair & Scalp
Similar to shopping for a facial dermaroller, looking at the size of the needles is key to finding the best one for your scalp. Here's exactly what each needle size means, as well as how often you can use them:
0.15 to 0.25 millimeters: If you're already using a topical scalp treatment for hair growth (like Rogaine), doing a microneedling session with shorter needles before you apply your product will help boost its absorption, Dr. Palep explains. Plus, the risk of injuries is much smaller with rollers of this length — making them a great option for beginners or really anyone who wants to be able to safely microneedle on a more regular basis (up to every other day is recommended).
0.5 to 1.5 millimeters: This is where you want to be if your aim is to stimulate hair growth, Dr. Palep says. In fact, a 1.5-millimeter tool is often considered the go-to because it can better penetrate through hair and scalp buildup. Just note that there is a higher potential for damage and pain if misused, so you'll want to reach for these much more sparingly — a gap of at least two weeks before each subsequent session is recommended.
2.2 to 2.5 millimeters: This length is not intended for at-home use, as they may cause harm, so leave them to the trained professionals in-office.
Shop The Best Dermarollers For Hair & Scalp
In a hurry? Here are the best dermarollers for hair:
1. The Overall Best
What We Like:
Inexpensive
Smallest needle size
Good for beginners
18,000+ five-star Amazon reviews
What We Don't Like:
For beginners and those just focusing on better product absorption and blood flow circulation, this SDARA Microneedling Derma Roller uses the tiniest 0.25-millimeter needles. The tool itself is quite compact, and because it uses smaller needles, it can be used on your face, too (just be sure you're properly sanitizing it first). An Amazon favorite with over 18,000 five-star ratings at the time of this writing, several reviewers highlight its ease of use and effectiveness for the scalp. It comes in its own plastic case that's convenient for storing the dermaroller between uses, but just a heads up, it's a little tough to actually open without having the tool shoot out at you in the process.
Needle Size: 0.25 Millimeters | Number Of Needles: 540 | Type: Manual
2. Runner Up
What We Like:
Inexpensive
Smallest needle size
Good for beginners
What We Don't Like:
Except for the color, this RoselynBoutique Derma Roller is virtually the same as the SDARA — just at a slightly cheaper price point, and with about half of the Amazon reviews. For those hesitant to DIY, the 0.25-millimeter needles mean there's no pain involved and you're less likely to unintentionally do any damage. When it's time to replace your needles, you will have to repurchase the whole roller, as there isn't a way to only remove the head.
Needle Size: 0.25 Millimeters | Number Of Needles: 540 | Type: Manual
3. Best Dermastamp For Target Hair Growth Treatment
What We Like:
Easy to use
Adjustable needle size for more versatility
What We Don't Like:
Can't replace head
Includes a larger needle size option that should be avoided
All dermarollers need to be used with a light and careful hand to avoid causing injury, but rolling devices can also pull at your hair if you're not extra cautious. This Koi Beauty Derma Stamp allows you to better target your scalp as you part your hair and move the tool in an up-and-down motion, making it less likely to get caught in your hair since you're not actually rolling it. Because it's a stamp, it can be tempting to really press down, but you want to use light, quick movements, making sure that you're not repeatedly going over the same area to avoid experiencing pain or irritation. You can retract the needles once you're done and you've sanitized the stamp, but rather than a full case for storing, this just comes with a tiny cap. I also like that it's adjustable so that you can start on the lowest 0.25-millimeter setting and work your way up to 1.5 millimeters (if you intend to use this for hair growth, that is). However, I don't like that the included needle options go up to 3.0 millimeters, as Dr. Palep doesn't recommend using larger needles at home.
Needle Size: Adjustable From 0 – 3.0 Millimeters | Number Of Needles: 140 | Type: Manual
4. Best Dermaroller Set
Also available at Sephora, $249, and Ulta, $249
What We Like:
Made specifically for scalp use
Uses vibration technology and red LED light therapy
Comes with a scalp serum
Includes mini spray bottle for disinfectant solution
What We Don't Like:
This is definitely an investment, but if you're committed to at-home dermarolling for hair health and potential growth, this Beauty Bio dermaroller was developed with that specific goal in mind and comes with everything you need. The battery-operated device pairs microneedles with vibration technology and red LED light therapy to better help increase blood flow to your scalp, stimulate collagen production, and fight inflammation. The brand has also developed a scalp serum to maximize results post-dermarolling (and in between sessions, too). Using a precision tip to get right to the scalp, the serum is formulated with rosebay extract, camellia leaf extract, zinc, and loquat leaf to help remove scalp buildup, hydrate, and help promote stronger, thicker hair growth. You can purchase additional dermaroller heads separately via this Amazon listing — the brand recommends replacing them every three to four months.
Needle Size: 0.3 millimeters | Number Of Needles: 1,260 | Type: Electric
5. Best Dermaroller Set Under $20
What We Like:
Inexpensive
Comes with a vitamin C serum
What We Don't Like:
Can't replace head
Serum is for use on face only
Not everyone is ready or able to part with a few hundred dollars for a skin care device, which is why we've included this Linduray Skincare Derma Roller Microneedling Kit as well. The dermaroller uses the same 0.3 millimeter-size needles as the Beauty Bio one, though it contains less than half the number of needles and doesn't feel as sturdy as the luxe pick (it's also much tinier, as you can tell from the photos). The only downside is that this kit was developed with facial dermarolling in mind. As long as you sanitize between uses, you can absolutely use this for your hair as well, but you'll need to purchase a scalp serum separately if you don't already have a favorite. You can, however, use the included vitamin C serum on your face — either after dermarolling or on its own — as it's packed with moisturizing and soothing ingredients like aloe vera, centella asiatica, jojoba seed oil, and hyaluronic acid. Like the SDARA and Roselyn Boutique dermarollers, Linduray's comes in a plastic storage case.
Needle Size: 0.3 Millimeters | Number Of Needles: 540 | Type: Manual
How We Tested
In addition to consulting with a board-certified dermatologist, our team of editors and contributors researched key features and pored over reviews to select products for consideration. While we did not test these dermarollers for their long-term effects on the hair and scalp, we did try them out to evaluate features like needle size, ease of use, and value, before giving them a spot on this list.
FAQs
What's The Best Way To Use A Dermaroller On Your Scalp?
While it may sound fairly straightforward, Dr. Palep shares a few general rules for making the most of your at-home dermarolling session. You can use a dermaroller on a clean scalp with dry or damp hair, but Dr. Palep points out that those with longer hair may prefer to work with wet hair. "This reduces the likelihood that the roller will catch and pull on strands," she says. Then, with your hair parted, start at the front of your head just at the hairline and work your way towards the back, rolling up and down the part, side to side, and diagonally. "I always suggest rolling each area between 10 and 15 times to ensure that the scalp is covered adequately," Dr. Palep says. Keep re-parting your hair and rolling until you've covered the region(s) you are targeting.
Note: You should hit pause on your routine if you're experiencing active acne, bruised skin, eczema, hives, psoriasis, or sunburnt skin.
How Do You Care For A Dermaroller?
Even though the needles used in at-home dermarolling devices are itty bitty, the process does still involve needles, which in turn create microscopic punctures in the skin. Because of this, it's absolutely imperative that you start each dermarolling session with a sterilized roller (and that you sterilize the tool once again after you use it). To ensure that your dermaroller is properly sterilized, you'll want to soak the head in a disinfectant (70% isopropyl alcohol or higher is ideal) for about 10 minutes beforehand.
And don't forget to replace the dermaroller head periodically! With continued use, the needles will dull, so replacing the head every 10 to 15 uses (or as often as your specific tool recommends) ensures continued efficacy.
More Tips On Dermarolling
For more a deeper dive into dermarolling for hair, read up on How Scalp Microneedling Can Help With Hair Growth. Interested in at-home microneedling for your face? Check out our Esthetician-Approved Guide To The Best Dermarollers You Can Use At Home.
About The Tester
Marissa DeSantis has worked as a beauty writer and editor for nearly 10 years. Her pieces can be found across print and digital publications like Bustle, Evening Standard, Teen Vogue, and InStyle.
Expert:
Dr. Sapna Palep, M.D., board-certified dermatologist and founder of Spring Street Dermatology in New York.
References:
How do dermarollers work?, by Medical News Today; https://www.medicalnewstoday.com/articles/how-to-use-a-dermaroller
Microneedling, by Yale Medicine; https://www.yalemedicine.org/conditions/microneedling
Red Light Therapy, by Cleveland Clinic; https://my.clevelandclinic.org/health/articles/22114-red-light-therapy
This article was originally published on