The 7 Best Gardening Shoes
We only recommend products we love and that we think you will, too. We may receive a portion of sales from products purchased from this article, which was written by our Commerce team.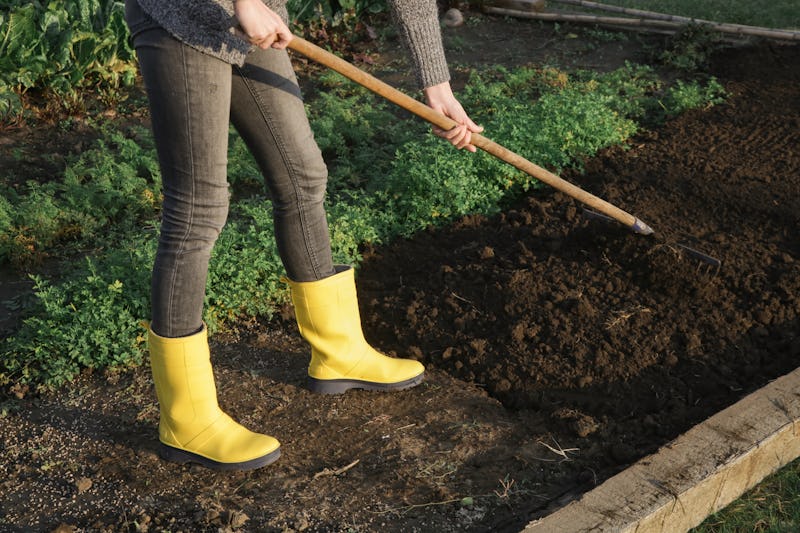 Shutterstock
A gardener needs their footwear to be comfortable and easy to care for, which is why the best gardening shoes are waterproof with supportive features like cushioned insoles and traction treads. Beyond the classic tall rain boot, there is a slew of other styles and shaft heights to choose from, so choose the coverage that works best with your needs.
Beyond what fun colors or prints speak to you most, shaft height is an important consideration. Tall boots will offer legs more coverage from any thorny branches and backyard critters, but if you're constantly bending over or kneeling to work lower to the ground, mid-ankle or ankle-length pairs will be less restrictive. And while they're the least protective, a minimalist shoe or clog will be the easiest to get on and off, which can be a welcome treat when you're covered in dirt and eager to kick them off.
Besides dirt, working outdoors also means facing plenty of wet and muddy conditions, so a pair of shoes with non-slip outsoles is key for keeping you steady on your feet. Similarly, waterproof materials like rubber or foam will help you stay dry, though, if you're tending to your plants in cooler weather, you might also benefit from insulation. On the flip side, ventilation holes will offer the most air circulation in hotter months. Either way, most of these footwear picks can be hosed off in a flash, ensuring you can keep them around for years to come.
Above all, your footwear should be comfortable, so the best gardening shoes below all have cushioning, from memory foam to shock-absorbent soles, and some even go the extra mile in being machine washable, too. Find your perfect fit below.
1. These Iconic Clogs That Are Breathable & Durable
These iconic Crocs clogs have amassed more than 140,000 five-star ratings (you read that right!) from Amazon shoppers because they are undeniably durable and comfortable— and hundreds mentioned how well they specifically work for gardening. "You can wear these things all day, 10-12 hours and your feet and legs will hold out," wrote one fan. With the brand's token foam cushioning, they are lightweight and flexible, but they'll still last you through multiple gardening seasons (one reviewer mentioned having a pair for 15 years)! The outsole traction will keep you steady through mud and rain, and there's also a moveable strap that can be adjusted to the front or back of the clog.
The clogs have ventilation holes that keep the shoes breathable and help them shed water, making them a good choice for hot summer days. Plus, they can be hosed down with soap and water and are quick-drying. Choose from 26 colors and a wide range of sizes.
One helpful review: "I can't begin to tell you how much I love my Crocs. I hike in them, garden in them, do everything in them and my feet are comfortable and my knees don't hurt. They may not be beautiful but they are my absolute favorite shoes."
Available sizes: 4 — 19
Available colors: 26
2. These Cute Mid-Calf Rain Boots Made Of Recycled Materials
Available in 21 color and print options, these waterproof mid-calf boots have an impressive 4.7-star rating overall after more than 6,800 Amazon shoppers have weighed in. They're very supportive with removable insoles, a thick heel with a molded arch, and a heavy-duty lug tread for traction. One of the most noteworthy features of this pair, though, is that the sole is made up of up to recycled material and once you've worn out your pair, you can send them back to Sloggers so they can be reused to make more. Tip: since they stop mid-calf, reviewers recommended adding a pair of tall socks or boot cuffs to prevent any rubbing as you're moving around.
If you love the designs and the brand's ethos, but want a different style, Sloggers also makes whimsical, waterproof ankle boots, and slip-ons. To clean the boots, you can hose them off, but you'll want to remove the insoles to rinse them separately (and air-dry) if you want to ensure you get every last spec of dirt out.
One helpful review: "These are not only the best gardening boots I have ever had, but I constantly get compliments... on how great they look. I volunteer in a park and I really needed a boot that was completely waterproof and had support... I live in red rock country and I can wash these off with the hose while I am still wearing them. You will not go wrong with these boots."
Available sizes: 6—11
Available colors: 21
3. An Affordable Duck Shoe With Plush Memory Foam Lining
If you're a casual gardener, you may be looking for something more wallet-friendly like these adorable vegan JBU by Jambu duck shoes. They are the only pick on this list that's water-resistant (versus waterproof), however, several fans mentioned that they will keep feet both warm and dry. Plus, they boast a seal of acceptance from the American Podiatric Medical Association (APMA) for helping to promote good foot health, so you know they'll be comfortable. That plushness comes from a memory foam footbed that's supported on the outside by a non-slip traction sole. Still, as secure as you'll feel, they are lightweight and easy to slip on and off. Choose from five colors, including ones with subtle floral prints. All of them can be wiped clean with some soapy water.
One helpful review: "These are great garden shoes. I have a walking shoe from Jambu that I purchased years ago. This brand is serious about comfort and long lasting. I have no doubt that these garden shoes will last forever. I'm serious in the yard (mowing, weeding, all things yard) and these shoes will take a good licking!"
Available sizes: 6—11
Available colors: 5
4. These Investment-Worthy Classic Hunter Rain Boots
Known for their spectacular durability, these classic tall Hunter rain boots have earned more than 3,000 five-star ratings from Amazon shoppers. The waterproof rubber boots are a great choice for working in the garden, especially if you want additional leg protection. In addition to a tough rubber traction sole, there's a cushioned footbed for the coziest feel. The popular pair is available in 27 colors, in a choice of either matter or a gloss finish. And given how stylish these rain boots are they won't be out of place outside of your yard, making them worth the investment. As one reviewer put it, "when fashion and quality are a must, look no further." Just hose them down before heading out on the town.
One helpful review: "These boots are so great. I can't believe that I haven't bought them until now. I like them working in my garden and for dirty jobs. They also look great if you want to wear something sporty on a wet or wintery day. Well-made and worth the price."
Available sizes: 5—11
Available colors: 27
5. These Faux-Fur-Lined Ankle Booties In A Variety Of Charming Designs
These ankle boots come in 30 hand-drawn prints and designs, each of which "cheers up even the greyest rainy days," wrote one reviewer. Besides the selection of darling patterns, more than 4,000 reviewers have given these waterproof rubber wellies a five-star rating because of their thoughtful design features. There's a back tab that makes them easy to pull on and off, and the cleverly placed elastic cutouts won't rub ankle bones as you move or squat to tend to your garden. Finally, there are traction outsoles and removable faux-fur insoles that will keep your feet more toasty in cooler temperatures. To clean, rinse the boots and the insoles separately and air dry.
One helpful review: "Going to use for gardening, easily slip on, waterproof, can handle the mud and dirt. Prob a great rain boot too. Great selection of designs, had to settle for one of many patterns I really liked."
Available sizes: 5—11
Available colors: 30
6. A Pair Of Insulated Shoes Designed By Gardening Pros
These Muck Boot Mucksters were designed in collaboration with the prestigious Royal Horticultural Society, which means they are, quite literally, made for gardening. Available in four colors, these 100% waterproof rubber booties are insulated with neoprene, and there's a breathable mesh liner to help wick away any moisture. They also have a shock-absorbing insole and a high traction outsole to keep you steady. Though they're low cut, an elasticized band at the ankle will keep them secure. (Prefer a mid-height shaft? Check out the Muck Boots Breezy model instead.)
The shoes are will also be with you for the long-haul, you can keep them looking clean by hosing them down or rinsing them with soap and water.
One helpful review: "If you live in the country, or on a farm buy these. I love and trust Muck products. My last pair of these same shoes lasted over 6 years and that's with wearing them in Michigan winters to feed the ducks & chickens. Great arch and heel support and are made extremely well and will keep your foot warm & dry."
Available sizes: 5—11
Available colors: 4
7. A Pair Of Clogs In A Whimsical Botanical Print
If you love clogs, but want something a bit more stable than the Crocs pick this slip-on option has a chunkier sole that's also shock-resistant, thanks to comfy, foam insoles, which also provide some arch support (bonus: the insoles are machine washable). The print options are noteworthy too — besides the retro field flower print (featured), there's a red pepper one, and a bright, poppy design. They're waterproof, have a slip-resistant tread on the bottom, and can be hosed or wiped down.
One helpful review: "I bought these clogs for yard work and gardening. The first thing I noticed was the great arch support. The second thing I noticed was as I walked around in them how comfortable they are. The toe box is perfect and the fit is spot on. The design is fun. I loved them so much I immediately bought a second pair to keep in the car for those spur of the moment gardening center runs. I highly recommend them."
Available sizes: 6—11
Available colors: 1