The 10 Best Minimizing Bras, According To A Bra Fit Expert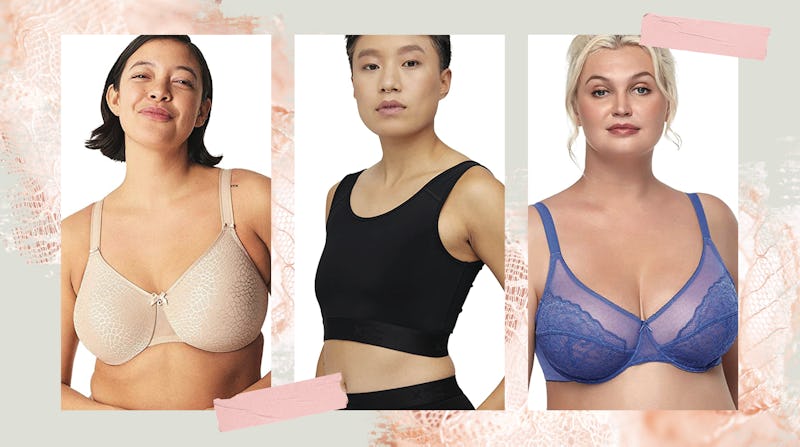 Bustle / Amazon
We may receive a portion of sales if you purchase a product through a link in this article.
When shopping for a bra to minimize instead of enhance, fit is everything. Bustle reached out to Tracy Freno, a trained bra fit expert at Bare Necessities, to learn more about what to look for when shopping for the best minimizing bras.
The Expert
As the Senior Manager of Customer Service at Bare Necessities, Tracy Freno manages a team of bra fit experts that educate customers on the importance of wearing correctly fitting bras, and helps them find their perfect lingerie. She also works on behalf of initiatives at Bare Necessities pertaining to diversity & inclusion, people experience, and charitable giving. She's passionate about making every bra-wearer feel as confident and comfortable as possible.
What To Look For In A Minimizing Bra
Fit
"The most important feature when shopping for a minimizer bra is making sure the fit is correct," Freno advises. You might think that a minimizing bra needs to be super tight in order to do its job, but Freno points out that's not the case — in fact, tight bras are likely to cause spillage over the top and sides of the cup. "The correct size cup will compress and distribute the breast tissue evenly, offering a smooth and balanced silhouette," says Freno. If it fits correctly, minimizing bras should be able to "shrink" your bust by about an inch, on average.
If you're unsure about what size to go for, Freno recommends measuring your own band and bust size to calculate your best fit. It's easier than you might think!
Style & Material
In lieu of padding, minimizing bras come in a range of compression levels, depending on your preference. Beyond compression, other supportive features like underwire, padded straps, and wide bands are all details that not only help to minimize, but will also make for comfortable wear.
And while it's not a necessity, choosing a minimizing bra made from moisture-wicking fabrics, like nylon and polyester, can help reduce the chance of irritated skin, chafing, or rashes, says Freno. Lastly, Freno insists that there's no need for an over-the-top design. In fact, the more minimal the bra, the less visible it'll be underneath your top, if you prefer a very seamless look. But if you can't pass up a pretty lace, jacquard, or bow-adorned bra, there are options here for you, too.
With all of these tips in mind, keep scrolling for a list of the best minimizing bras, all conveniently available on Amazon.