The 5 Best Reusable Cotton Rounds
We only recommend products we love and that we think you will, too. We may receive a portion of sales from products purchased from this article, which was written by our Commerce team.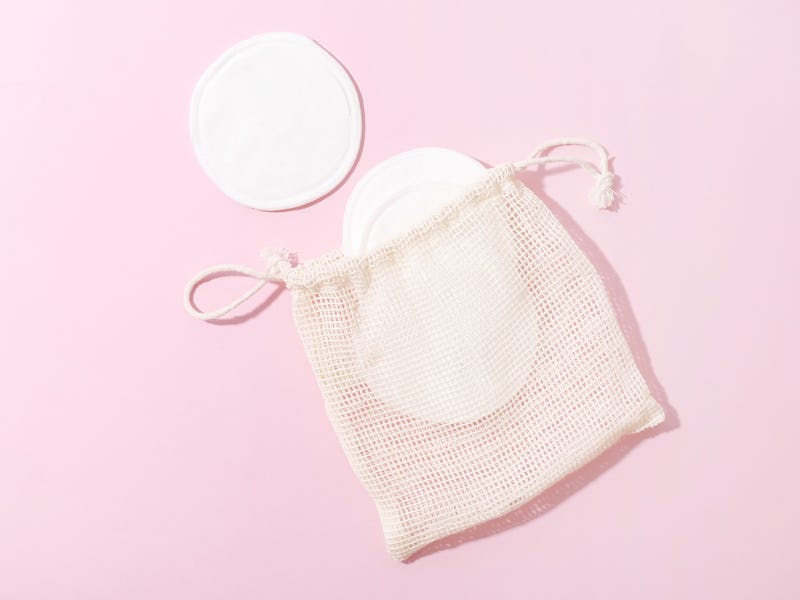 Shutterstock
Switching to reusable cotton rounds is a small and easy change with a big environmental impact. Despite what their name may imply, the best reusable cotton rounds aren't always made from cotton, but instead feature a blend of soft fibers, like bamboo and microfiber, which makes them gentle enough to use for cleansing and removing makeup, but durable enough to last through multiple wash cycles. To zone in on the best choice for you, you'll want to consider the rounds' thickness and texture.
The thinner rounds that most closely resemble the look and feel of traditional disposable cotton pads are usually made of just one or two layers and are therefore less absorbent. That makes them ideal for applying your favorite toner or distributing runnier serums because they won't soak in (or waste) any of the product. If your goal is to use your rounds for more of a deep clean — like to remove waterproof makeup, sunscreen, and other daily grime — a denser cloth that's made of more layers will be more optimal, as it'll offer enough grip to gently lift away residue as you rub it around in light, circular motions.
In keeping with their environmentally conscious ethos, these eco-friendly makeup remover pads are all machine washable, but to make it even easier to keep them clean, some brands will provide you with a convenient storage box and/or mesh laundry bag.
Scroll on to shop some of the best reusable cotton rounds you can buy on Amazon right now.
1. These Organic Bamboo Rounds With More Than 11,500 Glowing Reviews
More than 11,500 Amazon shoppers have given these "amazing" Greenzla cotton rounds positive ratings because they tick off all of the right boxes: They're inexpensive, soft, durable, and excellent for all basic tasks, like taking off makeup and cleansing with micellar water. The rounds are made with two layers of 100% organic bamboo cotton fibers and, according to Amazon reviewers, will retain their shape and texture after being washed and dried. To make organizing them easier, you'll get a cardboard storage box that's cute enough to display on your counter and a drawstring laundry bag for collecting dirty rounds. When the pads are ready to be retired, they're 100% biodegradable, so the brand suggests putting them in a compost bin.
2. A Value Pack Of Rounds With Different Textures On Each Side
Considering the price and their double-layered, two-in-one design, these cotton rounds are a tremendous value. The silky, velour cotton side is especially great for targeting delicate areas (like around the eyes), while the textured, bamboo terry material on the opposite side provides a slightly exfoliating effect. Best of all? According to one Amazon reviewer, any "product applied to one side of the pad doesn't soak through to the other," so you'll be able to use both sides without any problem. They're also machine washable, dryer safe, and come with a zippered laundry pouch. Over 4,500 Amazon shoppers have awarded them a five-star rating thus far.
3. The Best-Selling Microfiber Pads That Beauty Experts Swear By
These Face Halo pads have won over beauty experts and Amazon shoppers alike, having amassed countless industry accolades and over 1,500 five-star ratings on Amazon. They are more expensive than the other picks on this list, but they're a little larger and sturdier, and they have a super-plush surface that fans describe as "magical" because it takes only water and very minimal effort to get makeup off. That magic, according to the brand, comes from a blend of polyester and "halotech fibers," which are described as being 100 times finer than a human hair.
The pads are machine washable (just note that you'll need to provide your own laundry bag, or you can pick up the Face Halo one), but to help them stay fluffy, it's best to air-dry them. When they wear out — per the brand, they can each be washed up to 200 times — you can send them back to Face Halo to be repurposed.
4. Extra-Thick Bamboo Rounds With Clever Finger Pockets
Made with four layers of bamboo and polyester fleece, these Tayvada reusable rounds are perfect for removing budge-proof makeup, rich face oils, and even thick clay masks. Each round has a little pocket with room for two or three fingers to give you better control, especially when you're going over areas like your nose or jawline. You'll get 14 total pads with your purchase: seven white ones made from gently exfoliating terrycloth, and seven gray ones made from extra-soft fleece. Both machine washable and dryer friendly, they come with a zippered mesh laundry bag and a handy storage box.
5. These Extra-Large, Square-Shaped Face Cloths
If you want a sustainable option that can effectively help you clean your whole face in one go, these square-shaped washcloths are a hit with Amazon shoppers, having earned more than 2,500 five-star ratings — with one person dubbing them "one of my most favorite Amazon purchases ever." Each side features a slightly different microfiber texture (one that's more tightly packed, and one that's looser with longer fibers), but you can use both sides interchangeably since, according to one fan, they're both "extremely soft." They are washer and dryer safe (no laundry bag included), and you can also pick them up in two other sizes, all of which are sold on the same Amazon page. Choose from peach-pink or gray.