The 14 Best Walking Sandals For Long Distances, According To A Podiatrist
Whether you're hiking or bar hopping, these sandals will keep your feet feeling good.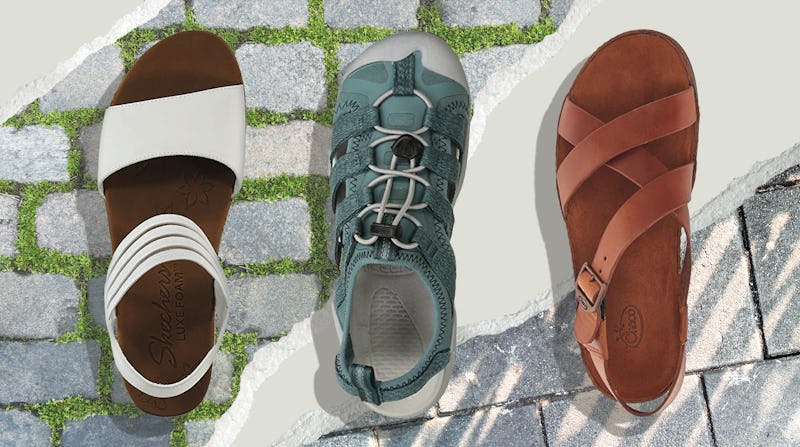 Bustle / Amazon
We may receive a portion of sales if you purchase a product through a link in this article.
There's nothing better than a long walk in warm weather, but wearing the wrong shoes can lead to unwanted aches and pains. To help identify some of the best sandals for walking long distances, I reached out to podiatrist Alissa Kuizinas, DPM, who provided some helpful guidelines. When shopping for comfortable sandals for long distances, look for options that strap securely to your feet and offer plenty of support — no matter how many miles you clock.
The Expert
Alissa Kuizinas is a board-certified doctor of podiatric medicine and footwear expert. With a focus on holistic foot health, she helps her patients naturally relieve foot pain and restore function. She offers consultations and online programs on foot restoration and foot health education through her website.
How To Choose Sandals For Walking Long Distances
Unless your feet are already trained to walk without supportive shoes on hard surfaces, Dr. Kuizinas recommends seeking out sandals with good arch support, identified by "a contour on the inner arch of the sole and a stiffer sole material." She explains to Bustle, "Materials such as EVA or cork are ideal for arch support sandals." (According to the American Academy of Podiatric Sports Medicine, polyurethane or PU, is also frequently used in shoe midsoles. PU tends to last longer and feel firmer than EVA.) On the other hand, Dr. Kuizinas recommends avoiding materials like softer foam when possible, since they'll be more compressible and less supportive.
When it comes to design, Dr. Kuizinas advises, "Look for straps across the foot that hold the shoe onto the foot" — that way you won't have to grip them with your toes. With that in mind, she suggests staying away from flip-flops, slides, and other "sandals that do not strap firmly onto your foot," as they can make you clench your foot muscles, "causing muscle strain and an increased risk for hammertoes and plantar fasciitis." According to Dr. Kuizinas, sandals with a toe spring (a slightly upturned toe to help you rock forward as you walk) and a wide toe box can also be helpful.
Shop The Best Sandals For Walking Long Distances
In a hurry? These are the best sandals for walking long distances.
Here are some of the best sandals for walking long distances, available in a variety of styles to suit your summer strolls.
Expert:
Alissa Kuizinas, DPM
This article was originally published on