The 3 Best Shoes For Running On Concrete
We only recommend products we love and that we think you will, too. We may receive a portion of sales from products purchased from this article, which was written by our Commerce team.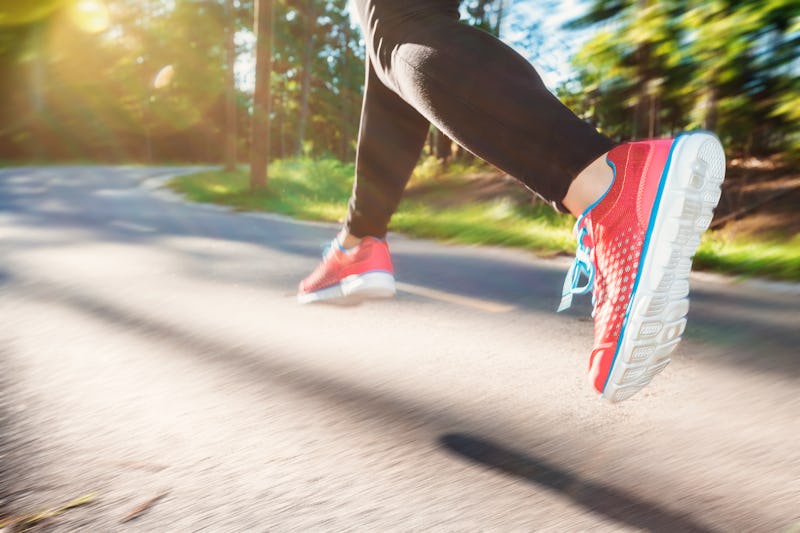 Shutterstock
It's no secret that running is hard on your joints, but add in an unforgiving concrete surface and it can be downright brutal. That said, the best running shoes for concrete can soften the blow and keep you injury-free, no matter how many miles you put in.
Concrete absorbs up to 10 times less energy than asphalt, so you can only imagine the pressure your feet, ankles, and knees are under while you're jogging on your neighborhood sidewalk. To help alleviate the pressure, you definitely want high-quality cushioned shoes that are made specifically for running. Running shoes are designed to support the most injury-prone parts of your feet and ankles while you're putting a lot of pressure on them, so a regular pair of sneakers just won't cut it in this case.
You also have to consider how you run or jog. Even though it may not seem like it, there's a big difference between long-distance training and sprinting, especially in the way you use your muscles. If you're running on concrete, you'll need support for both types, but you may want to consider lightweight running shoes if you're going for speed. If you're not concerned with pace, you'll have more options to choose from, including some denser but really supportive gel-filled running shoes.
Ready to find your perfect match? Here are some of the best running shoes for concrete.