6 Innovative Products That Will Change The Way You Apply SPF
Sun protection has never been so versatile.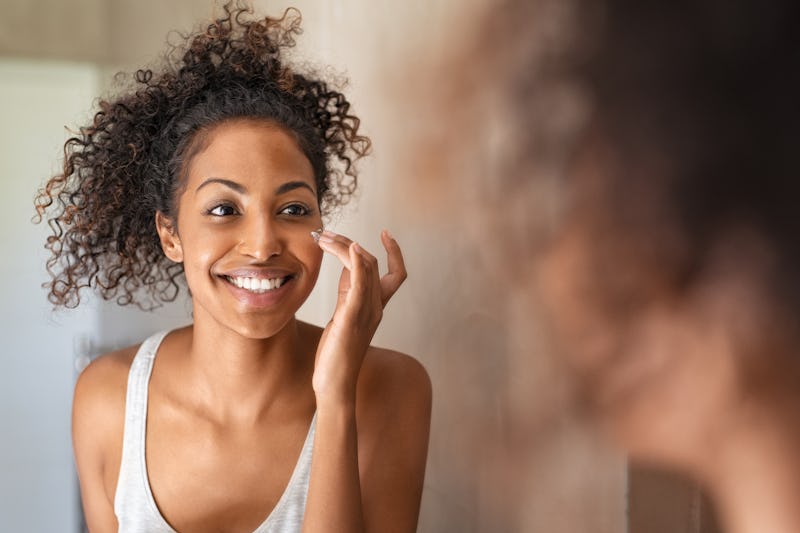 Shutterstock
SPF. it's nearly always touted as the number one skincare product to use by dermatologists and beauty experts all over the world. Protecting your skin from the sun is the best way to keep it radiant and healthy, and to help protect it from UV rays that can cause skin cancers. Wearing an SPF should be at the top of your skincare priority list, and thankfully more ways than ever to do so. The new ways to wear SPF this summer are even more wide-ranging, from drops to sticks, primers to serums. However you'd like to incorporate sun protection into your routine, there's almost certainly an option that'll suit.
The evolution of facial SPFs are evolving meaning white casts and thick, heavy, or sticky textures are gradually becoming a thing of the past. In fact, the world of sunscreen has developed perhaps more than any other in beauty. "There are also so many new and innovative things happening in the industry in terms of clean ingredients and innovative formulas," says Holly Thaggard, founder of SPF brand Supergoop. "Lightweight serums, moisturisers and invisible sunscreens have become increasingly popular and given the lightweight textures, they work much better with makeup and also cater for all skin tones," adds Amy Ford, Managing Director at Hello Sunday.
Whether you choose to wear your SPF in your serum, primer, or moisturiser, the most important thing is that you wear it, and indeed that you wear enough of it. "Sunscreen should be applying generously (at least ½ teaspoon) to the face prior to sun exposure and reapplied every two hours," explains Ford.
"It's also worth noting that places on your face like your eyes and lips shouldn't be forgotten — these are often overlooked, yet super sun-sensitive spots, which is why we also make products to keep them sun-safe," notes Thaggard.
Read on to discover the coolest, most innovative ways to get your SPF fix in 2021.