The 6 Best Workout Socks
We only recommend products we love and that we think you will, too. We may receive a portion of sales from products purchased from this article, which was written by our Commerce team.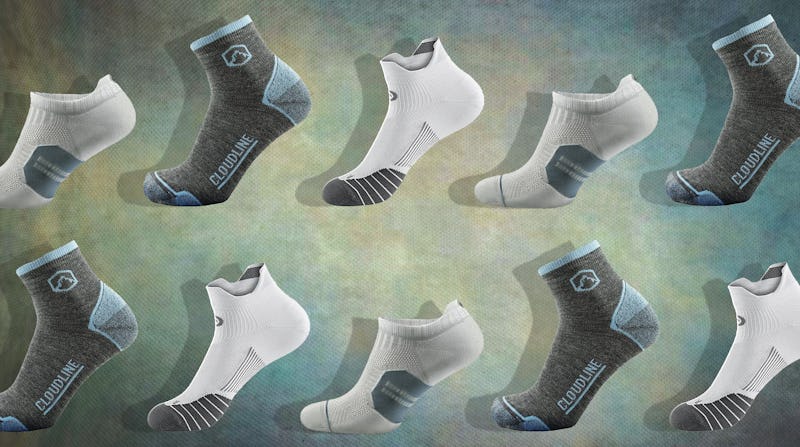 Bustle/Amazon
Workout socks are an important yet oft-overlooked part of a fitness wardrobe. And surprisingly, even the smallest nuances in a pair make all the difference. Through material and cut, the best workout socks provide protection from all types of elements and injuries.
Materials
There are a surprising number of material blends to choose from when it comes to workout socks, but one material that you won't find here — 100% cotton. It clings to moisture which can ultimately lead to blisters. Both merino wool and polyester are moisture-wicking, which can keep your feet dry and irritation-free. Merino wool is thermoregulating, which makes it ideal for all seasons, including winter. But it can also be expensive and more prone to tears, so blending it with other fabrics like nylon and spandex can help make it more durable. Polyester is more durable and affordable than merino wool and dries faster, but isn't the most breathable fabric — although ventilated mesh can help with airflow.
Cushioning & Design
To avoid blisters, look for socks that have cushioning on the toes, forefeet, and heels — areas that are prone to friction. Other features to consider include seamless toes, which keep irritating seams away from your toes to prevent rubbing. For activities where you need extra grip, some gel strips on the soles help with stability, especially during balance-focused exercises.
Cut
High-rise designs like crew socks can protect ankles from cuts and bruises, while compression socks can prevent muscle injury. A modern no-show sock is also an option to keep your ankles cool.
Whatever the workout occasion, we've found a highly rated sock that will support you. See below for six of the best athletic socks for every workout — one even boasts more than 20,000 reviews.
1. The Best Workout Socks for Cold Weather Runs
Made from ultra-fine merino wool, these quarter crew workout socks keep feet warm while also wicking away moisture, making them a great option for workouts like outdoor running, bootcamp, cycling, and more. Blended with nylon and spandex, these socks also offer extra stretch, which helps avoid friction. They don't have seamless toes, but the cut of these socks protects your ankles from cuts and bruises, while precisely placed padding on the backs, heels, and pads of the foot prevent blisters. This brand conveniently offers socks in three different levels of cushioning. This sock is considered light, but if you prefer more or less cushioning, you can also choose between ultra light and medium cushioning.
Helpful Review: "This is one of my go-to running socks. I wear it all year round except summer (too hot). They keep feet warm in winter/fall/spring, without making feet sweat...I bought many pairs of these and they really last! Highly recommend!"
Available Sizes: Medium — X-Large
Available Colors: 5
2. The Best Warm Weather Running Socks
Runner's World chose this workout sock as one of the best for its upcycled materials (100% recycled plastics) and its anti-odor Polygiene treatment that reportedly allows several wears between washes. So while running in the heat can cause more sweat and moisture, resulting in odor, this sock's materials will help keep odor at bay. These socks also feature ventilation zones for cooling, seamless toes, and a padded heel and toe box for cushioning and avoiding blisters. With over 1,300 reviews on Amazon, this pair is also praised for its reflective logo that makes running in the evening a bit safer.
Helpful Review: "When I switched to the Rockay socks for the half-marathon, I did not have any blisters or chafing during the race. The fit is perfect for my feet. They do not move or slide around, one of my biggest pet peeves when it comes to socks! Love these!"
Available Sizes: Small—XX-Large
Available Colors: 12
3. The Best No-Show Workout Socks
With a modern no-show cut, affordable price tag, and nearly 5,600 reviews, these lightweight adidas workout socks are a popular pick that keep your feet and ankles cool. They are designed with a stretchy, moisture-wicking blend of polyester and spandex. Although they don't feature extra padding or a seamless toe, they do have arch compression for additional support. And one of the best things about these socks: six pairs only cost $14, so you can stock up.
Helpful Review: "These are my favorite workout socks. I am a trainer (CrossFit, HIIT, Group Fitness) and spend most of my days at the gym and when the weather is nice I run outside. After trying so many brands and styles through the years, these win. They aren't too thick and they are breathable, which I love. The no-show line is low enough that it is not overly obvious when wearing my shoes."
Available Sizes: Medium—Large
Available Colors: 33
4. The Best Knee-Length Compression Socks
For intense weightlifting workouts — or even for long periods of standing — compression socks make all the difference in preventing muscle injury and supporting recovery. The knee-high length of this pair ensures that you'll be fully covered, plus, it features 20-30 mmHg of firm compression, which includes along the arch of the foot. They're made from polyester, nylon, and copper — and the brand claims that copper can both boost blood circulation in the legs and eliminate odors. With over 17,000 reviews, these socks lack a seamless toe, but are celebrated for their mesh ventilation that keeps feet cool.
Helpful Review: "I was having really bad cramps in my calf and I started using these for workouts and honestly every day activities. I have not had ONE cramp since! I am in-love with these!...If you are debating on using them for workouts and thinking they will hinder it in any way, you can take that off of your conscience. They are SUPER comfortable to workout in."
Available Sizes: Small—X-Large
Available Colors: 14
5. The Best Ankle Compression Socks
Compared to the previous pick, these workout socks, with over 20,000 reviews, feature a more mild 15-20 mmHg compression, but they are perfect if you prefer an ankle-length sock, and these provide more support than most. The lightweight and moisture-wicking nylon-spandex blend ensures breathability, a higher ankle can prevent chafing, and they are designed with a seamless toe to protect against blisters. You'll get six pairs in each order.
Helpful Review: "I'm a big fan of running socks and have some from most of the brands that are around. I have Balega, Feetures!, Brooks, Reebok, Nike, Stance, Under Armour, Asics, etc and these easily hold their own against these top brands. The material is very light and there's no bunching up [or] sinking into the shoe, which is a huge turn off for me. [...] The socks seem built well and have have held up through workouts, work days, and haven't fallen apart or anything in the washing machine. The socks are tight, as they should be with compression, but they're not difficult to get on and off or too tight."
Available Sizes: Small—X-Large
Available Colors: 12
6. The Best Workout Socks with Grip
These grip socks provide extra stability to encourage movement for workouts like pilates, yoga, and barre — and they're equally as great for walking around at home. They're made from a breathable and stretchy cotton-polyester blend (Note: with 80% cotton, you'll probably want to avoid these for your most high-intensity workouts though). They feature silicone grippy dots along the sole and toes that keep you secure and stable on your mat or wooden floors. The ankle-cut allows for ample flexibility and movement, and a padded heel tab keeps them from slipping down. These socks have a seamless toe and extra cushioning along the bottoms, and with more than 3,000 reviews and a 4.6-star rating, they are a reliable pick for workouts that test your balance.
Helpful Review: "I've recently started doing my exercise videos without sneakers. Barefoot was too uncomfortable, and normal socks slid around too much on tile. These are perfect. I get the freedom of bare feet with extra stability. I've worn these on tile and a yoga mat and don't have any issues with slipping."
Available Sizes: Small—X-Large
Available Colors: 6