Everything To Know About The Costumes On Bridgerton
The wardrobe was practically its own character.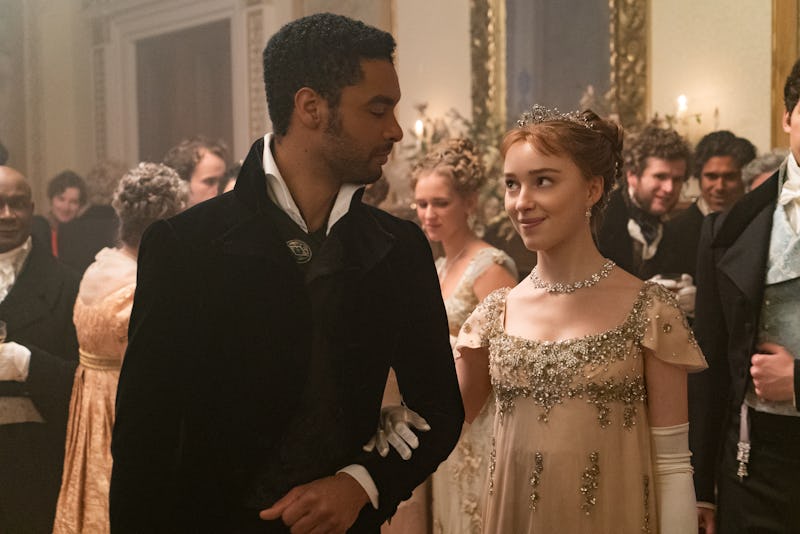 The latest period piece to hit the marathon-watching circuit is Netflix's Bridgerton. The show's fantastical, romantic setting comes to life both through the writing — care of creator Chris Van Dusen and producer Shonda Rhimes — and the fashion. The genius behind the Bridgerton costumes, designer Ellen Mirojnick, made the wardrobe a character unto itself, using color, materials, and silhouettes to define each character's very specific persona.
For some, the writers gave Mirojnick specific instructions regarding color palette and messaging, as in the case of the Featherington sisters' bright dresses. "When Chris [Van Dusen] wrote about the Featheringtons in the script, he described them wearing acid colors — acid green, acid yellow, acid orange," she says.
For others, Mirojnick had creative freedom to bring the characters' wardrobes to life, like when designing for Daphne Bridgerton and the Duke of Hastings. When crafting their wardrobes, Mirojnick used color and texture to communicate desire, excitement, and allure. "The combination of fabrics [on the Duke] are touchable and sensual, thus, the Duke's elegance and sex appeal make for a most desirable get," she says.
Ahead, Mirojnick walks Bustle through her favorite Bridgerton costumes, their significance, and the sometimes hidden meanings behind them.