This Silk Brand Is Celebrating Its Anniversary With Deep Discounts On Luxe Essentials
Affordable luxury to upgrade your everyday.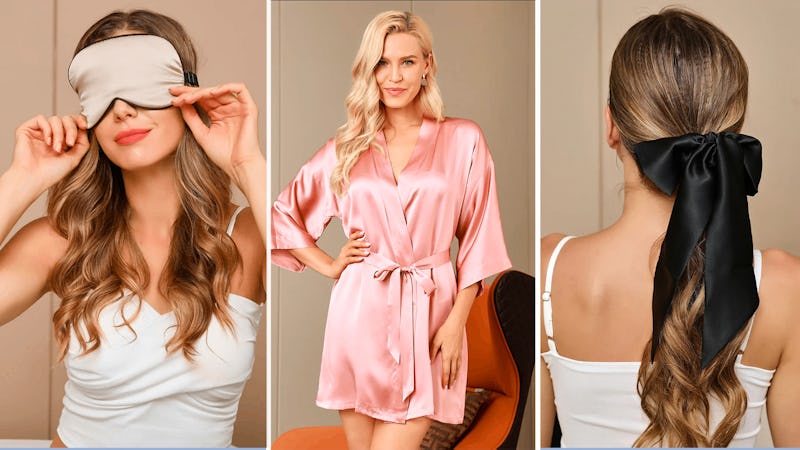 We may receive a portion of sales if you purchase a product through a link in this article.
Silk is the sort of aspirational fabric almost everyone wants more of in their life, but such luxury often comes at a price. For a limited time, however, SilkSilky — a brand known for luscious silk pajamas, apparel, and home goods — is hosting its anniversary sale with items up to 50% off. This is a prime moment to channel quiet luxury by stocking up on those elusive high-quality basics without paying department store prices.
The Anniverary Sale includes essentials like tailored shortie pajamas, an oversized silk scarf you can style so many ways, and an elegant silk midi nightgown that doubles as a dress. You'll also want to nab sleep accessories like silk pillowcases and eye masks that promise to elevate your bedtime routine.
Maximize Your Savings
There are a few things you need to know to make the most of your shopping. You can unlock three tiers of savings, each with different anniversary codes. Get $20 off an order over $160 with the code ANNIV20, score $35 off orders over $230 with the code ANNIV35, and enjoy $50 off your order over $300 with the code code ANNIV50. Essentially, the more you spend, the more you save. In other words, it's an incredibly good time to stock up on essential classics you'll keep forever.
Scroll on for the best of the sale; plus one must-have pajama set that's worth an immediate "add to cart," even if it's not currently marked down. No matter what you're looking to add to your collection, below you're sure to find more than one indulgent item you can't do without.
1. An Everyday-Luxurious Shortie Pajama Set
A shortie pajama set like this can do way more than pajama duty, although the 100% mulberry silk will certainly feel like a dream to sleep in. Split up the set and wear the short sleeve button-up top with denim — it features classic piped trim along its lapel neckline — or try the elastic waist bottoms with a hoodie and tank for daytime lounging.
Sizes: X-Small — XX-Large | Colors: 11
2. A Silk Eye Mask For Better Zzz's
Whether you've got an upcoming flight or need to block out light in your own bedroom, pop this eye mask on. Made of 100% mulberry silk with an adjustable elastic band, it won't irritate the delicate skin around your eyes as it helps you achieve better Zzz's. It's available in 15 gorgeous colors, and would also make a chic yet thoughtful gift or addition to a guest room.
Sizes: One size | Colors: 15
3. This Gorgeous Lace-Trimmed Nightgown With A Cutout Back
Channel Old Hollywood glamour in this stunning chemise. Adjustable racerback spaghetti straps and a cutout back make this lace-trimmed nightgown seriously spicy, and it's made from 100% mulberry silk that will feel as luxurious as it looks. The subtle V-neckline is trimmed in lace to echo the cutout back, ensuring this nightown stuns at every angle.
Sizes: X-Small — Large | Colors: 5
4. A Silk Pillowcase To Pamper Your Skin & Hair
Protect your hair and skin with this pillowcase; it's made of pure mulberry silk to help smooth hair and aid skin in retaining moisture overnight. (Plus, you wake up with fewer sheet marks.) And it's available in 20 shades, so you can match your bedroom's color scheme.
Sizes: US Toddler — US King | Colors: 20
5. These Long Satin Pajamas Trimmed With Scalloped Lace
For a femme twist on the classic menswear-influenced pajama, try out these chic 100% mulberry silk pajamas. They feature the same timeless silhouette — button front, lapel collar, wide-leg pant — with the luxe addition of scalloped lace trim at the cuffs, hem, and patch front pocket. If you've been wanting to try the lingerie-as-outerwear trend, these pajamas are here for it — pop on a pair of stilettos and some red lipstick, and you're ready for the night.
Sizes: X-Small — Large | Colors: 4
6. A Romantic Bow-Tie Scrunchie
Tie your hair back and add a little romance to your outfit with this silk scrunchie, which features an adorable floppy bow. Made of 100% mulberry silk with an elasticized band, this scrunchie will help keep hair smooth, and would look so cute paired with a floaty dress. It would also make an excellent gift, perhaps paired with the sleep mask above?
Sizes: One size | Colors: 16
7. The Pure Silk Robe That Doubles As A Jacket
The pure mulberry silk of this robe will feel nothing short of luscious when popped on after a shower, but don't let that limit its use. The topper features a slouchy fit, mid-thigh length, and three-quarter sleeves that would look so chic worn as a light jacket à la Kim Kardashian.
Sizes: Small — X-Large | Colors: 6
8. This Coastal Grandmother Silk Scarf
Made of 100% silk Charmeuse, this shawl is the lightweight, luxe layering piece to take you through transitional weather. At 67 inches by 21 inches, it folds into a compact shape that can fit in your bag in case you find yourself in an aggressively air-conditioned room, while remaining light enough to keep you from overheating.
Sizes: One size | Colors: 15
9. This Stretchy, Minimalist Silk Blend Nightie
Prefer your nightgowns with a hint of stretch? Try out this mid-thigh length slip; it's made of soft mulberry silk blended with rayon for a texture that will move and stretch with you. The minimal design features adjustable spaghetti straps and a scoop neck, with a lettuce ruffle at the mid-thigh length hem. Even if you tend to toss and turn, this nightie can take it.
Sizes: X-Small — X-Large | Colors: 4
10. This 4-Piece Set Of Silk Panties
An elegant update for your underwear drawer, this set of bikini briefs includes four identical pairs of panties, each made of a blend of mulberry silk and spandex guaranteed to make getting dressed in the morning feel a little more luxurious. They're low-rise, with a slightly cheeky back and tiny bows at the French cut legs, and they're available in a variety of chic shades. If you're having justifiable trouble choosing between the neutral sets of black and beige, they offer a set with two of each shade.
Sizes: Small — Large | Colors: 10
11. An Elegant Silk Chemise Turned French-Girl Cocktail Dress
Make dressing for bed an elegant experience with this graceful nightgown. The soft 100% mulberry silk and timeless chemise style are guaranteed to elevate your nighttime routine. It features delicate adjustable spaghetti straps and a scoop neckline, with a mid-calf length hem that's long enough to be worn as part of a '90s-inspired, minimalist-chic look. Try it layered with a fitted blazer and tall boots for the office.
Sizes: X-Small — X-Large | Colors: 10
12. This Gift-Worthy Pajama Set In The Sweetest Print
Pop on this camisole pajama set at the end of a hard day: The adorable heart print is sure to cheer you up. Featuring an adjustable spaghetti strap top and elasticized waist shorts, it doesn't hurt that the set is made of glossy, soft 100% mulberry silk, either.
Sizes: X-Small — X-Large | Colors: 1
Once you've finished shopping the sale, be sure to explore the rest of the SilkSilky website. You'll be amazed at how many gorgeous silk items they offer for reasonable prices. From protective silk caps to dresses and lustrous silk sheet sets, they've got a multitude of pieces to elevate your wardrobe and home.
This article was originally published on