Chanel Haute Couture Is Bringing Back The '70s "Punk Princess" Look
"A taffeta dress, big hair, feathers, and lots of jewelry."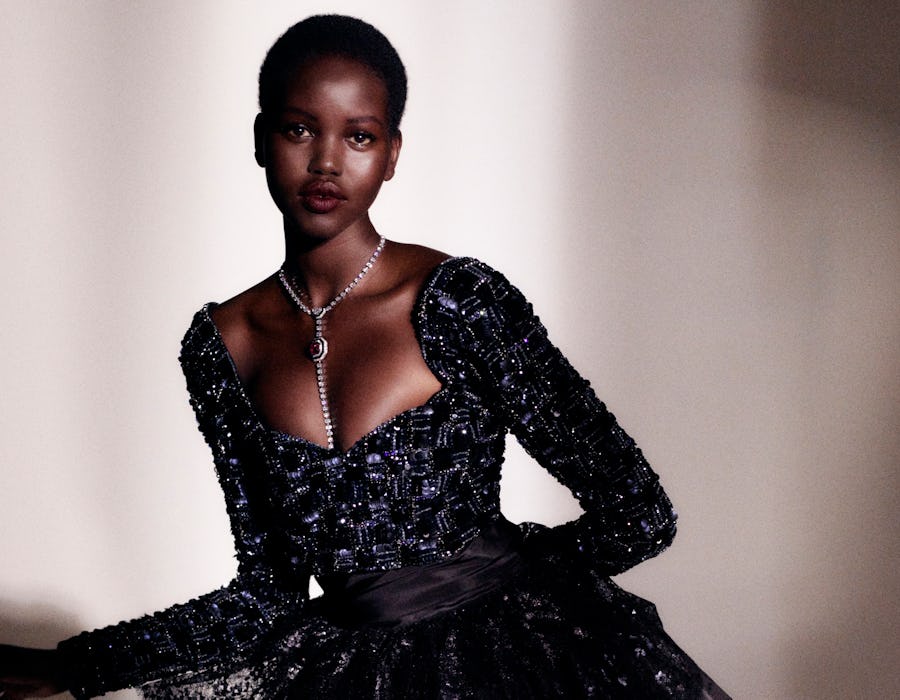 Haute Couture season might look a little different these days, with stay-at-home orders still in place in most of the world, but that hasn't stopped Chanel from debuting an exquisite collection for the Fall/Winter 2020 season.
Since the Parisian fashion house's inception in 1909, there have only been two people at the helm: the brand's namesake Coco Chanel and her successor Karl Lagerfeld. The latter took the reins from the fashion icon in 1983 and quickly became one in his own right.
During her tenure, Coco Chanel created the aesthetic we've come to know as Chanel's signature: tweed suiting and nautical nods with practicality and comfort blending with an air of elegance and impeccable tailoring. Lagerfeld's era honored the DNA of Coco's vision, while making it a bit more modern, edgy and relevant to the cool girl of the latter part of the century.
While every collection draws from Coco's aesthetic, it's Lagerfeld that new Creative Director Virginie Viard had in mind with her most recent Haute Couture designs.
"I was thinking about a punk princess coming out of 'Le Palace' at dawn with a taffeta dress, big hair, feathers and lots of jewelry," Viard shared. "This collection is more inspired by Karl Lagerfeld than Gabrielle Chanel. Karl would go to 'Le Palace', he would accompany these very sophisticated and very dressed-up women, who were very eccentric, too."
The collection itself is sophisticated with an edge, a clear nod to Lagerfeld's enduring legacy. There are tweed skirt suits edged with brocade ribbon detail, intricate lace mini dresses with full skirts and high necks, and voluminous sleeves that are quite a departure from the norm. Replete with sequins, beading, tulle, and—of course—tweed and bouclé, it's a sure bet that the collection would make Lagerfeld proud.
Ahead, check out some select looks from the newly-released Chanel Haute Couture collection and allow yourself to be transported.
Mini dresses with full skirts and high necks were a staple in the new collection.
Brocade ribbon detail and youthful silhouettes added a Karl Lagerfeld-inspired edge to Coco's classic tweed suiting.
Voluminous sleeves marked a departure from classic Chanel silhouettes, showing that Viard isn't merely honoring the legacy of her predecessors but building on it as well.
Floral sleeves and full skirted ballgowns felt more modern and romantic than previous collections without abandoning the brand's DNA.