10 Alternatives To Charlotte Tilbury Pillow Talk
From the OG lipstick to the newer additions to the collection, these cheaper alternatives have you covered.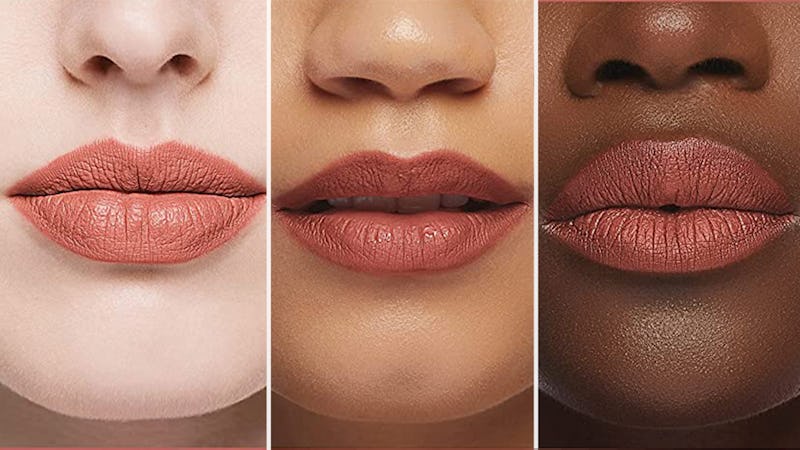 Amazon
We may receive a portion of sales if you purchase a product through a link in this article.
There are popular beauty brands, and then there's Charlotte Tilbury. The celebrity makeup artist's eponymous line reached a whole new level of cult status with the launch of her nude-pink 'Pillow Talk' shade in 2013 (first introduced with the Lip Cheat lip liner and then followed by the Matte Revolution lipstick in 2017). The best-selling lip color has been worn on red carpets and runways, and eventually, it inspired an entire line of 'Pillow Talk' products that includes lip gloss, blush, and eyeshadow. But if you've been hesitant to splurge on the must-have lip color, which sells for $35, or find that 'Pillow Talk' doesn't exactly suit your complexion, the best Charlotte Tilbury 'Pillow Talk' alternatives will give you a taste of the trend at a fraction of the cost.
The list ahead includes some of the Internet's favorite 'Pillow Talk' alternatives, so you don't have to spend hours swatching drugstore lipsticks or searching through Reddit threads and YouTube videos. In addition to traditional matte lipsticks that most closely mimic Charlotte Tilbury's, you'll also find a few liquid options if that's your preferred formula. And if you're looking for an alternative to the 'Pillow Talk' blush, lip liner, or lip gloss, you'll find similar options to those, too.
Shop The Best Alternatives To Charlotte Tilbury 'Pillow Talk'
In a hurry? Here are the best Charlotte Tilbury 'Pillow Talk' alternatives:
1. Best Alternative To The 'Pillow Talk' Lipstick
Spend some time digging around for 'Pillow Talk' alternatives on Reddit, YouTube, or TikTok, and you'll find one lipstick mentioned repeatedly: Milani Color Fetish Matte Lipstick in 'Secret.' Not only is the color nearly identical, but Milani's formula feels a bit more luxurious than most other drugstore lipsticks out there. Despite having a matte finish, it has a creamy texture that wears comfortably on dry lips, thanks in part to ingredients like castor seed oil and hyaluronic acid. Plus, it stays in place for hours. The lipstick is also vegan and cruelty-free, and the brand designed a line of complementary lip liners that you can pair with it (Milani recommends using the lip liner in 'French Rose' with the 'Secret' lipstick).
2. Best Alternative To The 'Pillow Talk' Liquid Lipstick
It doesn't matter how good the color is if the formula doesn't meet your personal preferences. For those who prefer to stick with liquid lipsticks, Stila's Stay All Day Liquid Lipstick in 'Perla' will be your best 'Pillow Talk' alternative. The liquid matte formula has a cult following of its own, and 'Perla' is a soft rosy color that's slightly cooler (and a touch more pink) than the Charlotte Tilbury lipstick. Formulated with conditioning ingredients like avocado oil and vitamin E to prevent drying out your lips, this super-pigmented lipstick will last you at least 12 hours, even through several meals and cups of coffee.
3. Best Alternative To The 'Pillow Talk' Medium Lipstick
Yes, one of the reasons 'Pillow Talk' became so popular is because of its ability to strike the perfect balance between being neutral and pink. But that still doesn't mean it will suit every skin tone, which is why Charlotte Tilbury later introduced her 'Pillow Talk Medium' shade, a warmer berry take on the pinky neutral. Revlon's Super Lustrous Lipstick in 'Shameless' gives you a similar color at a drugstore price, and it has more than 4,000 five-star ratings on Amazon. To give the matte-finish lipstick a creamy texture and leave your lips feeling smooth, the formula is infused with moringa seed oil, agave extract, and cupuaçu butter.
4. Best Alternative To The 'Pillow Talk' Medium Liquid Lipstick
Liquid matte lipsticks don't come more highly rated than this one from Maybelline, which currently has more than 65,000 five stars from Amazon users. The brand's SuperStay Matte Ink Liquid Lipstick in 'Lover' is a warm pink shade that's similar in color to the 'Pillow Talk Medium' lipstick. This formula won't transfer or fade for 16 hours, but because it's so long-lasting, you'll want to prep your lips with a gentle exfoliator prior to applying.
5. Best Alternative To The 'Pillow Talk' Intense Lipstick
To better complement darker skin tones, Charlotte Tilbury created 'Pillow Talk Intense,' a deep berry color. While Charlotte Tilbury's lipstick has a satin finish, if you want to keep with the matte look of the original 'Pillow Talk,' try the Milani Color Fetish Matte Lipstick in 'Passion'. You'll get a rich, reddish berry shade that's similar in color to the 'Intense' lipstick, but with a velvety matte finish that still provides plenty of moisture thanks to castor seed oil and hyaluronic acid.
6. Best Alternative To The 'Pillow Talk' Intense Liquid Lipstick
For a liquid matte take on 'Pillow Talk Intense,' there's NYX's Lip Lingerie XXL Matte Liquid Lipstick in 'Low Cut.' The berry chocolate color wears like a softer neutral on darker skin tones, and the lipstick is fade-proof and transfer-proof for up to 16 hours. Cruelty-free and vegan, the lipstick also has a vanilla scent to it, similar to Charlotte Tilbury's 'Pillow Talk' lipsticks.
7. Best Alternative To The 'Pillow Talk' Lip Liner
Whether you're looking for the perfect neutral lip liner to use as the base of your lipstick or you prefer to use a liner (with some clear balm) solo, NYX's Slim Lip Pencil in 'Peekaboo Neutral' most closely resembles the OG 'Pillow Talk' Lip Cheat lip liner. Like the Charlotte Tilbury liner, this one is a classic pencil that you sharpen, so it'll last you ages and it's easy to keep the tip pointy and fresh. Plus, it includes some of the same conditioning ingredients — jojoba seed oil and vitamin E — to help prevent lips from feeling dry and cracked.
8. Best Alternative To The 'Pillow Talk' Lip Gloss
Lip gloss naturally makes lips look fuller, but Charlotte Tilbury created her Collagen Lip Bath gloss to take things a step further with a blend of hydrating ingredients and collagen and peptides to enhance the formula. The Wet N Wild MegaSlicks Lip Gloss in 'Snuggle Sesh' is a similar neutral pink color to 'Pillow Talk,' and it even includes a few of the same hero ingredients. In addition to the hydrolyzed collagen, tripeptide, hyaluronic acid, and vitamin E that 'Pillow Talk' is formulated with, Wet N Wild's 'Snuggle Sesh' is also infused with sunflower seed oil and jojoba seed oil for an extra moisturizing boost.
9. Best Powder Alternative To The 'Pillow Talk' Blush
Charlotte Tilbury's 'Pillow Talk' powder blush is actually a combination of a rosy-pink color on the outside and a softer champagne color at the center — both infused with subtle golden flecks. Milani's Baked Blush in 'Rosa Romantica' is akin to the wash of rose gold color you get when you swirl both of the Charlotte Tilbury blushes together, and it's also about a quarter of the cost. Vegan and cruelty-free, the blush is buildable in color and has a satiny-smooth finish thanks to the addition of jojoba seed oil and vitamin E.
10. Best Cream Alternative To The 'Pillow Talk' Blush
One of Bustle's very own editors recommends Wet N Wild's MegaGlo Makeup Stick in 'Peach Bums' as a great alternative to the pillow talk blush. Some people find cream blushes easier to work with than powders, so if you're in that category, this is the blush for you. It's just the right amount of sparkly and adds a gorgeous glow to your face, and works on almost every skin tone, whether you dab it onto your cheeks or in the crease above your eyelids.
About The Author
Marissa DeSantis has worked as a beauty writer and editor for nearly 10 years. Her pieces can be found across print and digital publications like Bustle, Evening Standard, Teen Vogue, and InStyle.